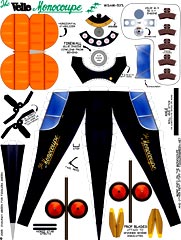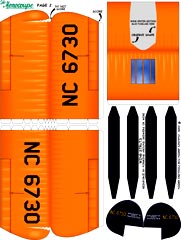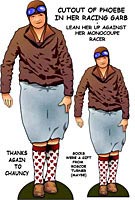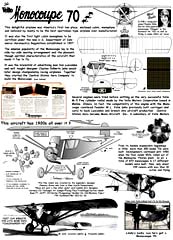 The Magnificent little Monoplane Monocoupe of the roaring 1920s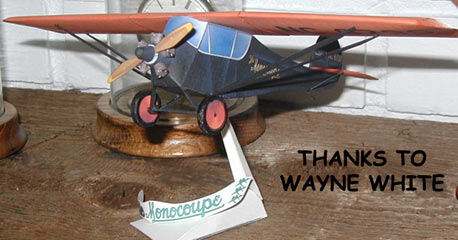 Phoebe Omlie raced one of two Monocoupes in the 1928 reliability tour, and although they were not at the top of the field at the end of the event, the mere fact that they completed the nationwide series of flights says a lot for a 55 hp design. A Phoebe Omlie cutout to lean against her racing Monocoupe version which is included with your download.
Powered by the little 55 hp Velie five-cylinder air-cooled radial engine, the model 70 Monocoupe was a very successful airplane. The company sold so many units in 1928 that they were able to claim that 80 percent of the civilian airplanes sold in the U.S. in that year were Monocoupes.
The diminutive little two-place side-by-side Monocoupe was a relatively inexpensive airplane, and, with its sprightly performance, efficiency, and good visibility all around, it was an excellent airplane for the private owner. The design was also well known for being easy to fly. This ease of flying was the first trait that the later Monocoupes lost as they were developed into faster and faster aircraft.

---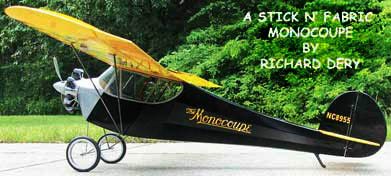 Thank you to Richard Dery
What people say...
I was in Peoria,IL a few years ago and hanging from the airport terminal ceiling was a Velie Monocoupe. Under it was a Velie Sedan that looks a lot like a Model A Ford. The airplane and auto were both superbly restored.... Regards: Robert Lane
---
Bless you! A great subject. Thanks. John
---
Thank you for the Re-release. The first didn't get here and I was wondering. This is a must build for IPMS Orange County competition. One of the IPMS master craftsman has a fondness for this aviation era and I admire his work in plastic. Another Happy Day, Bob
---
Hi Chip & pals Looking at the Monocoupe I see that not only have your graphics improved by 5000% since you got a hold of Photoshop, but the models themselves are getting more sophisticated. This is all the more amazing since, although they get more detailed, they still are as simple to build as ever. All I can say is - man, you're getting good at this...!
---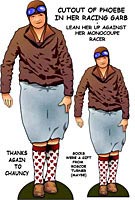 Chip,This is a great model! I keep forgetting the Chauncy Green hails from Newcastle. (I'm from Butler PA, down the road a
Chauncy, The Monocoupe is a beautiful model and the Corben Super Ace would also make a very nice model. There are a lot of civilian planes from between the wars that would be nice to see paper models of.Such as the Stinson Reliant, Waco biplanes and the Beechcraft Staggerwing.
---
Very nice work all around. Take care, John Dell
---
....I downloaded the Bootlegger last week. Really slick. My dad grew up on the New York-Canadian border. He would tell us about lying in bed at night, out in the country, and hearing car engines racing. Sometimes he would hear what sounded like shooting. The next day a strange car or cars would show up in a local farmer's barn. The cops always stored stuff there because they didn't have much space at the station. I can imagine the Monocoupe buzzing over those dairy farms and small towns. I don't tell you often enough how much I love you guys. I have had so much fun with my models. Barbara
bit...) He always selects the greatest subjects. My favorite is still the P-6E Hawk. ...Cam
---
Thank you. It took awhile and had to use both regular AOL and Internet Explorer but I was able to successfully obtain every page. You people certainly make the world of paper modeling interesting. I truly admire your artwork. It is so clean. Bob Penikas
---
...Then there is the Monocoupe - as cute a model as you've ever produced. Maybe the time has come to add a whole new group to the series of 1920s and 30s civilian planes - Staggerwing Beech, Cessna Bobcat, Waco biplanes - especially the cabin bipes, Stinsons, Bellancas, maybe the Dole racers - the list is almost endless. Allan M
---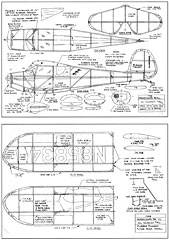 This set of stick and tissue plans is included in your Monocoupe folder
---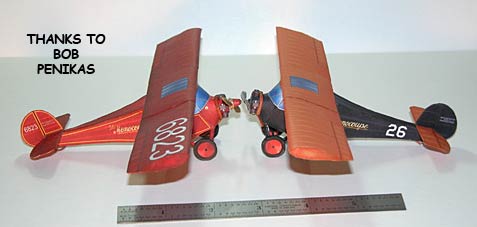 Howdy FG Folks, These will be shown this Friday at the IPMS Orange County meeting and competition.
A few coats of acrylic Future Floor Wax will be sprayed on them as the last step. Notice that the Maroon Coupe has had all the ribs and fuselage stringers scored. #26 was built first to get the "hang of it." That is when I decided to emphasize all the ribs and stringers by scoring from the backside on the second build. The curved exhaust pipe was made by glue dampened 20lb paper rolled around a straight wire and painted with water color while still damp. The paper tube was slid off from the wire and then still damp, formed around the radial engine.

Thank you for another fun build, Bob Penikas
This clear cabin Monocoupe was submitted by
Bob Martin.
He even added some fancy spoke wheels.

Thanks Bob!
---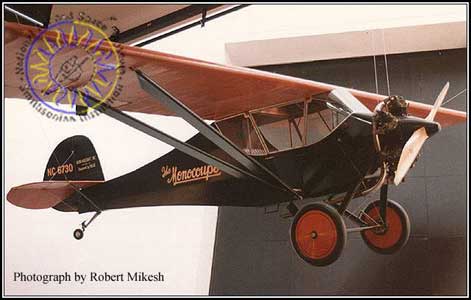 Velie Monocoupe Model 70...one of the first planes ever built for private fliers. Velie Monocoupes were built from 1927-1929
The Velie Monocoupe is one of the first planes built for private pilots.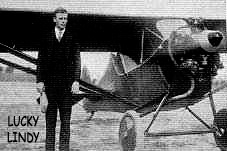 Manufactured from 1927-1929 by W.L. Velie, an industrialist who had previously specialized in carriages and cars, the single-wing Monocoupes were built with a frame of wood and shell covered with canvas.
The Monocoupe could seat two people, and its enclosed cabin, speed and flashy style made it quite popular. About 350 Monocoupes were built, and they were advertised as "the ultimate plane for the private flyer."
---
Lindbergh's Monocoupe hangs in the Lambert Field ( St. Louis) Terminal.
Has a really character building cowling, and wheel pants.


Charles Lindbergh's personal monocoupe is on display at Lambert-St. Louis International Airport.

According to R.E.G. Davies in his book "Charles Lindbergh: An Airman, His Aircraft, and His Great Flight " Lindbergh did not like NX211's tendency to ground loop, and donated the aircraft. Thanks to Cam for the info.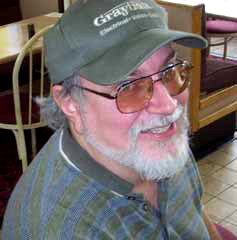 Chauncy Green
---
The original Monocoupe design came from Don A. Luscombe's desire to build an enclosed two-place aircraft for business or person use, something lighter and more comfortable than open-cockpit biplanes. Luscombe was somewhat influenced by the Belgian Delmonty-Poncelet Limousine, a high-wing monoplane with a side-by-side enclosed cabin and the reverse curve rear fuselage lines that were to become one of the signature identifier features of the Monocoupes. Luscombe founded Central States Aero Company and hired Clayton Folkerts, a young self-taught designer. In 1928, the Mono 22 was the first light aircraft awarded an Aircraft Type Certificate (number 22) and in 1930 it was fitted with a Velie M-5 engine to become the Model 70.
In the mid-1920s a young advertising man named Don Luscombe flew his open cockpit JN-4D "Jenny" in and out of a small airstrip in Davenport, Iowa, he thought about how much nicer it would be if he could fly in a relatively small enclosed-cabin airplane. Then he could dress in a business suit rather than the usual helmet, goggles, and flight coveralls of the day, and arrive at his destination ready for business or pleasure. He decided to build his own aircraft, a two-place, side-by-side cabin monoplane with a simple but strong structure and a powerful engine.
Luscombe was somewhat influenced by the design of the rather rakish-looking Belgian Delmonty-Poncelet Limousine, a high-wing monoplane with a side-by-side enclosed cabin and the reverse curve rear fuselage lines that were to become one of the signature identifier features of the Monocoupes. Luscombe's mock-ups impressed his companions in the Davenport Flying Club so well that, in October 1926, they raised $5,000 to help him start the Central States Aero Company. To build his dream, Luscombe hired a young self-taught designer by the name of Clayton Folkerts who was to later design championship racing airplanes of the 1930s.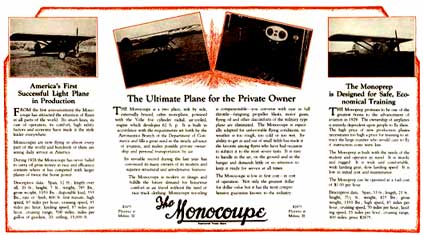 Folkerts built the first prototype, Mono #1, almost single handedly, in about 4 months and E.K. "Rusty" Campbell made the first test flight on April 6, 1927. The airplane configuration was a two-place, side by side, strut-braced high wing monoplane with a conventional tailskid and main wheel landing gear.
The fuselage and tail structure was of welded steel tubing. The one-piece wing was constructed with routed solid spruce spars and the ribs were constructed of spruce and basswood. The entire airplane was covered with Grade A cotton.
Mono #1 received a lot of interest, but just as Luscombe began to think about customers, a fundamental change in aircraft production occurred. The U.S. Department of Commerce Aeronautics branch instituted the Approved Type Certificate (ATC) program requiring all potential commercial aircraft designs to undergo analysis and test for a type certificate.
Because Folkerts did not have formal training in engineering, Central States hired university graduate Jerome Lederer, a consulting aeronautical engineer, to verify the performance predictions and the structural integrity of the airplane. Lederer hired two graduate aeronautical engineers, Fred Knack and Bud Whelan, to help in the certification process. Lucsombe's and Folkerts' basic deign proved to be sound and ATC #22 was awarded to the Monocoupe in January 1928.
The name Monocoupe referred to the marriage of a monoplane and the coupe, the two-passenger enclosed car. The first model was known as the Monocoupe Model 22 (after its ATC number) and a total of 20 Mono 22s were built. The engine, a Detroit Air Cat air-cooled radial proved to be problematic and several others, including the expensive Anzani, were tried. The solution appeared in the form of the Velie M-5 five-cylinder radial, a similar but more reliable engine than the Air Cat.
The engine was nominally rated at 55 hp with maximum of 62 hp available for take-off. The Velie engine came from the highly successful Velie Motors Corporation in Moline, Illinois, and the comparability of this engine and aircraft encouraged the Velie family to support Luscombe and go into full-time aircraft production. Central States Aero moved just across the Mississippi River to Moline and became Mono-Aircraft Inc., a subsidiary of Velie Motors.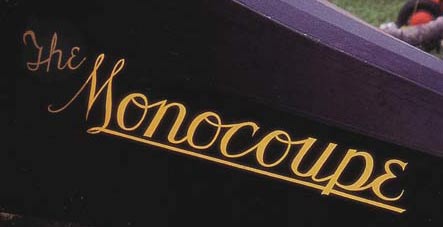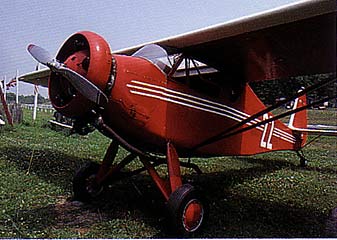 The Velie Monocoupe logo in gold (left) and the Monocoupe with a Townsend Ring around the engine (right). THis proved to decrease the drag, while increasing cooling
The installation of the Velie engine into the Monocoupe airplane, along with a few minor improvements, resulted in the Monocoupe 70 that was issued its Approved Type Certificate (ATC 70) in September 1928. In June 1928, Phoebe Omlie, a racing pilot, announced her intent to fly her Velie-powered Monocoupe Chiggers in the National Air Tour and with it she also won the lightweight division of the Women's Air Derby in August 1928. The Monocoupe 70 flew at air races around the country with Omlie, Johnny Livingston, and Vern Roberts.
Luscombe established dealers and distributors around the country and even wrote a book entitled Simplified Flying for advertising purposes. More than 350 of the Model 70 and its incrementally improved companion Model 113 (ATC 113 issued Feb. 1929) were produced. The flashy good looks did not come cheaply though, as it cost between $2,500 and $3,000 to buy. While the standard Models 70, 110, 113 and 125 were more docile to fly than the 110 and 113 Specials, it really was not an airplane for the novice pilot.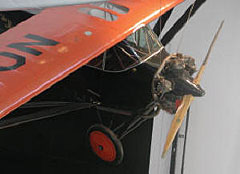 George Law purchased Monocoupe Model 70, NC6730, serial number 133, in July 1928 and it went through a succession of sixteen owners before it was severely damaged in a crash in 1940. Robert and Glen Jordan sold the aircraft when it was declared not airworthy and three additional owners passed it along until it was given to famous racing and test pilot Tony LeVier in 1975.
He acquired title in March 1978 and had the aircraft restored with its striking black fuselage and vertical tail with orange wings and horizontal tail. Some people suggest that the only original parts of the airplane are the nameplate and the paperwork, nonetheless, it is one of only a few of the famous type still in existence. LeVier donated it to NASM on December 12, 1983, and it was stored in California until it was lent to the California Museum of Science and Industry in Los Angeles in 1984.
Length :19 ft 9 in // Height :6 ft 3 in // Weight: 795 lb
---
The Velie Monocoupe is one of the first planes built for private pilots. Manufactured from 1927-1929 by W.L. Velie, an industrialist who had previously specialized in carriages and cars, the single-wing Monocoupes were built with a frame of wood and shell covered with canvas. The Monocoupe could seat two people, and its enclosed cabin, speed and flashy style made it quite popular. About 350 Monocoupes were built, and they were advertised as "the ultimate plane for the private flyer."
---
THE MONOCOUPE "The Ultimate Plane for the Private Flyer"
"The Monocoupe is a registered trade name for a two-place, enclosed monoplane which has been designed to satisfy an entirely new market - that of the private owner.

Great care has been taken to provide the things which will be demanded by the man taking the air for personal transportation or for the sheer pleasure of flying. Since the private flyer will not engage in military combat and has already learned from the motor car the needlessness of fatiguing wind or soot and oil in his face he will choose the enclosed type of plane. After satisfying himself that the cabin type sacrifices nothing in performance and enhances it in many instances, he immediately visualizes the opportunity for comfort as well as smartness of line and appointment.
Aside from the splendid performance and its extreme economy of operation, the Monocoupe embraces the very features which have brought it instant popularity. NO longer need one climb up over the top to enter. Open the door and step in just as you would into your car. No more helmets, goggles or other accouterments of the race track are needed. Wear white flannels and a straw hat if you will. You and your passenger sit side by side in a compartment richly upholstered in Mohair. You converse at full throttle, for exhaust gases and noises are collected and carried behind the cabin.
You are first amazed at its quick take off, sharp angle of climb and its ease of operation. You will recognize its inherent stability, and immediately discover a rare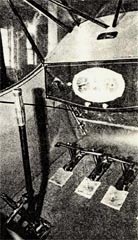 range of unobstructed vision.
Then if you have been fortunate enough to see the details of construction a new confidence in flying safety settles down upon you with gratifying relaxation.
There are over four hundred miles in your gasoline tanks of twenty-five gallon capacity. They are in your wings and entirely gravity pressure. There are two Scintilla magnetos. There are two gas lines to your carburetor and two spark plugs in each cylinder. There is enough oil for all day. Your motor is air-cooled, so there are no water or plumbing troubles ahead.
A great surprise awaits you in the manner the Monocoupe flattens out the "bumps." Cruise along at eighty-five on less than half throttle or open up to one hundred miles an hour. Take your hand off the stick, make your banks in figure eights employing only the rudder. You will find it exceptionally easy to land.
You taxi up to the hangar and push it in unassisted without finding yourself out of breath.
The company behind the Monocoupe is amply financed and is already taking its place in foremost rank. At this moment the Monocoupe is being built in its own factory with more than three hundred thousand square feet of floor space. All the machinery and facilities of a large automobile manufacturing corporation are available. This will permit an increase in production to fifty Monocoupes each day, if necessary. Its early popularity indicates that this production may soon prove necessary, for those familiar with its advantages proclaim it the easiest airplane in America to sell.
Nothing has been spared in workmanship or material. Only the best of everything money will buy goes into its construction and because it is modern in every respect it represents one of the greatest values in the aeronautical world today. It gets first attention wherever it goes. It offers a new smartness, fine performance, cabin comfort and cleanliness, economy of operation, utmost quality and low first cost. The Monocoupe points the way toward the ultimate plane for the private owner."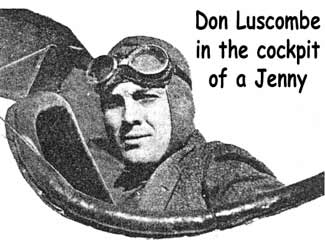 Earlier columns on the adventurous Velie family mentioned their manufacturing success in carriages and cars, but they also made airplanes for a short period around 1928.
Willard L. Velie, grandson of John Deere, became a millionaire in Moline with his successful automobile business. After living large for many years, W.L. Velie was enjoying the fruits of his labor when his son Will Jr. convinced him of a high-flying future in aviation. Soon the Velie's acquired the failing Central States Aero Company of Moline.
---
An excellent engine..

In 1927, Velie Motors Corporation designed and built a radical and extremely successful 5-cylinder radial aircraft engine rated for 62 hp at 2000 rpm.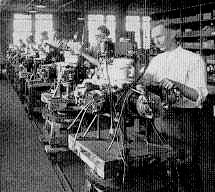 This engine would power the two-place Monocoupe first flown by Moline airport manager Rusty Campbell on April 1, 1927 (April Fool's Day?!?).
It was rumored that early Velie engines dropped so much cast iron on Moline's airport that Campbell claimed it was ruining his mowers. So an improved engine was introduced with aluminum heads and nickel steel cylinders.
"For over 20 successive years the name VELIE has been a synonym for quality and superior performance. Only the highest quality materials and workmanship have entered in the construction of Velie products."
Velie, recognizing the demand for a better automobile motor than at that time available for motor car use, designed and built the famous Velie airplane type valve-in-head motor.
Famous aviator Charles Lindbergh loved to fly the Velie Monocoupe!
---
The famed Velie M-5 engine has another unique story connected to it.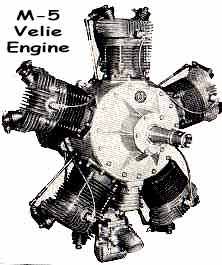 Apparently, in October of 1929, the motor dropped out of the Monocoupe plane somewhere over Talbot, Michigan, causing the plane to make a crash landing.
According to the local newspaper (the Eagle News of Marinette, Wisconsin), the headline was "Motor Drops Out of Plane, All Escape."
The pilot and his passenger were flying from Alvada, Montana to Manistique, Michigan when "the motor of their Monocoupe had torn loose from their plane and dropped 2,400 feet to earth."
The pilot managed to crash-land the motor-less plane in the treetops near a cemetery but both pilot and passenger walked away.
"Pilot Wilbur explained that the propeller broke and knocked the motor out of balance and the violent vibration jerked the motor out of the ship."

The pilot offered a $5 reward for finding the lost motor, but it was not discovered until 67 years later in 1996!
---
Flying in first class comfort

The Monocoupe aircraft quickly gained industry popularity and success both as a personal and racing craft as a result of its closed-cabin comfort, responsive controls, speed and economy.
Dealerships were in great demand and planes were shipped from Moline all across the country on railcars.
In 1928 at the National Air Races in Los Angeles, the Velie Monocoupe scored its first victory. The plane also won a number of speed events averaging just over 100 mph against competitive aircraft with much larger 90-100 hp engines.
The end of an era:
Just as the company was planning to introduce a four-place Monocoach, W.L. Velie died in October of 1928 at age 62. His son ceased automobile production to focus on building airplanes, but he too died suddenly just four months after his father, promptly grounding the Velie's fledgling flying business.
A St. Louis firm bought the company and continued production in the old Velie carriage factory buildings until July 1931. Then production relocated to St. Louis under the renamed Monocoupe Corporation/Lambert Engine & Machine Corporation.
---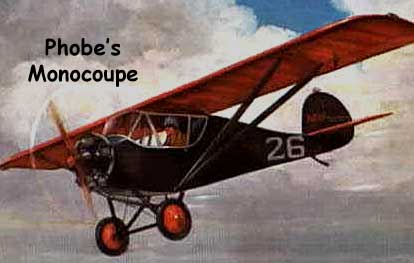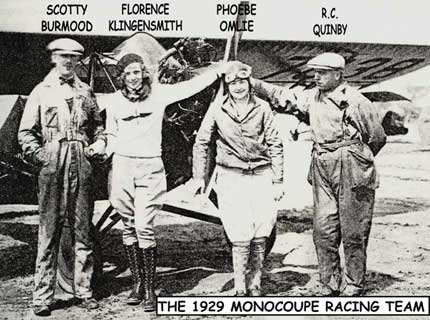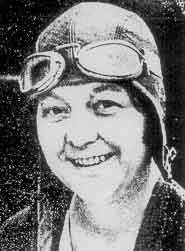 Aviation pioneer Phoebe Fairgrave Omlie, a contemporary of more famous women flyers like Amelia Earhart, Jacqueline Cochran and Florence "Pancho" Barnes, began her career in the early 1920s when barnstorming was one of the few ways to make a living by flying.
She progressed beyond this daring and dangerous aspect of aviation to become one of the field's most ardent supporters and innovators, a central participant in the move to legitimize and eventually bureaucratize commercial and private aviation in America.
She contributed much of it through her work in the federal government - working with the National Advisory Committee for Aeronautics (NACA) and the Civil Aeronautics Administration (CAA). Throughout her career, Phoebe used her influence to give other women a chance to prove themselves as capable as men.
Phoebe Fairgrave was born in Des Moines, Iowa in 1902. One day just before her high school graduation, she saw her first air show and fell in love with aviation at first sight. She thought about it; she dreamed about it. She began hanging out at the local airfield, begging the manager until he finally agreed to let one of his pilots take her up for a ride.
The pilot's instructions were to give the girl "the works" - a few loops, maybe a nosedive or two - and get her good and sick. Then maybe she would leave them alone. But the pilot's efforts to discourage Phoebe were counterproductive, to say the least. She loved it!
---


Specifications for the Monocoupe Model 90
Length: 20 ft 10 in
Wingspan: 32 ft
Height: 6 ft 11 in
Empty weight: 973 lb
Loaded weight: 1,490 lb
Powerplant: 1× Lambert R-266
radial engine, 90 hp

Performance
Maximum speed: 115 mph
Range: 540 miles
Service ceiling: 15,000 ft
Power/mass: 0.06 hp/lb