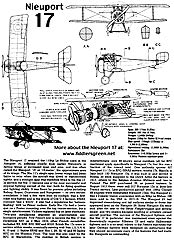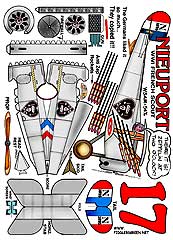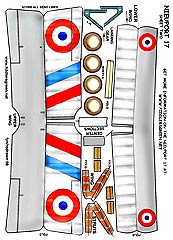 Nieuport 17 - $$4.50
Many WWI Aces flew Nieuport fighters, including Canadian Ace W.A. Bishop, who received a Victoria Cross while flying it, and most famously of all, Albert Ball. Like the other Nieuport types, the 17 was used as an advanced trainer for prospective fighter pilots after its operational days were over.

The Nieuport 17 (a French WWI Scout)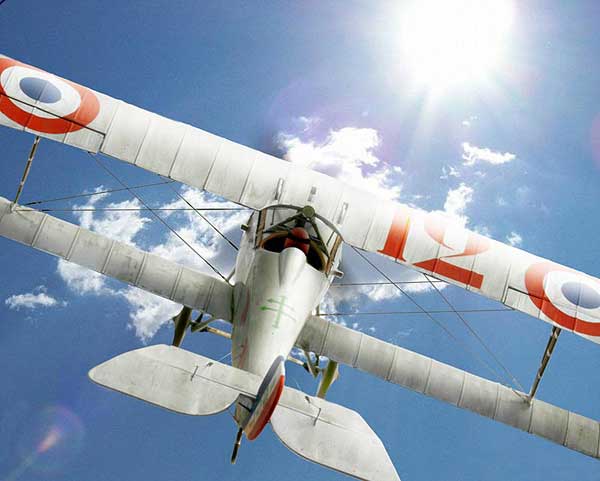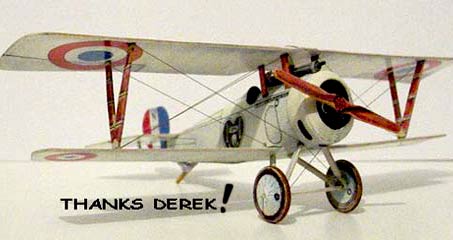 The Nieuport 17 a little French treasure proved to be such a threat to the Germans that they decided to build copies of one that had been captured.
Our model sports the Thulian skull and crossbones PLUS coffin markings of WWI Ace: C. Nungesser.
You can use the tiny incendiary rockets to adorn the wing struts waiting to ravage a cardmodel observation balloon sitting over the German lines.
---
Charles Nungesser's Nieuport 17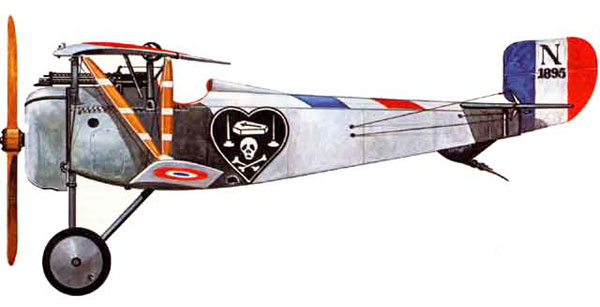 The Nieuport 17 represented one highpoint of the small highly manoeuvrable rotary-engine fighter armed with a single machine-gun. By late 1916 the supremacy of this formula was being challenged by the faster, heavier, water-cooled engine types such as the Albatros DIII and Spad SVII. However, rotary engine fighters such as the Camel stayed in the forefront with engines of ever greater power until the end of the war.
The Nie 23 was a development of the Nieuport 17, in every way identical except it was slightly heavier and powered by a 120-hp Le Rhone rotary. Designer Gustave Delage's sesquiplane formula was continued in the subsequent Nie 24 and Nie 27. The unsuccessful Nie 28 of mid-1917 had wings of equal span but employed a high-powered rotary engine. The last wartime design, the superlative Nieuport-Delage NiD 29 of late 1918, employed a large in-line engine, the 300-hp Hispano-Suiza 8Fb, and, modified, remained in service until 1928, as the NiD 29C.I.
Charles Nungesser

LIKE so many of the first military pilots, Charles Nungesser was a frustrated cavalryman. In the first month of the war, looking dashing in the operatic uniform of the Hussars, he had already earned a citation for bravery during the French Army's retreat to the Maine. But Nungesser was never really destined to make war carrying a sabre and wearing red trousers he was very much a child of the new machine age.
He was born in Paris on March 15, 1892 and as a boy he was a passionate sportsman. While attending the Ecole des Arts et Matiers at Valenciennes, he had already formed an ambition to be a racing driver or an aviator. He ran away to South America and flew one of the first aircraft in Argentina soloing on his very first flight. When unable to fly he indulged his appetite for adventure by racing motor cycles and enormously powerful motor cars.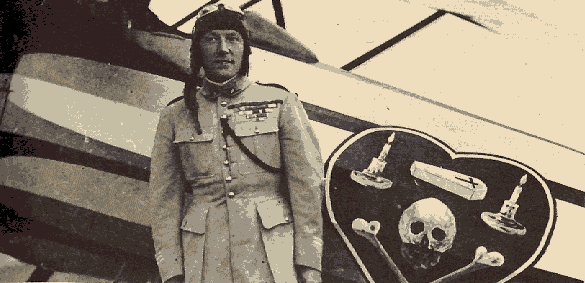 Charles Nungesser,famous French ace. The eerie insignia on the plane was Nungesser's personal symbol throughout the war. Here it appears on a Morane-Saulnier, a plane the celebrated French ace flew when no Nieuports were available.
By the outbreak of war he was back in France and the dashing hussar managed to escape from the German armies advancing on Paris by capturing a German staff car by shooting the occupants and driving at high speed to safety. He bad already exchanged his horse for the internal combustion engine successfully and Nungesser asked the General directly who awarded him the M'daille Militaire for the exploit for a transfer to the Flying Service. His wish was granted.
On 22 January he already experienced pilot began training as a military aviator and on April 8, 1915 he reported to his first operational unit, Escadrille VB io6 based at St Pol flying Voisin's. After six months as a particularly aggressive reconnaissance pilot, Nungesser was sent with VB io6 to Nancy where while flying a new Voisin he shot down an Albatros. The Croix de Guerre soon followed and Nungesser went on leave to await his conversion course to the new avions de chasse.


A Squadron of Nieuport 17s at a British base in France
In November 1915 the new fighter pilot reported to his old base at Nancy. Nungesser reveled in his own brand of morbid humor and the Bebe was adorned with all the black symbolism of violent death. A crude death's-head first appeared on his Voisin in early 1915 and the skull and cross-bones, a coffin and candlesticks all contained in a black heart, adorned all his subsequent aircraft. The town of Nancy was treated to the sight of this grim reaper in the sky when he beat up the town at thirty feet to earn himself eight days suspended arrest.
On 29 January 1916 three weeks before the Battle of Verdun opened, Guynemer suffered a serious accident. Testing a new Ponnier biplane, the aircraft spun into the ground just after take-off. Nungesser was pulled from the cockpit with a dislocated jaw, a perforated palate and two broken legs. Within two months he was flying again, hobbling to his aircraft on crutches. By the end of March he was back with N 65 and in the first week of April he made up for lost time over Verdun shooting down several enemy aircraft and balloons. The pilot like his aircraft however was soaking up yet more punishment. His lip was clipped by an explosive bullet.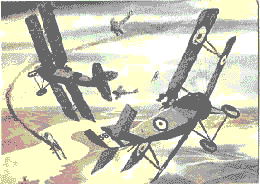 His jaw was broken again in a forced landing and his knee was dislocated in a crash between the lines. Nungesser had to spend as much time recovering as he did at the front and meanwhile N 65 relocated at Bar-le-Duc was suffering terribly itself. In the first weeks of May, three-quarters of its pilots were put out of action killed or wounded. When the Battle of Verdun finally came to an end the incredible Nungesser was as patched and repaired as his aircraft. By December he had scored twenty-one victories. He returned to hospital to have his badly knitted fractures broken and re-set. He was at last officially ordered to rest and agreed on condition that he would be allowed a roving commission on his return to combat.
Nungesser couldn't resist a dare. Nungesser returned to battle in May 1917. He had a new Nieuport with a 130 hp Clerget in place of the more usual 110 hp Le Rhone. Based at first on the Channel coast he shot down six aircraft in two weeks. The Germans soon knew the ace was back and on 12 May a single Albatros dropped a message challenging Nungesser to a single combat over Dubai. When the Frenchman got there six enemy fighters were waiting. The grimly marked Nieuport shot down two of them in flames and the rest of the pack scattered.
German perfidy was not the only additional danger in this most dangerous of environments. The same day as the German challenge, Nungesser was attacked by a haplessly blundering RFC pilot whom he had no alternative but to shoot down. After this broad stripes of red, white and blue were added to the cockades on the top wing.
On 16 August Nungesser sent his thirtieth victim, a Gotha, crashing into Houthulst forest. But physically he was at the end of his strength and his faithful mechanic, Sold at Pochon, had to carry him to and from his aircraft. On 12 September he set off from Dunkirk to fly to Paris when he was set on by a solitary Halberstadt DII, itself well behind the Allied lines. After a fight lasting half an hour Nungesser landed at Le I'ouquet in despair with his fuel exhausted. The German also landed and with a wave he opened the throttle and took off again. Nungesser took it as a personal humiliation.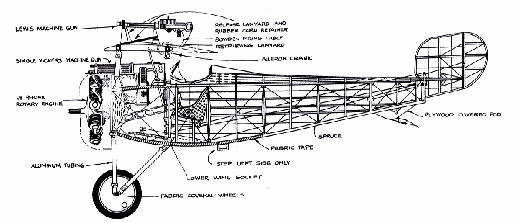 The Allied air Ibrets had suffered more than humiliation throughout the spring of 1917 and Nungesser bore the scars of his many close encounters with death. That September the terrible news of Guvuemer's disappearance further shook the morale of the Aviation Militaire. Nungesser was given only a slight respite when for a period in the autumn of 1917 he undertook the combat training of new pilots. He was a master of the art of air fighting. One of his pupils reached a score of five in as many days.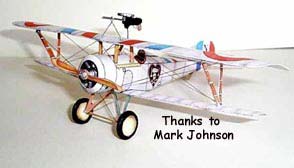 Then in December returning to Paris at night in one ol the powerful touring cars in which he reveled, he struck a patch of ice at speed and the ear overturned .Nungesser was thrown clear but again seriously injured. His faithful mechanic Pochon lay dead in the wreckage .Nungesser was once again in hospital and for the rest of the war his returns to the front were interrupted by frequent spells of hospitalization. He scored his 400th victory flying a Nieuport 23 in July 1918 but his great rival Rend Fonek had already inherited Guynemer's mantle with a score of forty-five. On 14 August Nungesser scored again with two balloons but once again he was slightly wounded. The next day he brought his score to forty-five and earned his fifteenth citation. At that score, and laden with honors from the French and Allied governments, he finished the war.
Nungesser was immensely popular in France. Like a champion boxer, his scars only heightened his attraction for women and with his flamboyant cars, his taste for Paris night-life and his medal encrusted tunic he was the archetype for many celluloid aces who followed him on a flickering screen. The legend however overtook the man. When the lionizing of the Paris salons began to pall, he founded a flying school at Orly with a war-surplus Morane-Saulnier Am. The venture failed and so he went to America with a Hanriot HD-i again bearing his grim wartime insignia. Even these years of wild barnstorming could not appease his taste for adventure and he resolved to join the race to cross the Atlantic from Paris. He commissioned an aircraft from Levasseur, a flotation-equipped modification of their PL8 three seater built for the new French carrier, the Bearn.
On May 8, 1927 at first light the white aircraft set off from Paris and crossed the Channel coast at Le Havre 1 1/2 hours later. L'Oiseau Blanc was never seen again. The aircraft flew on into the dawn haze until the drone of its Lorraine engine could be heard no more. Nungesser flew into legend ten years after Guynemer.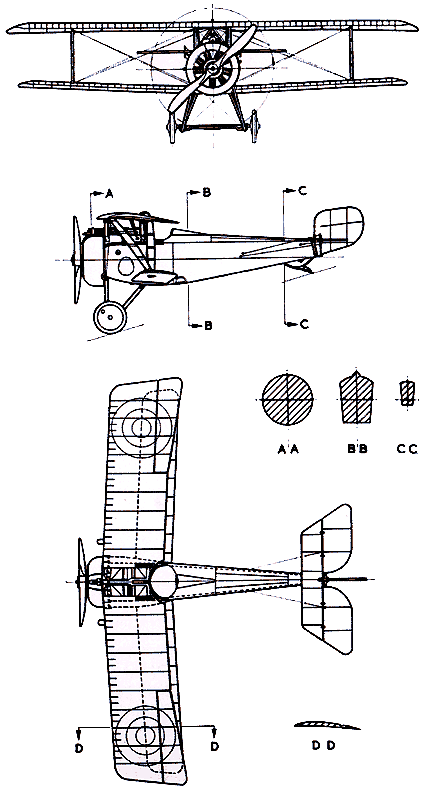 Most famous of the Nieuport designs, the Type 17 15 (square) meter' Nieuport. made its appearance early in 1916. A larger, stronger and more powerful development of the successful Bebe, the 17 was truly one of the out standing aeroplanes of its time. Its standard engine was the 110 h.p. Le Rhone rotary, but the 130 h.p. Clerget was also fitted: machines with the latter power unit were designated 17 bis.
The cowling, occasionally provided with strengthening ribs, had two ventilation holes in its lower starboard side it was streamlined into the fuselage by curved side fairing's fitted with large oval access panels. The wing structure was basically similar to that of the 'Bebe', with the same vee strut interplane bracing. Some machines had transparent celluloid 'skylights' in their center sections.
Of typical Nieuport construction, the fuselage was a wire-brace wooden box girder with both horizontal and vertical taper internally strengthened with plywood sheeting in front of the tail, and with a covering of fabric. Behind the cockpit was a faired head-rest. The empennage was framed in steel tubing and covered with fabric; the vee-type undercarriage was sprung with rubber cord and the tail-skid was of the leaf-spring variety.
At first the armament consisted of a single Lewis gun mounted in various ways above the center section: later the Lewis gun was either replaced or augmented by mechanically synchronized Vickers gun fixed centrally in front of the pilot or offset to starboard. British Nieuport 17s carried a Lewis gun on an improved sliding rail mounting invented by Sergeant Foster of No. 11 Squadron. R.F.C. For balloon attacks Le Prieur rockets were fitted to the interplane struts.
The Nieuport 17 reached the front in March 1916 and gradually replaced the 'Bebe' in French fighter units. Many famous French pilots flew the type. The early Fokker and Halberstadt D-types were inferior to the agile, fast-climbing little machine, and in desperation the Germans ordered the Nieuport to be copied. Not until the Albatros D-I came out in September were they able to find a match for the 15 meter'.
Only six of the type were on the strength of the British Flying Corps on July 1st. 1916; more were soon obtained. however, for it became obvious that there would be no new British fighters for many months. By the early spring 1917 four R.F.C. squadrons. Nos. 1, 29, 40 and 60 were partially equipped with the 17.
French-built machines were also supplied to Belgium and Russia. The type was constructed in Italy by Nieuport Macchi and in Russia by the Dux Company, the Russo-Baltic Works and Shchetinin & Company.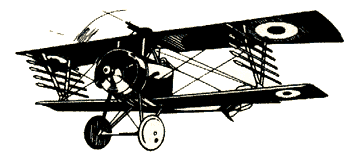 Seventy-five Nieuport 17s, purchased by the AEA in September 1917, were used as trainers; one l7bis went to the U.S.A. for evaluation.The Nicuport 21 had the same overall dimensions. It was powered by either the 80 h.p. or 110 h.p. Le Rhone and was used as a trainer by the French, Russians an' Americans. The Type 23(80 or 120 h.p. Le Rhone) which served with French, British and American units, closely resembled the 17, but was slightly heavier. Nieuport Nie 23.

The Nieuport 17 retained the 110 hp Le Rhone used in the Nieuport 16, differing chiefly from earlier Nieuport's in having wings of increased span and area, and was often called the Nieuport 15 or 15-metre, the approximate area of its wings. The Nie's single-spar lower wings had been liable to twist when the aircraft was dived or maneuvered tightly, and a stronger spar was therefore fitted to the Nie 17. In service the Nie 17 became one of the most successful and popular fighting aircraft of the war, both for flying qualities and fighting ability.
It was flown by premier pilots including Bishop, Boyau, Guynemer and Nungesser - its own recommendation. It had a fine view from its cockpit, was a first class dog-fighter and in the words of Cmdr C R Samson, RNAS. climbed 'like a witch'. It also had a reputation for 'balloon busting' with Le Prieur rockets. Early Nie 17s had a Lewis gun on a Foster mounting over the top center-section, but a single synchronized Vickers replaced this on later machines. Twin-gun installations imposed an unacceptable performance penalty. First French unit to receive the Nie 17 was Escadrille N57 on May 2, 1916.
The type was also used by the EFC in Macedonia. The number in British service is indeterminate: only 89 known serial numbers (all for RFC machines) apply specifically to Nieuport 1 is, but this was a traction of the overall total. One authority quotes 527 Nieuport II / 17s in RFC/RNAS service, mostly 17s. Macchi in Italy built 150 Nicuport 17's; it was built in and served in Russia; 20 were supplied to the Dutch Army Air Service in 1917; others to the Belgian Aviation Militaire and two to Finland. The AEF purchased 76, as pursuit trainers. In August 1917 there were still 317 Nieuport listed in front-line French service. Late-production aircraft with 130hp Clerget 9B engines were designated Nieuport 17bis.
The Nieuport 21 was a 2-seater trainer conversion with an 80 hp Le Rhone: 198 were sold to the USA in 1917-18. The Nieuport 23 had improved streamlining and tail surfaces similar to those that appeared later on the Nieuport 28. Some Nieuport 23's were sold, after the war to the Swiss Fliegertruppe and several single- and two-seaters became sporting or privately owned aircraft postwar. The success of the Nieuport fighters, and the Nie 17 in particular, was maintained even against the theoretically superior Albatros D.I and early Halberstadt fighters, and it is no small tribute to the French machines that later German fighters' were designed on instructions that they should incorporate many of the features that had made the Nieuports so outstanding.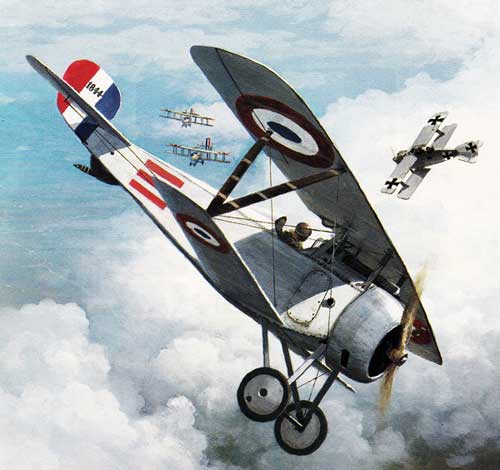 ---

Specifications for the Nieuport 17
Length: 19 ft
Wingspan: 26 ft 9 in
Height: 7 ft 10 in
Wing area: 158.77 ft²
Empty weight: 827 lb
Loaded weight: 1,235 lb
Powerplant: 1× Le Rhône 9J
9-cylinder rotary engine, 110 hp


Performance
Maximum speed: 102 mph
Range: 155 mi
Service ceiling: 17,390 ft
Rate of climb: 11.5 min to 9,840 ft
Wing loading: 7.77 lb/ft²
Power/mass: 0.09 hp/lb


Armament
(French service) 1 × synchronized
Vickers machine gun
(British service) 1 × Lewis gun on
Foster mounting on upper wing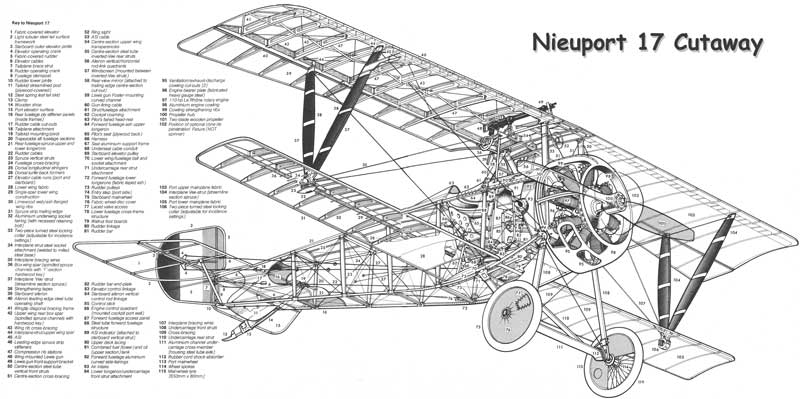 This fabulous Nieuport 17 cutaway comes in a 8.5x11 PDF for FREE included in your MyModels folder!