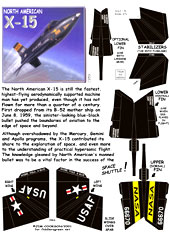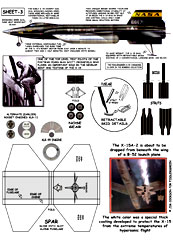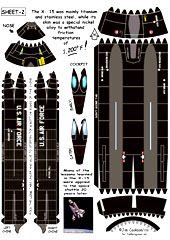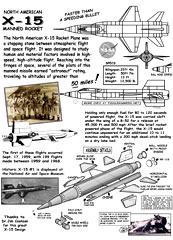 North American X-15 Manned Rocket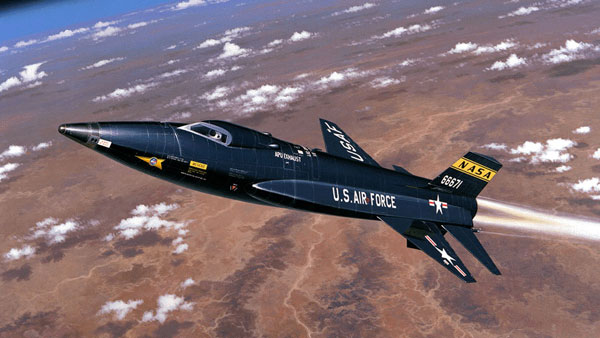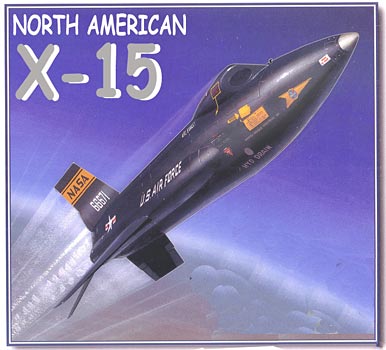 It achieved it's few years of fame back in the 1960s, yet the remarkable North American Aviation X-15 remains the fastest and highest flying airplane ever manufactured. While the Space Shuttle Orbiting Vehicle achieves speeds of Mach 25 during reentry, it does not do so under its own power.


Though it was seen as just a step toward faster vehicles at the time, the X-15 is likely to remain the fastest and highest flying airplane ever manufactured well into the 21st century. Indeed, on the 50th anniversary of its record flights, there was still no faster airplane.
---
What People Say....

Man, oh man, oh man...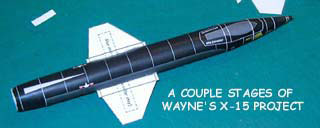 As you have probably noticed by the photos I have sent to you, I'm not too keen on jets and the like. There's just something about an old rag-bag, can-thumper that really appeals to me. Something about bugs in the teeth...wind in the wires...But, alas, I think Jim's newest design may have finally brought me a little closer to something a bit more modern.
My attempt was printed on 67 lb Wasau Exact Index paper (60% of the originally-sized sheet). The fit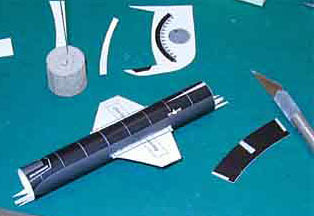 is excellent and, in spite of the absence of diagrammatic instructions, and my self-imposed reduced scale, Jim's X-15 went together with hardly a burble. I even managed to bring the nose together without having to use a gallon of glue. I will suggest to pay special attention to getting the wings on the internal stiffener (as PLAINLY stated in the instructions) BEFORE attaching the side-body panels. I dodged this bullet and if one dims the lights, half-closes their eyes and removes their glasses its hardly noticeable.
I've always had difficulty in neatly attaching parts such as the side-body panels on the X-15. If I remove the glue tabs the part eventually ends up askew or, worse yet, bent and folded in shapes the designer never in their wildest dreams could imagine. If I keep the tabs on the part I usually wind up with this really huge gap where the parts meet. This time I took the time to really get after folding the tabs prior to shaping the part, getting as sharp as crease as possible on the glue tabs. The result (in similar viewing conditions as above) was a significant improvement over earlier attempts. I hope this isn't a one-off occurrence...
Something else I really appreciated was the fact that because the aircraft is black the panel lines and such are white, very little edge touch-up was required. No white-line fever! Wayne White
---
I built the X-15, and it looks great! I'm going to have to get the Bombers disc sooner or later so I can display it from the pre-launch position on a B-52. Can't wait to do the new F-82 Twin Mustang. I always did think that was a beautiful airplane.

I'm having a lot of fun with the models... just bought 2 more discs, and anxiously await emptying out a couple of printer cartridges on the models. Yours in paper modeling.. Kurt
---
Chip, You and I have worked together in numerous Civil Air Patrol publications where your paper model projects have been featured in our AEX teacher publications.What you're doing with the X-15 is spectacular. Scott Crossfield was not only a personal friend of mine, in 1989, I received the A. Scott Crossfield Aerospace Educator of the Year Award for my work with students and teachers. Each year, since 1986, Civil Air Patrol has selected a teacher who has done an outstanding job in making aviation / aerospace technology an exciting part of the traditional K-12 curriculum. These teachers were nicknamed, by Scott, the "Crossfield Kids!" He was "friend" to everyone who knew him and at our National Congress' (convention for aerospace educators) Scott was always surrounded by adoring teachers, students, cadets, and Civil Air Patrol senior members (age 18+).
I am going to notify National Headquarters (CAP/USAF) at Maxwell AFB and make them aware of what you're doing with the X-15.* The CAP organization has over 60,000 members (seniors, cadets, and teachers) and if I can get this into their monthly newspaper, that should help make everyone more aware of what you've done for us, FiddlersGreen, Scott and the rich history of the X-15. Hopefully, there will soon be a monument to Scott at the National Air and Space Museum showcasing his CAP work with teachers.
I hope all is well and that you're prepared to enjoy another Arizona winter! Take care and thanks again for all that you've done to help make our AEX program a success. Dr. Ben Millspaugh Aerospace Education Consultant/author Civil Air Patrol NHQ.
---
Since my school days, I've moved on to become a flight test engineer at Edwards AFB, CA. In a few weeks, I'll be heading back to my alma mater for a recruiting trip. We plan to do a design competition of some sort while there. With your permission, I thought it would be fun to offer up one of your models (possibly the X-1 or X-15 or something else near and dear to Edwards) and see if any of the students can make it fly. Of course they'd be judged on craftsmanship as well. I saw a link on your website for educators, but I didn't think I fit the bill. Let me know if you think this a possibility and how we should proceed. Thanks, Andrew Hansen
---
Chip, there is a mistake on you X-15 paper airplane page. The 3rd X-15 (ship 3 tail #66672) is on display at the NASA Dryden flight research center at Edwards AFB CA I know , I drive right by it every morning. Andrew. Fixed 12/09
---
Some notes from designer Jim Cookson......
1. Build the body tube - front to back. I'd suggest cutting the wing-spar slits prior to rolling.
2. Fold the wing-spar/stiffener & glue (I actually used a thin piece of basswood for the stiffener).
3. Put the spar thru the body & true up the tube to the lines -- glue.
4. Build the side pieces for the fuse. Note the back inch or so has two creases around the horizontal stab. The front is a bit fiddly. Note (& glue) the small overlaps on the sides before bringing the sides together.
5. Slide the sides over the spar & glue to the fuse, trying to follow the marks on the fuselage.
6. The wings get glued alone the rear edge & tip before sliding over the spar & gluing.
7. The rest is fairly straight forward. If you intend to have the gear in place, use the shorter of the two ventral fins.
8. Unlike my beta build photo, the front gear goes about mid-way in the gear bay with the door (Oh, that's what that is!) at the back edge. The rear gear should angle out from the back of the rear bays with the folded edge outside & towards the back. I reinforced the front gear with a length of pin, the rear don't need support but, let them dry thoroughly with the ventral fin
supported ~3/8ths inch up (nose wheel on the table) before taking weight.
NOTE: There are pretty good instructions included with the model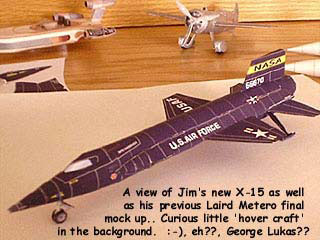 ---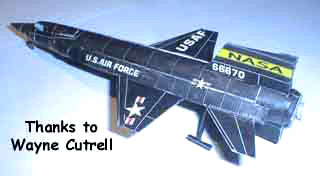 The "kit" comes complete with two ventral fins, a longer, "in-flight" and a shorter, "landing/take-off" version. I opted for the longer ventral fin, even though I presented the model with gear extended; I just liked the looks of it.
If you happen to be like me and have a particularly difficult time in creating long tubes, I would suggest breaking the main body up into shorter segments, say into threes. As the fit on this model is so close to being just a wee bit shy of right-at perfect, bringing these tubes together should be no problem. Besides, as the "panel" lines are white, the joints will need little, if any, further disguising.
I didn't keep much of a record of the construction time, but it seemed a rather short time; maybe five hours from printer to display (not including printing, constructing and blackening one of Chip's "freebie" stands; within which I glued a 10-p coin (about the diameter of one of the old US Susan B.'s) so as to give a bit of stability and add value).
The fit is excellent. Not one part too many, not one part too few. Not necessarily for the flat-out beginner, Jim's/Chip's X-15 will be a pleasure build for the moderately-experienced card-cutter with very pleasing results. The few who've seen mine (flaws and all) have been very complimentary ('course, they might just be polite). If you are the slightest bit interested in any space program you gotta get this one. Shucks, if you just want to build a right-nice model, you gotta get it.
Chip, it looks like to me you've got another winner in the stable. Twenty on the nose on the X-15... Wayne
---
North American X-15

The X-15 program is a direct successor to the series of supersonic research aircraft that began with the X-1 in 1946. The X-15 was conceived by the U.S. Air Force and NACA while the X-1 and X- 1A projects were still underway. The idea was to build an aircraft that flew at Mach 6 (six times the speed of sound) and up to an altitude of 225,000 feet. The X- 15 would be not just supersonic but hypersonic (flying over five times the speed of sound).The X-15 was intended to go three times as fast as the X- 1A and more than twice as high.


In 1955, after having defined the parameters of the project, NACA and the Air Force picked North American Aviation as the prime contractor to build three X-15 aircraft, and Reaction Motors (who built the X-1 engines) to provide rocket motors for these aircraft.

The first X-15 was completed in late 1958, and after five months, it was ready for its first unpowered glide flight in March 1959, having been dropped from a B-52 "mother ship" over Edwards AFB. California. The first powered X-15 flight involved the second X-15, and it took place on September 17, 1959, with North American Aviation test pilot Scott Crossfield at the controls.
It was an impressive first flight as he accomplished a speed of 1,393 miles per hour (Mach 2.11) and an altitude of 52,341 feet. On flight 18 in August 1960, test pilot Joe Walker set a world speed record of 2,196 miles per hour (Mach 3.31), and on the next flight Major Robert M. White took the aircraft to an altitude of 136,500 feet.


The X-15 had a wingspan of 22 feet 4 inches and a length of either 49 feet 10 inches or 50 feet 3 inches, depending on which engine was installed. It had a gross weight of 31,275 pounds.


The X- 15 was powered by a Reaction Motors XLR- 11 -RM- 5 or XLR-99 ethyl alcohol rocket engine, delivering 57,850 pounds of thrust at 100,000 feet for a duration of 60 minutes. The initial 25 flights were made using the XLR-1 1, with the XLR-99 engine first used in the second X-15 in November 1960. The third X-15 made its first flight in December 1961 and was delivered with the XLR-99 installed.


Because it could be throttled, or speed controlled, the XLR-99 was a welcome addition to the X-15 program. On its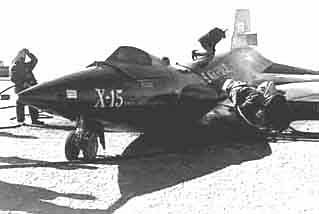 second flight November 1960, Crossfield stopped and restarted the XLR-99 in flight. Four months later, White became the first person to exceed Mach 4, and in June 1961, he surpassed Mach 5 for the first time. It was an important milestone to cross, for all but a handful of the remaining X-15 flights reached speeds in excess of Mach 4 and over half exceeded Mach 5. In November 1961, White broke the Mach 6 barrier, the goal that was indicated in the X-15 design specifications.


In April 1962, Joe Walker made the first flight to top the design-specified 225,000 feet, reaching an altitude of 246,700 on the 52nd flight of the X-15 program. Three months later, White earned astronaut's wings for a flight above the earth's atmosphere to 314,750 feet. On August 22, 1963, Walker achieved the altitude record unequaled by any other aircraft, reaching 354,200 feet-67 miles above the earth's surface.


Meanwhile, the second X-15 suffered severe damage in a high gross-weight emergency landing in November 1962 and was completely rebuilt as the X- 15A, with improved systems and a provision for removable external fuel tanks for longer flights. Its first flight in X- 1 5A configuration came in June 1964.


The X-15 program set many speed records during 199 flights with three aircraft. Over half of them were above Mach 5, and there were four above Mach 6. The, fastest and still unsurpassed speed of 4,520 miles per hour (Mach 6.7) was flown by Pete Knight on October 3, 1967.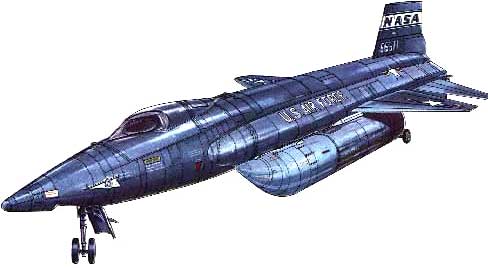 The 199th and last X15 flight occurred a year later on October 24, 1968, with test pilot Bill Dana reaching a speed of 3,682 miles per hour at 250,000 feet. There were 13 flights in which X-15 pilots were awarded astronaut's wings for flights above the earth's atmosphere.. that's more space flights than the Mercury or Gemini spacecraft or the Apollo spacecraft through the lunar landing program.


The X- 15 program was successful in terms of exploring hypersonic flight, in developing throttle rocket engines, in developing processing methods for metals and other materials for high-speed aircraft, in the development of pressure suits, in the development of structural components later used in spacecraft, and in studying the weightless environment of space.


Ironically, since the X-15 was retired in 1968, no other hypersonic aircraft are known to have entered development anywhere in the world.
According to Wiki:
X-15-1 (s/n 56-6670) is on display in the National Air and Space Museum "Milestones of Flight" gallery, Washington, D.C.
X-15-2A (s/n 56-6671) is at the National Museum of the United States Air Force, at Wright-Patterson Air Force Base, near Dayton, Ohio. It was retired to the Museum in October 1969. The aircraft is displayed in the Museum's Research & Development Hangar alongside other "X-planes", including the Bell X-1 and X-3 Stiletto.
X-15-3 (s/n 56-6672) was destroyed. Parts have been recovered at the crash site as late as the 1990s.
We received an email with an update on the 3rd X-15 it is now on display at the NASA Dryden flight research center at Edwards AFB CA.
---

I've long wanted to build a model of the "early" X-15, AC# 56-6670. The plastic kits out there are either A) too pricey or B) of the X-15A-2. So since I've started working in card instead of plastic, I found this kit on the website of Fiddlers Green and decided to build it.
I made several modifications, however.

For one thing, the kit comes with the panel lines in white, which look WAY too stark against the black body of the aircraft. So after printing out the sheets -- and before cutting out the pieces -- I took a straight edge and a black marker and covered all the white lines. Once that was dry, I replaced the lines with rows of little silver dots from a small gel roller ball pen, again using a straight edge to make sure the rivet lines were straight.



I deviated from the kit instructions in that I removed the tabs from the Chinese, but added tabs to the side of the piece that makes up the cylindrical part of the fuselage. I scratch built the skids in the stowed position, and also scratch built the various dumps, jettison plumbing, antennas and probes. David Hanners

Click

HERE

for the original article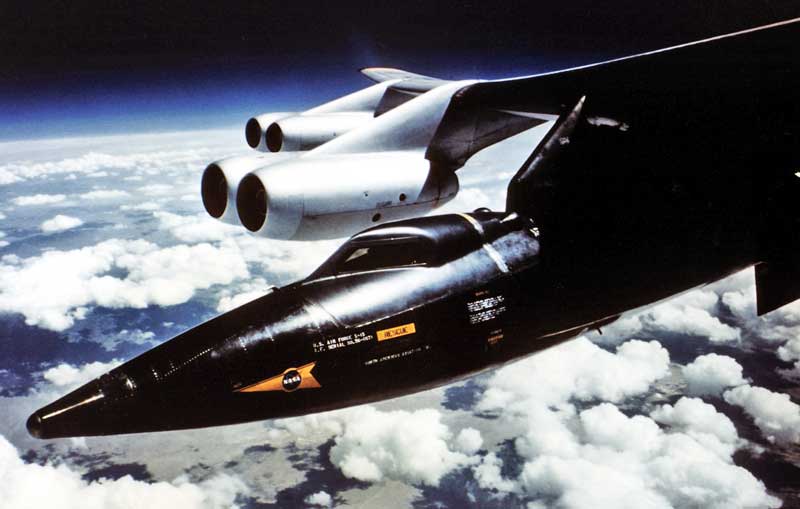 Dryden..

APPROXIMATELY TWO HOURS outside of Los Angeles, lying amidst a jungle of Joshua trees is NASA's fabled Dryden Research Center. For the past half century, many interesting things have been brewing in this outpost of the outrageous.
Dryden occupies one corner of the 20,000 square-mile military complex known collectively as Edwards Air Force Base. Despite the Air Force designation, Edwards is also host to the U.S. Navy, U.S. Army and the FAA-run Desert TRACON.
Approaching from the south, a sense of history becomes more palpable. Names like Yeager, Crossfield and Hoover echo across the flat valley floor like distant images of a time when pressing the frontiers of aviation and aerospace meant more than budget-cutting and RIF's.
Adding to this is the fact that a space shuttle is in attendance, after having made an increasingly rare West Coast landing. But Dryden s story goes hack much farther than as an alternative landing bed for NASA's fleet of others. Operations began on September 30, 1946 with a handful of engineers sent out from NACA in Hampton, Virginia, to begin work on the X-1 supersonic aircraft program.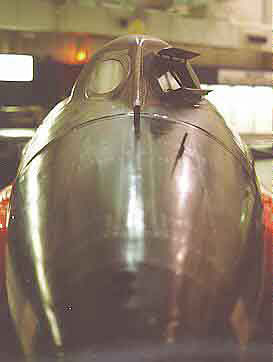 When you visit Dryden, it's hard to to think of the grainy films of the giant B-29 with a dart-like aircraft tucked protectively beneath a wing or the dust kicking up as the mysterious black vans race across the dry lake head as another bizarre contraption lands. Here is a place where Jules Verne would have been right at home. This is a place where the preposterous is somehow possible.
Most people think of the work at Dryden and the X-planes that were tested there as enabling the military to fly faster and higher but the truth is that Dryden has also played a major role in making both general and commercial aviation safer and more efficient. Vortex generators and wake turbulence research, for example, have been studied and refined here.
Adjustable stabilizer, winglets, laminar-flow, swept, variable-sweep and supercritical wings are all part of the bounty of development. Studies in mountain waves, wind shear, clear air turbulence (CAT) and jet stream turbulence and pollution, stalls and spins have undergone dissection in this living laboratory, More recently, the fly-by-wire concept was researched here in the 1970s using an F-8 Crusader. This technology found its way onto the space shuttle, the Boeing 777, B-2 bomber and F/A-18 Hornet.
In the future, the Dryden brain trust is working on replacing large, centralized systems with small, lightweight individual components to reduce weight and increase aircraft efficiency. Also, NASA's mission has taken on more and more of an environmental slant and Dryden's efforts are no exception. Using the Pathfinder, a remote control, solar-powered aircraft, NASA is having a high-altitude peek at the effects of pollution and ozone-layer depletion/regeneration.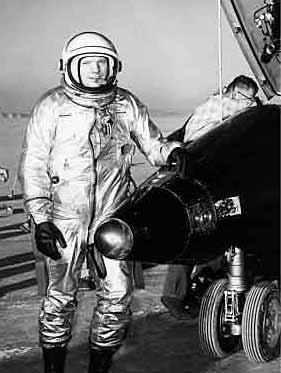 Air-launched from a modified Boeing B-52 Stratofortress aircraft, the X-15 required conventional aerodynamic control surfaces to operate within the atmosphere and special "thruster" reaction control rockets located in the nose and wings of the aircraft to enable the pilot to maintain control when flying on the fringes of space. Indeed, the X-15 design was so much like that of a space vehicle that during the formative days of Project Mercury, America's first attempt to put a man in orbit, North American and National Air and Space Administration (NASA) engineers gave serious consideration to utilizing a growth version of the X-15 for the manned orbiting mission. This plan was dropped in favor of using a blunt-body reentry vehicle. Because of the potential dangers to the pilot should the X-15's pressurized cockpit lose its atmosphere while the aircraft operated in a near-space environment, X-15 pilots wore specially developed full-pressure protection 'spacesuits' while flying the experimental plane.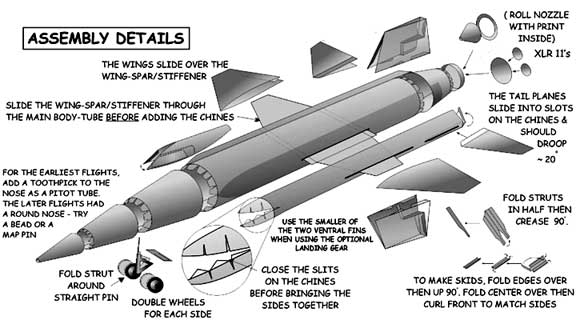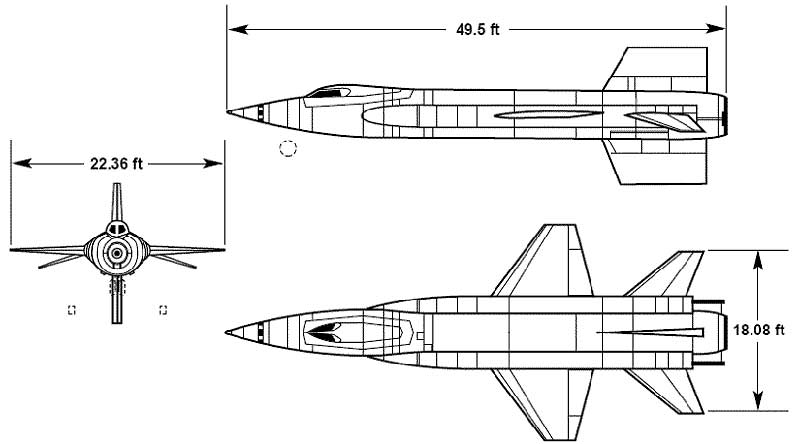 North American X-15 Specifications
North American X-15- Operated by NASA
Wingspan:22 ft. 4 in.
Length:50 ft. 7 in.
Height:13 ft.
Weight:12,500 lb. empty
First winged aircraft to achieve Mach 6 and to operate at altitudes above 100,000 feet
Date of Milestone: Test flights began in 1959
Engine: Thoikol (Reaction Motors) XLR-99-RM-2 rocket engine rated at 57,000 lbs thrust at sea level
A: In the first years of its test program the X-15's cockpit had oval windows. These were replaced by more conventional rectangular panes in later rebuilds.
B: The wedge-shaped tailplane provided directional stability at altitudes around 98,425 feet, but at 60 miles the X- 15 was in space and control could only come from small reaction motors.
A: The X-15 was mainly titanium and stainless steel, while its skin was a special nickel alloy to withstand friction temperatures of 1,200F. The tiny cockpit windows were of dual-pane, heat-resistant glass.
B: The disposable external fuel tanks increased the burn time of the X-15s rocket motor from just over a minute to nearly two and a half minutes.
C: To save weight, the X-15 was equipped with a retractable skid instead of conventional landing gear.
Major Michael J. Adams (USAF)
Born: May 5, 1930 in Sacramento, California.
Education: Received a bachelor of science degree in aeronautical engineering from Oklahoma University in 1958.
Marital Status: Married to Frieda Adams.
Children: Three: Michael, Jr., Brent, and Liese.
Experience: Michael Adams joined the U.S. Air Force in November 1952 and flew 49 missions in the Korean War. Following graduation from Oklahoma University he completed USAF Aerospace Research Pilot School. In 1964 he tested a lunar lander trainer. He was selected as a Manned Orbiting Laboratory astronaut in 1965, but left to join the X-15 program. This position was opened when Joe Engle became a NASA astronaut in 1966.
His first X-15 flight occurred on October 6, 1966 when he a maximum speed of 2893 mph and a maximum altitude of 75,400 feet (14.28 miles). On November 15, 1967 he made his seventh and final flight in X-15 No. 3. He achieved a maximum speed of 3561 mph and a maximum altitude of 266,000 feet (50.38 miles).
Upon re-entry the vehicle entered a spin at a speed of Mach 5 (five times the speed of sound). At approximately 18,600 feet the vehicle began to dive followed by high frequency pitch oscillations. The vehicle disintegrated when the forces reached 15 Gs (15 times Earth's gravity), killing Adams.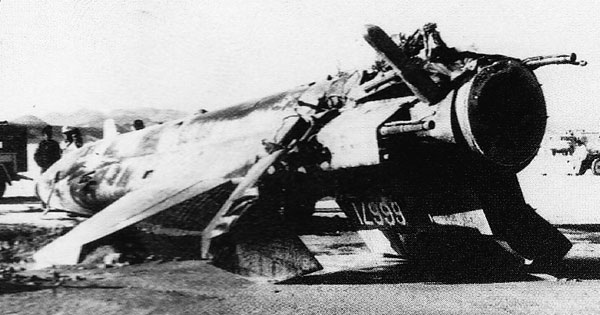 This image is of John McKay's Crash in which he survived.