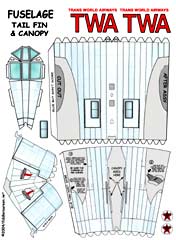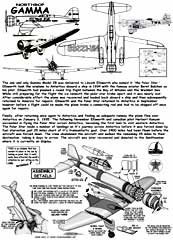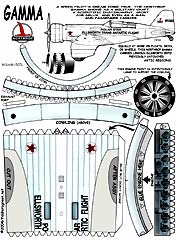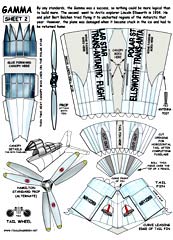 Northrop Gamma - $$4.95
The most famous Gamma was the "Polar Star." The aircraft was carried via ship and offloaded onto the pack ice in the Ross Sea during Lincoln Ellsworth's 1934 expedition to Antarctica. The airplane was almost lost when the ice underneath it broke and it had to be returned to United States for repairs.

Northrop Gamma Ellsworth Polar Star Antarctic Explorer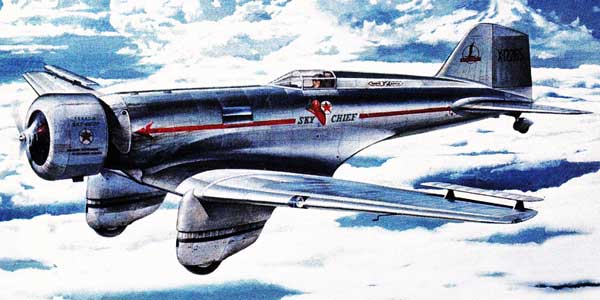 Frank M. Hawks piloting his Northrop Gamma Sky Chief during his record setting cross-country flight on June 2,1933.
---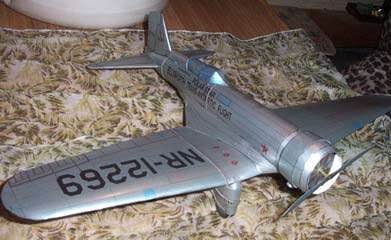 The Granddaddy of World War II fighters!
This model is of the famous Northrop Gamma made famous by the Antarctic explorer Lincoln Ellsworth's. HIS Northrop Gamma, The Polar Star, is exhibited at the Smithsonian, in Washington DC.


Lured by the fascination of far-off lands, the adventurous aviator of the Golden Age ventured into the jungles of New Guinea and the Amazon, and to the uncharted polar regions. Lincoln Ellsworth and his pilot, Herbert Hollick-Kenyon, flew this aircraft across the Antarctic in 1935.

It began as a speed pilot's dream come true and soon led to an Army bomber and finally to fast, comfortable, high altitude passenger travel. Along the way, it pioneered flight in the Antarctic and set a fistful of transcontinental speed records. A few notables like Howard Hughes, Jackie Cochran, and Frank Hawks set 1930s records in the sleek and speedy Gamma.


Most importantly, the Gamma was the direct ancestor of the soon to come WWII fighter aircraft and most deserving of a place of honor in the Fiddlers Green collection of historical aircraft.
---
---
What people say...
WAY TO GO!!!!! Y'all just keep getting better and better! Funny--it was just yesterday I was looking at my die cast Northrop Gamma, and wishing someone would do a paper model of it. Evidently my wish is your command!
---
Also I am so happy that you did Ellsworth's plane. For the last year or so Kerstjan Blaauw, Cor von Haasteren and I have been working on creating and assembling a group of paper models having to do with the exploration of Antarctica. What a fascinating subject!
---
Oh! Praise de Lawd! You are doing the Ellsworth tandem version. Nice choice. We are standing by . . .
---
Wow! "Fantastic!" has become the norm. The alternate markings is a great idea. I do not know of another paper model design house that does what you do. John T
---
Hi, just wanted to send along a picture of my son and his FG Gamma model he just finished. He built it for his schools history fair and included the historical information from the your site in his display. Thanks so much for this great hobby. His name is Alex and he is eight. I'm the dad and my name name is Andy.
---
Included in the folder are TWA passenger airline markings as well as generic wings and fuselage should you wish to do a special version. The folder also offers two sizes of the Gamma, the largest having a wingspan of 18 inches.

Northrop Gamma Ellsworth Polar Star Antarctic Explorer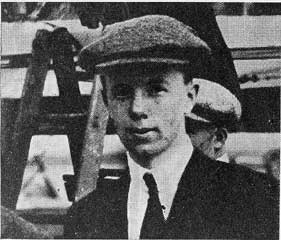 On November 23, 1935, explorer Lincoln Ellsworth, with Canadian pilot Herbert Hollick-Kenyon, took off in the Northrop Gamma Polar Star from Dundee Island in the Weddell Sea and headed across Antarctica to Little America. This was not the first time that Ellsworth had attempted a trans antarctic flight in the Polar Star.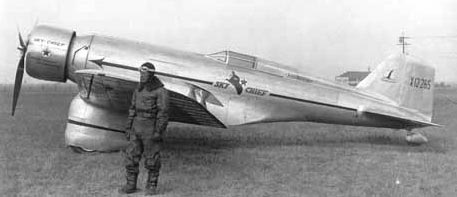 Antarctica was the last continent to be discovered and the only one that was mapped entirely from the air. Aerial explorers from the United States, Great Britain, Australia, Norway, Canada, and France can be credited with this feat, and Lincoln Ellsworth was one of the most tenacious of these explorers.
Ellsworth, a World War I pilot, was the son of a Chicago millionaire coal mine owner. He went on his first polar expedition in 1925 with the Norwegian explorer Roald Amundsen. In May 1929, Ellsworth, Amundsen, and Italian dirigible pilot Umberto Nobile made the first transpolar flight in history, from Spitzbergen, Norway, to Alaska, in the airship Norge. It was Ellsworth's use of the airplane for exploration, rather than his skills as a pilot, that earned him his place in aviation history.
Ellsworth first took the Polar Star to the Antarctic in 1934. Sir Hubert Wilkins, the famous Australian polar explorer, went along as advisor, and the Polar Star's pilot was Bernt Balchen. The expedition reached the Bay of Whales by ship on January 6,1934, and Ellsworth intended to make a round-trip flight with Balchen between the Bay of Whales and the Weddell Sea.
However, the 15-foot-thick ice on which the Polar Star was standing broke apart and one of the skis slipped through a crack. The aircraft was almost lost, but after long hours of work it was recovered and put back on the ship to be returned to the United States for repairs.

Ellsworth and the expedition went back to Antarctica in September. October and November were considered the best months for flying there, and this time Ellsworth planned to fly from Deception Island to the head of the Weddell Sea. However, before any flight could be made, the Polar Star had to be shipped to Magellanes, Chile, for repairs to a broken connecting rod, and by the time the aircraft returned to Deception Island, snow conditions made it impossible to use the runway. The expedition then tried Snow Hill Island on Antarctica's east coast. On January 3, 1935, Ellsworth and Balchen made a successful flight to Graham Land, but clouds and snow forced them to return to Snow Hill Island after several hours.
That November. Ellsworth and Hollick-Kenyon finally succeeded in flying the Polar Star across Antarctica. After their takeoff on the 23rd, they flew at an altitude of 13,400 feet; on crossing the 12,000-foot peaks of the Eternity Range, they became the first men to visit western Antarctica. Ellsworth named a portion of that area James W. Ellsworth Land in honor of his father.
The Polar Star made four landings during its flight across the Antarctic. After a blizzard that occurred during the night at the third camp, the inside of the plane was packed solid with drifted snow. The two explorers spent a whole day scooping out the dry, powdery snow with a teacup.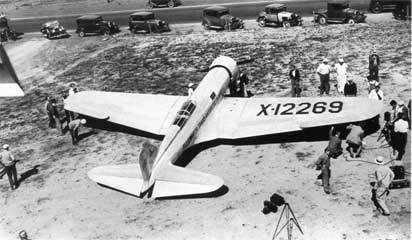 On December 5, fuel exhaustion forced them down about 25 miles short of their goal of Little America. They walked for six days to reach there, and then settled down in the camp abandoned by Richard E. Byrd several years earlier.
The British Research Society ship Discovery II sighted them on January 15, 1936. Hollick-Kenyon later returned to recover the Polar Star. The total distance flown by the Polar Star before its forced landing was about 2,400 miles. The U.S. Congress voted Ellsworth a special gold medal for his Antarctic exploration and "for claiming on behalf of the United States approximately 350,000 square miles of land in the Antarctic representing the last unclaimed territory in the world."
The Polar Star was one of two Northrop Gammas that were the first aircraft produced in 1933 by the newly established Northrop Corporation of Inglewood, California. The Gamma is a low-wing, all-metal cantilever monoplane with a 710-hp 9-cylinder Pratt & Whitney Hornet engine. The one built for Ellsworth had two seats in tandem with dual controls. The other of these first two Gammas was built for Frank Hawks, who at the time was a pilot for Texaco. Hawks's Gamma was a single seat model. On June 2,1933, Hawks set a west east nonstop record in his Gamma, flying from Los Angeles to Floyd Bennett Field, New York, in 13 hours, 26 minutes, 15 seconds.
In April 1936, Lincoln Ellsworth donated the Polar Star to the Smithsonian.

------------------------------------------------------------------------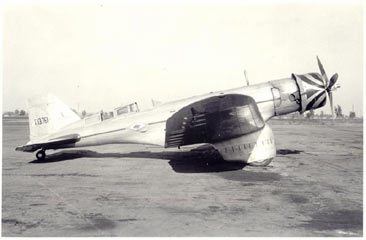 With its long-range speed capabilities so readily apparent, it was not surprising that such speed enthusiasts as Jackie Cochran wanted the Gamma. Hers was something different, being powered by a 700 hp Curtiss Conqueror liquid-cooled V-12 tucked into a slim cowl.
It was her plan to fly it in the Mac Robertson Race from England to Australia in 1934, but the airplane was badly damaged on its delivery flight. The Model 2G was rebuilt with a Pratt & Whitney Twin Wasp in the nose. Jackie started the 1935 Bendix Race in it but dropped out early because of severe weather.
---
Howard Hughes then took over Cochran's NR-13761 and proceeded to blast speed records in all directions: Los Angeles to New York in January, 1936, at 255 mph; Miami to New York in April, 1936, at 250 mph; Chicago to Los Angeles in May, 1936, at 215 mph.
---


The one and only Gamma Model 2B was delivered to Lincoln Ellsworth who named it 'the Polar Star.' Ellsworth took the airplane to Antarctica aboard a ship in 1934 with the famous aviator Bernt Balchen as his pilot. Ellsworth had planned a round trip flight between the Bay of Whales and the Weddell Sea. While still preparing for the flight the ice beneath the polar star broke apart and it was nearly lost. After considerable effort the plane was recovered and loaded back aboard a ship and then subsequently returned to America for repairs. Ellsworth and the Polar Star returned to Antarctica in September, however before a flight could be made the plane broke a connecting rod and had to be shipped off once again for repairs.
Finally, after returning once again to Antarctica and finding an adequate runway the plane flew over Antarctica on January 3, 1935. The following November Ellsworth and canadian pilot Herbert Hollick-Kenyon succeeded in flying the Polar Star across Antarctica, becoming the first men to visit western Antarctica. The Polar Star made a number of landings on it's journey across Antarctica before it was forced down by fuel starvation just 25 miles short of it's trans antarctic goal. Over 2400 miles had been flown before the aircraft was forced down. The crew abandoned the aircraft and walked the remaining 25 miles to their destination, taking 6 days to arrive. The aircraft was later recovered and donated to the Smithsonian where it is currently on display.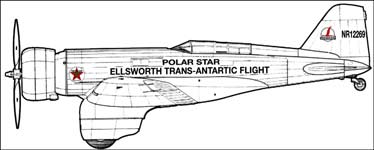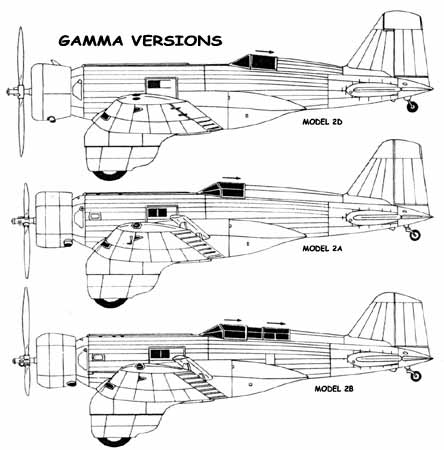 The Gamma family consisted of a number of variants. The Gamma family was an outgrowth of the Alpha, initially serving as a rugged civilian transport the Gamma eventually found it's way into military service with the US, Spain, China as war approached.
Model 2A, Qty 1: First Gamma delivered (1932). Purchased by Texaco on February 14, 1933 for $40,000. Frank Hawks, the director of the Aviation department for the Texas Company used it for a number of record breaking flights. This aircraft was officially named "Texaco 11" and commonly referred to as "Sky Chief". It was in this single seat model gamma that Hawks set a west to east nonstop record flying from Los Angeles to New York, in 13 hours, 26 minutes, 15 seconds (2 June 1933.)
| | |
| --- | --- |
| This is the Northrop Gamma on exhibit at the Smithsonian | |
| | |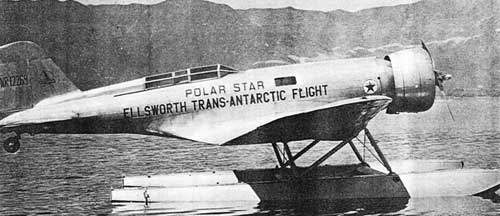 Polar Star Equally at home on floats, skis or wheels, this Northrop Gamma carried explorer Lincoln Ellsworth into previously untouched Antarctic regions.
Specifications ("Polar Star")
Wingspan: 48 ft.
Wing Area: 363 sq. ft.
Length: 29 ft. 9 in.
Height: 9 ft.
Weight: 3,500 lb.
Normal Loaded Weight: 7000 lbs.
---
THERE ARE MILITARY airplanes, and commercial airplanes, and scientific airplanes, and sport airplanes. And there is at least one airplane which earned its place in the sun by being all these things and by looking so great that it could easily have attracted the world's attention by just sitting on the ramp motionless. The Northrop Gamma was that plane.
It began as a speed pilot's dream come true; eventually it led to an Army bomber and to fast, comfortable, high altitude passenger travel. Along the way, it pioneered flight in the Antarctic and set a fistful of transcontinental speed records. To do all this, it had to combine what were then the latest technical ideas with such radical concepts as wind-tunnel- designed wing fillets and large split flaps.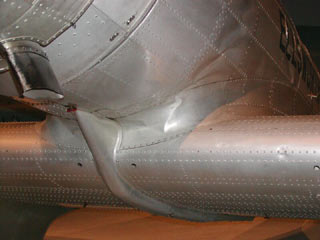 The beginning was February, 1932, when Frank Hawks decided his Travel Air Mystery Texaco 13 wasn't fast enough and asked the manufacturers to come up with something better. It was to be financed by his employers, Texaco. Famed designer John K. Northrop played the major role in planning, and it was his brainchild that the Northrop subsidiary of Douglas set to work on. Designing began in May, 1932, and the first Gamma, named Sky Chief, was test flown on Dec. 3, 1932.
It was long and it was sleek and it was metal from cowl to tail cone. The elaborate wing-fuselage fillets eliminated all the troublesome interference problems encountered by other low-wing airplanes and actually reduced the total drag.
It was possible to place the wing completely under the fuselage, which allowed for much greater space inside. Older planes had been forced to clutter up their cargo space with bulky wing spars, but now there was plenty of room for freight or passengers on planes like the Gamma or, later, the DC-3.
But what really counted was how quickly you could get from where you were to where you wanted to be. Frank Hawks showed how fast his big silver bird could do its job by flying from Los Angeles to New York (no simple trick in those days) at an average speed of 180 mph for the 2450 miles. Power for NR-12265 was a 14-cylinder Wright R-1510 Whirlwind, rated at 700 hp at sea level. The fame achieved in this and other speed runs was just what Texaco wanted, being worth far more than the plane's original purchase price of only $40,000.
The Sky Chief was flown by Hawks for more than a year, then sold to boat builder/racer Gar Wood in 1934. An accident during the 1936 Bendix Trophy Race from New York to Los Angeles finally destroyed the ship when it exploded in flight and sent pilot Joe Jacobson home in a parachute.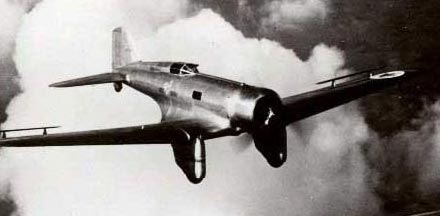 By any standards, the Gamma was a success, so nothing could be more logical than to build more. The second Gamma (Model 2B) went to Arctic explorer Lincoln Ellsworth in 1934. He and pilot Bert Balchen tried flying it to uncharted regions of the Antarctic that year. However , the plane was damaged when it became stuck in the ice and had to be returned home.
Finally, on Nov. 23, 1935, Ellsworth and Canadian pilot Herbert Hollick-Kenyon took off from an island in the Weddell Sea and headed for Admiral Byrd's pioneering base at Little America. This modified Gamma Model 2E was the prototype of the bomber version supplied in quantity to the Chinese to use against the invading Japanese in the years just before World War I.
Yet another Gamma got into the racing game: NC-2111 owned by publisher and physical culture faddist Bernard McFadden. Carrying the owner's name in huge letters along the side, it was flown to third place in the 1935 Bendix Trophy Race at 202 mph by Russell Thaw.
The largest number of Gammas built were Model 2Es, 51 of them came off the assembly lines. For the most part, they were military versions, destined for the Chinese Air Force which, in the mid1930's, already was fighting what would become the Pacific half of World War II. Armed with just three .30 cal. machine guns and carrying about 1000 lbs. of bombs, they probably were at quite a disadvantage against the fast, maneuverable little Japanese fighter planes.
Other Gammas-mainly 2Es went to a number of countries for a variety of reasons. One that got as far as Sweden was SE-ADW Smaland, used by a predecessor of today's Scandinavian Airlines System in night airmail flying until aileron flutter proved its undoing. At least two found their way to Great Britain, one being a Model 2E used for experimental purposes by the Air Ministry, and the sole Model 2L used by Bristol as a flying test bed for its Hercules sleeve-valve engine.
Only one complete Gamma is known to be in existence: the ski-equipped Polar Star, which is on display in the Smithsonian. It is in excellent condition, except for some dents and scratches acquired many years ago when it was slithering around the ice. (see above) But that's what history is made of.
---