General Atomics RQ-1 Predator
| | |
| --- | --- |
| Don't listen to her. She's always acting all melodramatic. | |
How to obtain a Drone

&nbsp &nbsp &nbsp If you play with your XBox a lot, or if you happen to live on a designated battlefield (basically, anywhere on the planet Earth) you might have the opportunity to run from a UAV attack. UAV means "Unmanned Aerial Vehicle" and they call it that because it has no crew on board. It's a great way to have a war because you can shoot it down without hurting anyone!

&nbsp &nbsp &nbsp With only 5 consecutive kills, you can have your own UAV. In many cases, your enemies won't even run because they won't see it coming.
How to Name a Drone

&nbsp &nbsp &nbsp Although the term "meat-servo'd aircraft" can often be heard just outside the control room, you might prefer to call it a Predator, Depredor, RPV (Remotely Piloted Vehicle) or a UAS (Unmanned Aerial System.)

&nbsp &nbsp &nbsp It was originally called the RQ-1 Predator, however, there has been a push in the industry to rename it to an RPA (Remotely Piloted Aircraft) for reasons that are vaguely related to the public image of this weapon. Such a long list of names has led to the shortened version of (RPA/RPV/UAS/UAV) which actually constitutes over 21% of the English alphabet!
Beyond XBox (how to get paid)

&nbsp &nbsp &nbsp Air Force officials have not yet settled on a name for the particular career field associated with the operation of this vehicle. They don't want "unmanned" in the name because Chief of Staff Gen. Norton Schwartz said the career field is anything but unmanned. The term "drone" is also highly discouraged for similar reasons. It conjures up spooky images of futuristic movies, but folks, the future is here. We might as well admit it.

It is believed that, for the first time ever, airmen will receive flight pay without ever leaving the ground. They, as well as their sensor operators, may even receive wings for their uniforms. Sensor operators are enlisted airmen who sit next to the pilot and operate the sensors.
Posted on the FG Forum thanks to gomidefilho (Pericles) Use your Fiddlersgreen 3-D "stereo-optic" glasses
Photos and Beta building from Bob Martin. Thanks Bob! We should give you guys a medal.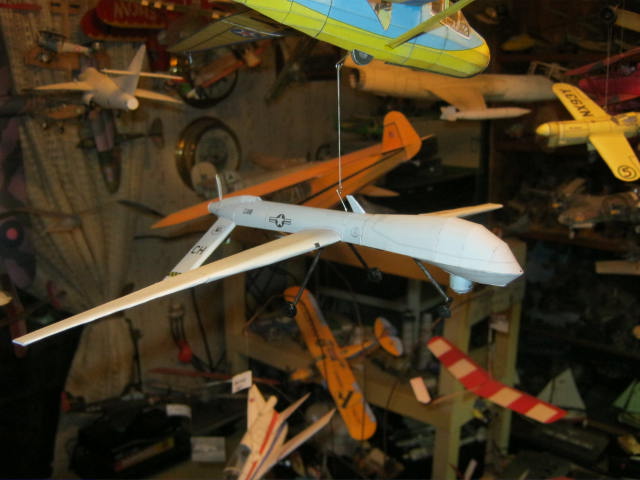 Medal for distinguished warfare - Department of Defense

The Medal

&nbsp &nbsp &nbsp There has been a bit of controversy about whether or not these paper modelers can receive a medal ranking higher than a bronze star when defense officials said, "the medal will be considered a bit higher in ranking than the Bronze Star, but lower than the Silver Star."

&nbsp &nbsp &nbsp The Bronze Star, the fourth highest combat decoration, rewards meritorious service in battle.

&nbsp &nbsp &nbsp In February 2013 Panetta said, "...they've given our men and women the ability to engage the enemy and change the course of battle, even from afar." and the work they do "does contribute to the success of combat operations, particularly when they remove the enemy from the field of battle, even if those actions are physically removed from the fight."

&nbsp &nbsp &nbsp It is interesting to note that the exact same medal is being considered for meritorious valor in the field of Cyber Warfare."
Military Information
Mission
The MQ-1B Predator is an armed, multi-mission, medium-altitude, long-endurance remotely piloted aircraft that is employed primarily as an intelligence-collection asset and secondarily against dynamic execution targets. Given its significant loiter time, wide-range sensors, multi-mode communications suite, and precision weapons, it provides a unique capability to perform strike, coordination and reconnaissance (SCAR) against high-value, fleeting, and time-sensitive targets. Predators can also perform the following missions and tasks: intelligence, surveillance, reconnaissance, close air support, combat search and rescue, precision strike, buddy-lase, convoy/raid overwatch, route clearance, target development, and terminal air guidance. The MQ-1's capabilities make it uniquely qualified to conduct irregular warfare operations in support of combatant commander objectives.

&nbsp &nbsp &nbsp
Features
The Predator is part of a remotely piloted aircraft system. A fully operational system consists of four sensor/weapon-equipped aircraft, ground control station, Predator Primary Satellite Link, and spare equipment, along with operations and maintenance crews for deployed 24-hour missions.

&nbsp &nbsp &nbsp The basic crew for the Predator is a rated pilot to control the aircraft and command the mission, and an enlisted aircrew member to operate sensors and weapons as well as a mission coordinator, when required. The crew employs the aircraft from inside the ground control station via a line-of-sight data link or a satellite data link for beyond line-of-sight operations.

&nbsp &nbsp &nbsp The Predator carries the Multi-Spectral Targeting System, which integrates an infrared sensor, color/monochrome daylight TV camera, image-intensified TV camera, laser designator and laser illuminator. The full-motion video from each of the imaging sensors can be viewed as separate video streams or fused. The aircraft can employ two laser-guided missiles, Air-to-Ground Missile-114 Hellfire, that possess highly accurate, low-collateral damage, and anti-armor, anti-personnel engagement capabilities.

&nbsp &nbsp &nbsp The remotely piloted aircraft system can be deployed for worldwide operations; likewise, the Predator can be disassembled and loaded into a container for travel. The ground control system and PPSL are transportable in a C-130 Hercules (or larger) transport aircraft. The Predator can operate on a 5,000 by 75-foot (1,524 meters by 23 meters) hard-surface runway with clear line-of-sight to the ground data terminal antenna. The antenna provides line-of-sight communications for takeoff and landing. The PPSL provides over-the-horizon communications for the aircraft and sensors.

&nbsp &nbsp &nbsp The primary concept of operations, remote split operations, employs a launch-and-recovery ground control element for take-off and landing operations at the forward operating location, while the crew based in the continental United States executes command and control of the remainder of the mission via beyond-line-of-sight links. Remote split operations result in a smaller number of personnel deployed to a forward location, consolidate control of the different flights in one location, and as such, simplify command and control functions as well as the logistical supply challenges for the weapons system.

&nbsp &nbsp &nbsp The aircraft has an ARC-210 radio, APX-100 IFF/SIF with Mode 4, and upgraded turbocharged engine. The latest upgrades, which enhance maintenance and performance, include notched tails, split engine cowlings, braided steel hoses, and improved engine blocks.

&nbsp &nbsp &nbsp
Background
The Predator system was designed in response to a Department of Defense requirement to provide to the warfighter persistent intelligence, surveillance, and reconnaissance information combined with a kill capability.

&nbsp &nbsp &nbsp In April 1996, the secretary of defense selected the U.S. Air Force as the operating service for the RQ-1 Predator system. The "R" is the Department of Defense designation for reconnaissance aircraft. The "M" is the DOD designation for multi-role, and "Q" means remotely piloted aircraft system. The "1" refers to the aircraft being the first of the series of remotely piloted aircraft systems.

&nbsp &nbsp &nbsp A change in designation from "RQ-1" to "MQ-1" occurred in 2002 with the addition of the AGM-114 Hellfire missiles, enabling reaction against intelligence, surveillance, and reconnaissance, close air support, and interdiction targets.

&nbsp &nbsp &nbsp The Predator remotely piloted aircraft system continues to provide required armed intelligence, surveillance, and reconnaissance capabilities to overseas contingency operations warfighters. During August 2011, the Predator surpassed one million hours of total development, test, training, and combat - a significant accomplishment for the U.S. Air Force.

&nbsp &nbsp &nbsp
General Characteristics
Primary Function: Armed reconnaissance, airborne surveillance, and target acquisition
Contractor: General Atomics Aeronautical Systems Inc.
Power Plant: Rotax 914F four-cylinder engine
Thrust: 115 horsepower
Wingspan: 55 feet (16.8 meters)
Length: 27 feet (8.22 meters)
Height: 6.9 feet (2.1 meters)
Weight: 1,130 pounds ( 512 kilograms) empty
Maximum takeoff weight: 2,250 pounds (1,020 kilograms)
Fuel Capacity: 665 pounds (100 gallons)
Payload: 450 pounds (204 kilograms)
Speed: Cruise speed around 84 mph (70 knots), up to 135 mph
Range: Up to 770 miles (675 nautical miles)
Ceiling: Up to 25,000 feet (7,620 meters)
Armament: Two laser-guided AGM-114 Hellfire missiles
Crew (remote): Two (pilot and sensor operator)
Unit Cost: $20 million (includes four aircraft with sensors, ground control station and Predator Primary satellite link) (fiscal 2009 dollars)
Initial operational capability: March 2005
Inventory: Total force, 164

How to use a Drone
&nbsp &nbsp &nbsp Okay, so you've had a busy playdate - You wiretapped Mom's phone and stored her email in a huge database for future reference. You indefinitely detained your little brother in the closet without a trial, and you even confiscated the Super-Soaker from your neighbor (after all, why does anyone besides you even need a Super-Soaker? Self-defense? Phooey! A regular water pistol should be enough. What's next?

&nbsp &nbsp &nbsp That's where the RPA/RPV/UAS/UAV Q-1 Predator from Fiddlersgreen comes in. Let's say you designated Pops as a terrorist (in a secret meeting) and your disposition matrix declares he may leak secrets to the press. Rather than arresting him and having to go through the hassle of trying to convict him, and having to fool with all those troublesome Constitutional protections, you just assassinate him with a flying death robot. Due process is for sissies, right?

&nbsp &nbsp &nbsp But now you get the added bonus of taking out potential terrorists before they've even done anything - you can kill up to 49 potential future terrorists of any age for every confirmed terrorist you kill, and with the 'double-tap' feature, you can even kill a few terrorist first responders, preventing them from committing terrorist acts like helping the wounded and rescuing survivors trapped in the rubble.

&nbsp &nbsp &nbsp Don't let Dad get away with anti-American activities! Show him who's boss, whether he's on the toilet, in bed, or just having his morning coffee. Sow fear and carnage in your wake! Win a Nobel Peace Prize and be declared Time Magazine's Person of the Year - Twice!

&nbsp &nbsp &nbsp This goes great with the Fiddlersgreen Extraordinary Rendition playset, which gives you all the tools you need to kidnap the family pet and take him for interrogation at a neighbor's house, where the rules of the Geneva Convention may not apply. Tons of fun, as always, at Fiddlersgreen!


(adapted from a review by Maurice Cobbs)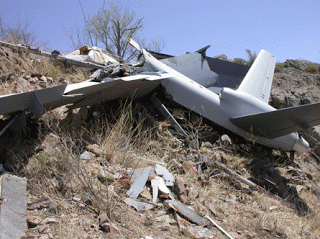 A UAV crashed in the Federally Administered Tribal Areas (FATA) of Pakistan
What People Say...
---
Pericles (From the Forum) "The MQ-1 Predator, is the beta test from Oddball (Aaron) and I believe it will be on sale in Fiddlers Green site soon. The model is scale 1/28, but I reduced to 1/100 scale. It's very easy to build with excellent fit."
---
Wadcutter (also from the Forum) "I hope you're correct about it coming soon to FG. I would like to try it one day if I can ever get my wish list a bit shorter. I'll keep wishing for a shorter wish list. Ya, there ya go. As for your model this is a very clean build in that scale. You have done an outstanding job on it and I like your landing gear idea with the wire."
---
Ward: (age 49) "How about, another excellent model to add to my rapidly growing collection. "
---
OpalMox: "Technology meets artform. "
---
Obama: "Big Government strikes again (Hee Hee) and you're payin for it....Go Figure?"
---
An Historical Aviator: 'Predator' is a rather poetic term to describe an aircraft.
---