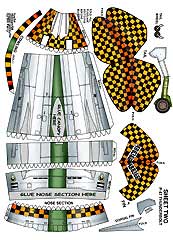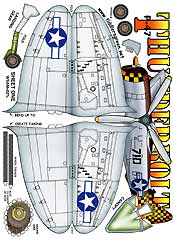 P-47 Thunderbolt - $$5.50
The P-47 was effective in air combat but proved especially adept at ground attack. It had eight .50-caliber machine guns, four per wing. When fully loaded the P-47 could weigh up to eight tons. A modern-day counterpart in that role, the A-10 Thunderbolt II, takes its name from the P-47.

Republic P-47 Thunderbolt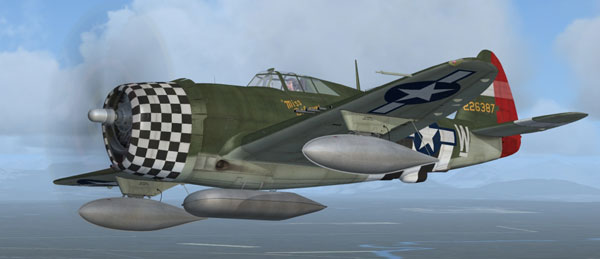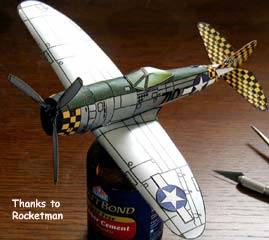 More Republic P-47 Thunderbolts were built than any other U.S. fighter. The "Jug" nicknamed for its bulk shape, was a veritable monster of a machine, yet it was fast and maneuverable. The Pilot had enormous power at his fingertips; if his aircraft was hit by gunfire, he knew he had an excellent chance of getting home. From the first XP-47B to the last P-47N the "T-Bolt" was a winner.
The Thunderbolt, along with the Mustang and Lightning were all the heavy bombers needed to get safely (relatively) in and out of enemy territory.
---
What people say...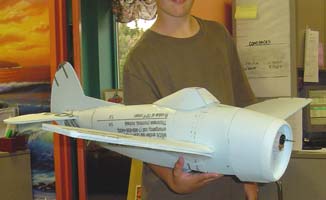 A few years ago I emailed you about my nephew who made a ME 109, you have him on your weenie planes page. Well he wanted me to email you this picture. He used the WWII disk that he purchased from you, and enlarged the planes for the P47. He makes these planes out of the insulating fan fold that can be purchased from the hardware store. Thanks for the really good planes. Terry & Zack (the nephew)
---
| | |
| --- | --- |
| Howdy...Perhaps you could use one of these pictures of the FG P-47 I recently completed and demoed at the IPMS Orange County Chapter meeting. The build techniques are the same as working with paper. Even the guns and antenna were formed around a straight wire. | Wingspan is eleven inches from tapping the FG P-47 B&W version parts page to flattened aluminum can sheets. Bob Penikas 9/11 |
The Republic P-47 Thunderbolt

---
The final perturbation of a lengthy series of radial-engine fighters that included the P-35 and P-43, Republic's immense and powerful P-47 Thunderbolt was one of the truly great fighters of World War II. Designer Alexander Kartveli, after a series of early design Studies that included several lightweight fighters with liquid. cooled engines, eventually settled on a radial engine configuration with a gross weight of more than 12,000 lbs. At the time, this was the heaviest fighter ever Ordered by the Air Force.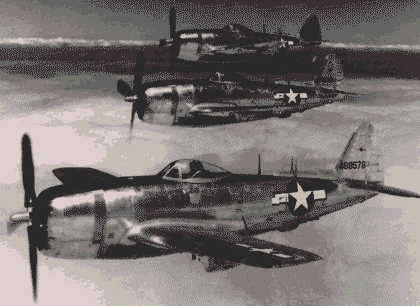 The prototype XP-478 took to the air for the first time on May 6, 1941, already having been ordered into production the preceding September. With its powerful 2,000 hp XR-2800 radial engine, it proved capable of speeds well in excess of 400 mph in level flight-a feat then matched in the U.S. only by the Vought Corsair.
The initial production Thunderbolt series was the P-47B and the first of these was delivered during mid-1942. The Thunderbolt was first flown in combat on April 8, 1943, and quickly proved itself to be rugged, reasonably fast, and Outstanding in a dive. Its shortcomings surfaced, too, however, as it also lacked maneuverability, Climb speed, and range.
The P-47C now was introduced on the production line, this version having a slightly longer fuselage and provisions for a centerline drop tank. It was followed, in turn, by the P-47D, which had water injection to increase engine power when needed, and wing pylons optimized for the transport of weapons and/or additional external fuel tanks.
The P-47D would, itself, undergo a major change midway through its production life when an experimental bubble canopy modification first applied to the one-off XP-47K was introduced on the Thunderbolt production line. This modification permitted a dramatic improvement in pilot rearward vision and almost immediately became the standard configuration for all succeeding P-47s. Between the original razorback P-47s and the newer bubble canopy versions, a total of 12,962 P-47Ds (including 354 P-47Gs built by Curtiss-Wright) were manufactured.
Following a miscellaneous collection of prototypes, the final full-production Thunderbolt model was the P-47N, Developed after an initial batch of YP-and P-47Ms with specially boosted 2,800 hp engines and maximum speeds of 470 mph, this version was optimized for great range and specifically for use in the Pacific Theatre. It differed from its predecessors in having a wing with increased span and increased internal fuel tankage, a more powerful engine, and numerous other lesser changes. Deliveries began during the spring of 1945, and the type served to escort Boeing 8-295 during bombing missions for the rest of the war.
In combat, the Thunderbolt was an effective air-to-air fighter, but an even more effective ground support aircraft. Its great diving speed and ability to carry tremendous payloads made it ideal for air-to-ground work. Some 5,222 Thunderbolts were lost during the war, but only 3,499 of these were directly attributable to enemy action. Some 1,350.000 combat hours were flown with a combat loss rate per sortie of 7%.
The standard armament package found on the P-47 was eight .50 Cal. machine guns in the wings. Additionally, most Thunderbolt versions were capable of carrying a sizable external payload of bombs, rockets, and/or fuel tanks attached to wing hard points.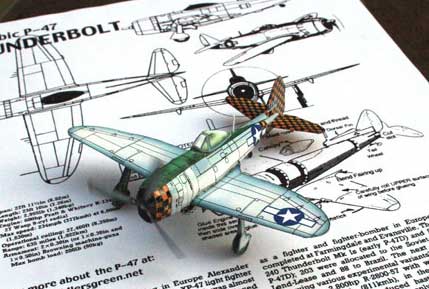 Just showing off: Here is your FG P-47 printed half letter size page on Staples 32LB Color Laser Paper gloss white; I like this stuff. It was printed using a HP Officejet G85. The paper holds a fine line and the ink does not crack off. Good model size for limited shelf space. Bob Penikas
---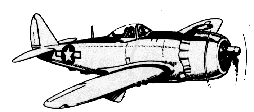 In the light of the early air fighting in Europe Alexander Kartveli almost completely redesigned the XP-47 light fighter projected early in 1939, resulting in the XP-47B. It was almost twice as heavy and a Double Wasp radial engine replaced the XP-47's Allison in-line. In September 1940, 171 P-47Es and 602 P-4lCs were ordered. The XP-47B flew on 6 May 1941. The B and C models were similar, but the C had a slightly longer fuselage to improve maneuverability. Thunderbolts entered USAAF service in March 1842, becoming operational with 0th Air Force units over Europe in April 1943 and in the Pacific theatre some two months later.
Huge orders had been placed for the P-47D, which was initially a refined C. To this configuration, Republic manufactured 8,423 P-47Ds and Curtiss 384 designated P-470. From the P-47D-28 the cockpit view was vastly improved by cutting down the rear fuselage and fitting a 'teardrop' canopy. The weight saved allowed extra fuel to be carried. Production batches from P-47D-37 had a dorsal fin fillet to offset the reduced keel area. Bubble-canopied P-47Ds served widely as a fighter and fighter-bomber in Europe: 8,179 were completed at Farmingdale and Evansville. The RAF received 240 Thunderbolt Mk Is (early P-47D) and 590 Mk II's (later P-47D); 203 were allocated to the Soviet Air Force under Lend-Lease and 88 to Brazil.
The next production model (following various experimental variants) was the P-47M this utilized the 2,800hp R-2800-57 with which the XP-47J had flown at 504mph, in the P-47D airframe. An improvised version produced hastily to counter the VI flying-bomb attacks on Britain, only 130 were built. The last and heaviest production Thunderbolt was the P-47N, a very long-range escort and fighter-bomber variant: Republic built 1,816. Production, ending in December 1945, totaled 15,660 aircraft. About two-thirds survived the war. The Thunderbolt was one of the principal types supplied under the 1947 Rio Pact to many Latin American countries, including Bolivia, Brazil, Colombia, the Dominican Republic, Ecuador, Honduras, Nicaragua and Peru, a few serving until the late 1960s.
---
Fiddlers Green P-47 Thunderbolt Review May 16, 2000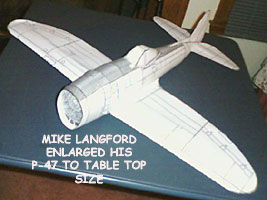 Chip, I really enjoy the CDs my wife gave me for Christmas. Enclosed is a very large Fiddlers Green P47. Wingspan 35 inches. Mike (03/03)
The builder's perspective (or CYA):
The P-47 is my favorite WWII aircraft and over the years I have built it as Plastic Scale Kits, Rubber Powered Kits, Control Line Kits, One R/C Kit and now paper. I am a scale modeler and correct colors, markings and details are as important to me as fit and instructions. I prefer models of real Aircraft and knowing the history behind them. This is what gives models life and personality to me. It is from this perspective this review is written. Comments and suggestions are always welcome, but insults and flames will be ignored.
Historical Accuracy: 3 (1-10, 10 being most accurate)
The model scale is 1/60 and represents a reasonable semi-scale facsimile of a P-47D-40. However, the identification markings: Checker cowl and tail, Aircraft No. 710 and Register No. 488366 are correct for P-47N Captain James Butler Jr. with the 437th Squadron, 414th Fighter Group on Le Shima in 1945. Changes that would be required to make the model accurate are: (1) decrease cowl checker bands to two rows and put the name "Baby Dumpling on the cowl. (2) Delete the kill marks from the left side under the cockpit. (3) The strake (spine) that goes from the front of the rudder down the back needs to be rounded off in the front instead of going to a point. (4) The wings need to have the rounded tips removed and be squared off. (5) No matter which version of P-47 you decide to build, the propeller supplied on the sheet is wrong for all versions. All P- 47,s had four bladed propellers. The kit needs to be either modified with the correct markings for a P-47D-40 or revised to a P-47N with the marking corrected and a four bladed prop. This would easily pull up the rating to a 5 or 6. (The PMI 1/32 P-47D Razorback S.O.S. (Straight Off the Sheets) is a 9 for reference purposes.)

For those interested in a reference for 710 see Squadron/Signal Publications P-47 Thunder Bolt in Action.
Construction: (3) (1 easy to 10 expert)
Large portions of Fiddlers Green models are easy and will go together with little adjustment and all come with an excellent instruction sheet. The P-47 is one of Chip's slightly tougher models because it attempts to capture the Jug shape of the P-47 thus the fuselage is made up of six sections including the front engine cowl. In order to make these fits together smoothly some adjusting is required. Just cutting the pieces out and following the lines for gluing will not produce a good fit. On the one I built the following adjustments had to be made: (the order is from the engine cowl to the tail) (1) Front Cowl had to be let out a little to make it larger. (2) Back Cowl was assembled as marked on drawing. (3) Front Fuselage section had to be taken in a little to make it smaller. (4) Middle Fuselage section had to be taken in a little to make it smaller. (5) The tail section was assembled as marked on the drawings. The wings require a bit of fidgeting to get them to work and fit properly against the fuselage. The rest of the parts went together straight from sheet with no major adjustments. I excluded the landing gear and built mine as a flying version on a stand.
Bob's Mod's
Here are my modifications that you will not find in the instructions: (1) I removed the tabs off the engine and glued it to 1/8 Balsa sheet behind it. Since this part really gives the model it,s cross section the added strength does not hurt and I find it makes the part easier to position & glue in the cowl. (2) Color the inside of the engine cowl black on the backside of the sheet before cutting the parts out. The black adds depth to the engine compartment and removes the stark white look. (3) Stuff small pieces of tissues in the root of the wings to puff them out. The wings will not fit right on the plane unless the wing shape is full bodied or puffed a bit. The tissue helps to keep the shape. (4) For the prop hub and shaft I used plastic tubing found at your local hobby shop. A thin piece is used for the shaft and the next size up is cut and slid over the shaft for the hub. The assembly is glued with liquid plastic cement, the front sanded and rounded to shape. The whole assembly is painted yellow. The resulting hub will look far more realistic than the "Bozo the Clown hub using a ball end sewing pin. (5) I modified a FG P-51 four blade propeller and colored it black. I am not into Chips polished metal prop look.
The Wrap-Up: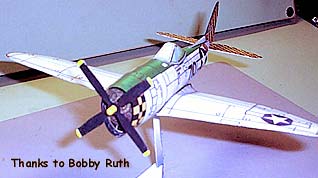 Once completed the Fiddlers Green P-47 is a nice semi-scale model that fits right in with Fiddlers Green collection of aircraft models. The fuselage shape is more minnow than P-47 guppy, but pretty close for a one sheet small model with only one inside former. With the marking corrections it could be a more accurate kit and with small modification it can be modified into another P-47 variant. Perhaps in the future Chip will update this kit. Despite my picks and pans of this kit it is a nice addition to anyone,s collection that has a few Fiddlers Green kits under their belt.
Read more about it!
To me, half of the fun building a model is reading about the aircraft and the men that flew them. Here is a list of some of the books I enjoy about the P-47 in no particular order: (1) Signal/Squadron Books, "P-47 In Action Don Greer (2) Detail & Scale Vol. 54 "P-47 Thunderbolt Bert Kinzey (3) Jan Allan Pub. "P-47 Thunderbolt At War William Hess (4) Osprey "P- 47 Thunderbolt Aces Of The Eighth Airforce Jerry Scutts (5) Orion Books " Zemke's Wolf Pack Roger A Freeman. Some of the books are still in print others you can find being auctioned from time to time on e-bay.
Bob Ruth
---

Republic P-47 Thunderbolt Specifications
Length: 36 ft 1 in
Wingspan: 40 ft 9 in
Height: 14 ft 8 in
Wing area: 300 ft²
Empty weight: 10,000 lb
Loaded weight: 17,500 lb
Max takeoff weight: 17,500 lb
Powerplant: 1× Pratt & Whitney
R-2800-59 twin-row radial
engine, 2,535 hp

Performance
Maximum speed: 433 mph at 30,000 ft
Range: 800 mi combat, 1,800 mi ferry
Service ceiling: 43,000 ft
Rate of climb: 3,120 ft/min
Wing loading: 58.3 lb/ft²
Power/mass: 0.14 hp/lb

Armament
8 × .50 in (12.7 mm) M2 Browning machine guns
Up to 2,500 lb (1,134 kg) of bombs
10 × 5 in (127 mm) unguided rockets
A:

Thunderbolts were fitted with eight .50 caliber machine guns. Heavily gunned by British or German standards the "Jug" was highly effective.
B: Drop tanks greatly increased the P-47's already impressive range.
C: The P 47's paddle-blade propeller gave it an exceptional climb rate.
A:

Early P-47s were known as "Razorbacks" to pilots. Cutting down the rear fuselage and fitting a bubble canopy greatly improved rear views.
B: The huge fuselage of the P-47 was the cause of many jokes when the fighter entered service A fully loaded "Jug" was about three times heavier than an early Spitfire.
C: The massive P&W R-2800 engine was fitted to a single-engine fighter in the war. With turbo charging, late variants delivered 2,535 hp.

D:

Tactical support missions were usually flown with an underwing armament of a pair of 1,100 lb. bombs or eight rockets.