Rutan Voyager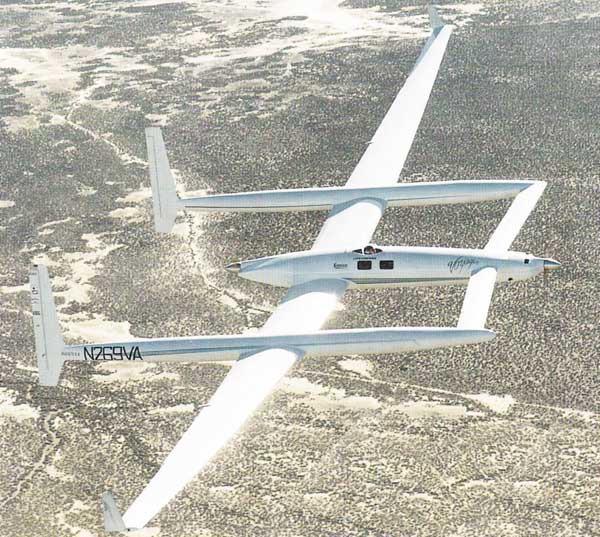 Voyager's glorious adventure enthralled millions in December 1986, when for the first time a crew of two pilots traveled around our entire planet without pausing or refueling. With its bizarre shape, modern lightweight construction and enormous fuel capacity, this amazing aircraft was the right machine for a marathon endurance test. Its pilots were cramped but courageous throughout their incredible journey.
---
Voyager - Non-stop Around The World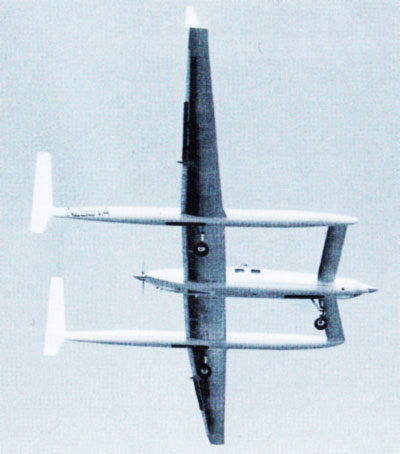 With international corporations employing expensive design teams, scientists, and supercomputers to produce today's mighty airliners, it would be feasible to believe that the day of the talented individual had passed.Yet, on a December morning in 1986, when a strange-looking plane landed at Edwards Air Force base in California, it brought flying proof of the exceptional value of the creative entrepreneur.


Burt Rutan's Voyager had just completed a 25,000-mile non-stop flight around the world. Burt's brother Dick Rutan, the pilot, accompanied by his copilot Jeanna Yeager (no relation to Chuck Yeager), had flown for nine days without landing or refueling at an average speed of 157 miles per hour. Burt had designed the plane himself. Although he was sponsored by a company which specialized in sophisticated composite materials that resulted in whisper-light but extremely strong construction, the Voyager was an individual designer's creation.
With its load of fuel and its provisions, the plane weighed more than 10 times its structural weight. When it lifted off for its around-the-world flight, Voyager used more than 14,200 ft. of the 15,000-ft. runway, with wings scarping the ground, on take-off. But the pilots the jettisoned damaged winglets and pressed on.
Its drag was lower than almost any other powered aircraft. Rutan had produced an airplane that challenged existing perceptions.The pilots demonstrated bravado and tenacity of a remarkably high degree. Rutan's achievement bore a much closer parallel to aviation's early pioneers than the way most aircraft were developed at the end of the twentieth century.
Many of those dedicated originators started by designing an aircraft (the Wright brothers sketched theirs on a brown paper bag).Then they built a prototype, fired up the engines, and took off on their own test flights. As manufacture and design became more complex, sophisticated, and much more expensive, the three basic functions of design, construction. and flight became separated. Hence, recognition of the creative individual began to erode.

Voyager's pilots Dick Rutan and Jeanna Yeager lived inside a cocoon of futuristic graphite for nine days in December 1986 when they guided this fantastic aircraft 25,011 mi. around the world.
Like seafaring explorers of the past, they had to rely on skill and daring. Their strange aircraft was a marvel of shrewd design and 21st century technology. For its purpose of going higher and further than any flying machine before it, the Voyager needed composite material for very light weight, a capacity for a giant sized volume of fuel, and a graceful, sailplane-like shape which would allow it to be carried on its journey by the air and the wind.
The courageous pilots conquered dangerous weather, including Typhoon 'Marge' in the Pacific early in the flight. They used several methods of navigation to take their remarkable route around the Earth. After 216 hours in the air, they were greeted by an extraordinary welcome and by world acclaim.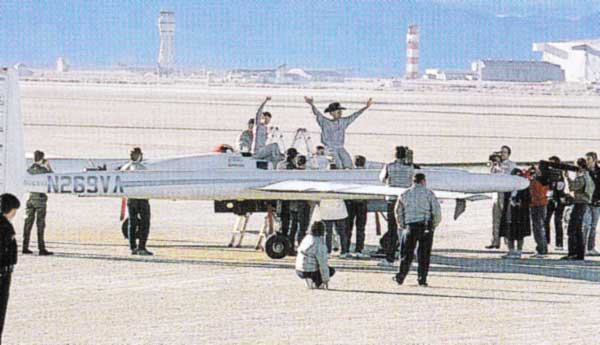 ---
Dick Rutan

Jeanna Yeager
A: One of the small wing tip winglets was lost on take-off, so the other was shaken loose in flight without incident.

B: Voyagers wings were like those of a high-performance sailplane. The main spar was solid Magnamite graphite composite, covered with a Hexcel paper honey comb and skinned with Magnamite sheets and a composite of aramid/epoxy/graphite.
A: Voyager was powered by two Teledyne Continental piston engines, one of which was generally shut down for maximum economy during cruising flight.
B: The rear engine was slightly less powerful than the front, delivering 110 hp. against 130 hp. the propeller was fitted with a brake to stop it windmilling in the front engine's slipstream when in single-engine mode.
C: Voyager had two vertical fins, which were mounted on the end of the tailbooms. Only one of the two tailfins was fitted with a rudder.
D: The landing gear was fully tractable, but to save weight there was no power assistance: the wheels were pulled or wound up manually by the crew.
E: The cabin was just large enough for one pilot to sit to starboard while the off-duty crew member stretched out on a bunk alongside.
F: Voyager's fuselage and tailbooms were of Magnamite graphite/Hexcel honeycomb composite construction.