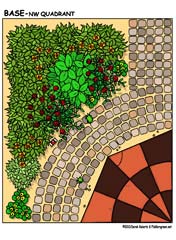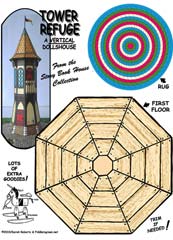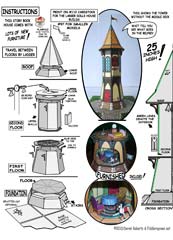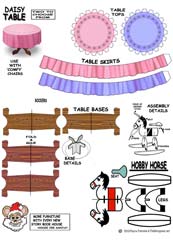 Tower-Refuge - $$11.95
The Tower Refuge is the third model of our new Story book Series. There's the largest size (1:18 Dolls House) to the smallest-model railroad HO scale. Every Fiddlersgreen Story Book House includes cut-out furniture as well as full interiors like wallpaper and rugs.. The base is usually a garden with fun little snails and the odd candy wrapper. Easy to build for kids age 6 and up especially with a parent joining in with the fun. As ALL Fiddlersgreen models, sold as downloadable only. (model shown is 25 inches high)

Tower Refuge Story Book House




Especially THESE days, just about all of us would love to have a tower to do some serious refuge from time to time. In fact, the Irish built kinda' similar round towers in the Middle Ages and best guesses are that it was for refuge from hoards of rude mainland invaders. Some think possibly they were beacons for the souls of the dead. (Irish tower model

This Refuge Tower was originally planned to go with the Clockmakers Cozy but evolved and grew up to be a mature Story Book House all its own.. If fact it grew up to be a very unique and unusual Story Book House and could easily be added to any other SBH in the collection.

What a wonderful project to do with the kids.. Just download, print and get started.. Easy to build. Easy to afford
What people say...

| | |
| --- | --- |
| The Tower Refuge comes with a complete interior and a bunch more Fiddlersgreen cardmodel furniture !! We try to get the time to include additional furniture with every new Story Book House | Here's a view of the lower two floors. The upper part of the tower fits over the bedroom set |
| Sketch (above) showing the rear of the first floor opened up for play. (right) shows ONE of the three optional grafitti panels with a stern warning not to create any in real life ! | |
| Look what Rob Carleen did with his Tower !! | |
Watching it take shape.
Each Story Book House model takes TWO caredmodel designers approximately one month to create !!

Derek Roberts, Norwich, UK is the driving force behind this future award winning series of Story Book Houses. He is just as clever designing Fiddlersgreen

aircraft models

most often loaded with distinctive comic artwork.

another


Its called a voyeur balcony because the owner and his cat (he loves so much) is able to do sneak peeks at the neighbors.

The tower has a belfrey with little ringing
bells and a piece of it's own furniture..

(left) Views of the tower elements in closer and clearer views. Note the little deck has been added mid-tower.