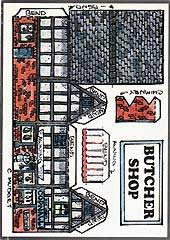 Butcher Shop in Ellsworth and Mr Copnall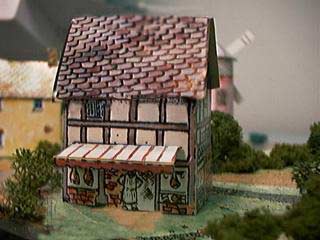 The present Mr Copnall was setting up the window early one misty morning in his little 17th Century butcher shop in the charming little canal town of Ellesmere when I asked him if I could model his building. This was to be the second Fiddlers Green model ever (thereby explaining it's special 1985 primitive-ness).

I guess what got me interested in doing the building was how he placed funky little plastic ferns on the stainless steel meat hooks in the window every evening before going home. I know what he was doing! He was hiding the hooks and setting a cunning little overnight trap for new meat. It actually worked! Next day- New meat!
---