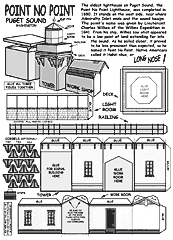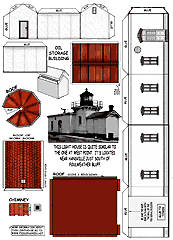 Point No Point Lighthouse, Puget Sound, Washington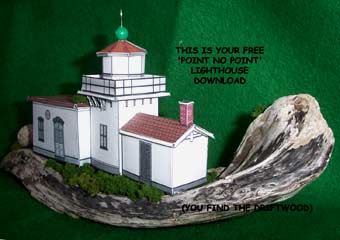 Point No Point Lighthouse, was completed in 1880. It stands on the west side, near where Admiralty Inlet ends and the sound begins. The point's name was given by Lieutenant Charles Wilkes of the Wilkes Expedition in 1841. From his ship, Wilkes saw what appeared to be a low point of land extending far into the sound. As he sailed closer, it proved to be less prominent than expected, so he named it Point No Point. Native Americans called it Hahd-skus, or "long nose."
Point No Point Lighthouse Info, Puget Sound, Washington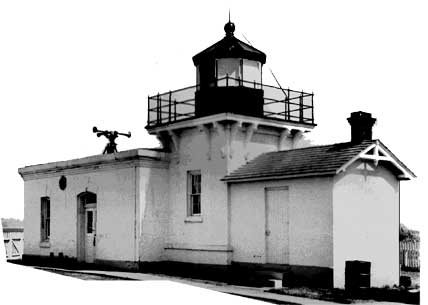 Point No Point (1880) During 1841, USN Lt. Charles Wilkes, commander of the US Exploring Expedition, scouted and charted much of the Pacific Northwest. On 8 May, Wilkes anchored off Point No Point, near the northern tip of the Kitsap Peninsula, and named the sandy spit for a similar one on New York's Hudson River.
In 1855, territorial governor Isaac Stevens and 1,200 members of the Chimakum, Clallam, and Skokomish tribes signed a peace treaty at Point No Point. Somewhat reluctantly, the Native Americans ceded their lands and moved their families to reservations.
Overlooking the spot where Admiralty Inlet and Puget Sound converge, Point No Point Lighthouse has been a beacon to mariners and fishermen since it was erected in 1879. Lighthouse Board officials had advertised that the 30-foot brick and stucco tower would begin service 1 January 1880, although when the appointed time came neither the bullseye lens nor the plate glass for the lantern had arrived. Head keeper John Maggs instead burned a kerosene lantern each night at the top of the tower until the overdue fixtures could be installed.
For the first several years of its existence, the land around Point No Point remained uninhabited and accessible only by boat. Hans Zachariasen, a Norwegian herring fisherman, settled nearby in 1893, and the town of Hansville is named for him.
The wooden fog signal building attached to the lighthouse was built in 1900. Although the light was automated in 1977, Point No Point remained staffed until 1992. The Coast Guard continues to maintain the optic and currently leases the buildings and grounds to Kitsap County.
---