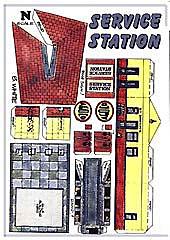 Petrol -Gasoline Service Station-Model RR downloadable cardmodel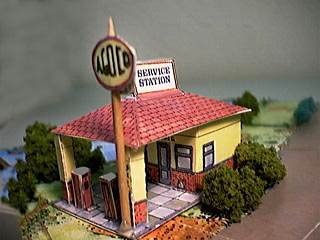 This one's shown in N scale and I think it works pretty well. It's more or less NOT one of your modern style stations. How long has it been since anyone called them 'Service Stations"?

'AGOCO' on the sign stands for 'Arabian Goat's Milk and Oil Company' which is another story entirely. Those little hobby shop bushes really are nice aren't they? Thanks to my pal, Brian White in Wiltshire UK, who designed this card (and Foredown Tower) for us.
---
Service Station
Newbury Electric Filling Station

Newton Road, Newbury, Berkshire

R. A. Wickens, 1934

Listed Grade II

(More Below)
The Newbury Electric Filling Station opened in 1934 at the junction of Newton Road and Monks Lane, off a minor roundabout. It occupies a prominent site at a significant road junction. It is located in a primarily residential area on the south side of Newbury. When it was built the A34 was the main trunk road.

The service station was designed and built by R. A. Wickens, a local builder, for Mr Murray and Mr Whitaker who owned two other filling stations in the area at the time. The filling station was known locally as the "electric garage" because it featured the new electronically operated petrol pumping system rather than hand pumps. The filling station was advertised at the time as the most modern filling station in the district. At the time, a gallon of petrol cost 1s, 6d or 7 1/2p. Calladine & Morrison 1998 said it was 'The first
building to clearly announce itself as a functional building self consciously devoted to the service of the automobile."

Newbury Electric Filling Station has been listed as a good example of the first generation of filling stations. It has survived in good condition and contributes to our understanding of petrol filling stations, a building type that has played an important role in the changing 20th century landscape. At the start of the 20th century petrol was sold in cans. With the growth of the automobile industry came the sale of petrol from roadside hand pumps. The combined effect of the 1927 Roadside Petrol Pumps Act and the Petroleum Act of the following year meant the appearance of new electric filling stations from where petrol was to be sold. The stations provided suitable covered areas for filling up vehicles and other amenities such as toilets. Later changes in transport needs, coupled with cars capable of carrying more fuel, led to more people filling up further from home. Although the building is in good condition it has been altered a lot. The electric pumps of the original building were removed eighteen years ago. The building is single story, brick construction and is covered in white render. It has a covered area at the front of the building supported by an arch that would have provided shelter to customers when ?filling up.? The building still retains its unusual green glazed roof and original colored glass windows.

The property is being used as a car showroom by G & T Motors, with Philip Edghill as the current owner. A planning application of May 2003 proposed demolition of the existing garage and erection of twelve two-bedroom flats with associated parking and amenities. This planning application was subsequently removed by Mr Edghill, who wants to work with The Twentieth Century Society to retain the building and incorporate it into any subsequent development of the site. There are no current applications for
demolition of this Grade II listed building. The local planning department believe that the proposed high-density housing is over- development and excessive especially with the lack of car parking in the area is taken into account. The proposed building would be unduly dominant on the site, and result in the demolition of a listed building contrary to adopted national and local plan policy. The application makes no reference to any pressing need for demolition other than the desire to re-develop the site. If planning permission is granted for development of the site it would be a good idea to retain the previously mentioned covered area at the front of the filling station and incorporate it into an entrance area or foyer for the new development. It would also be a good idea to incorporate the green glazed tiles into the housing, as these are a rare find in the area and of architectural significance. Thanks to Malcolm Palmer