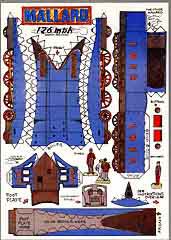 Mallard Locomotive - $$1.50
Mallard was designed by Sir Nigel Gresley as an express locomotive specially built to power high-speed streamlined trains. Its wind-tunnel-tested, aerodynamic body allowed it to reach speeds of over 100 mph. Mallard was in service until 1963, when it was retired, having covered almost one and a half million miles. One of our very early models (1983)

The Mallard Locomotive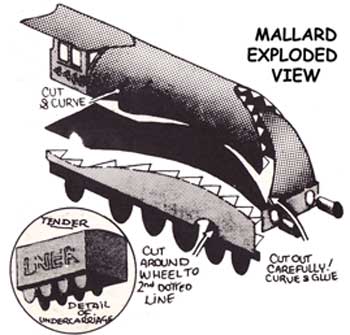 Mallard was designed by Sir Nigel Gresley as an express locomotive specially built to power high-speed streamlined trains. Its wind-tunnel-tested, aerodynamic body allowed it to reach speeds of over 100 mph. Mallard was in service until 1963, when it was retired, having covered almost one and a half million miles.
It was restored to working order in the 1980s, but has not operated since, apart from hauling some specials between York and Scarborough in July 1986 and a couple of runs between York and Harrogate/Leeds around Easter 1987. Mallard is now part of the National Collection at the United Kingdom's National Railway Museum in York. On the weekend of 5 July 2008, Mallard was taken outside for the first time in years and displayed alongside her A4 sisters, thus reuniting all four A4s extant in the UK for the first time since preservation.
The locomotive is 70 ft long and weighs 165 tons, including the tender. It is painted LNER garter blue with red wheels and steel rims.