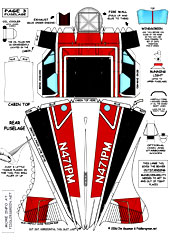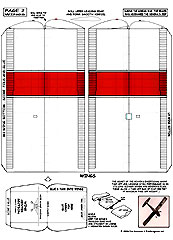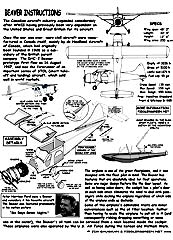 DeHavilland Beaver - $$7.50
The de Havilland Canada DHC-2 Beaver is one of the most famous bushplanes in the world. With its high-lift wing, short takeoff and landing (STOL) capability and rugged metal fuselage, the Beaver was tailor-made for bush flying; it's able to take off and land from just about anywhere while carrying heavy loads.

De Havilland DHC-2 Beaver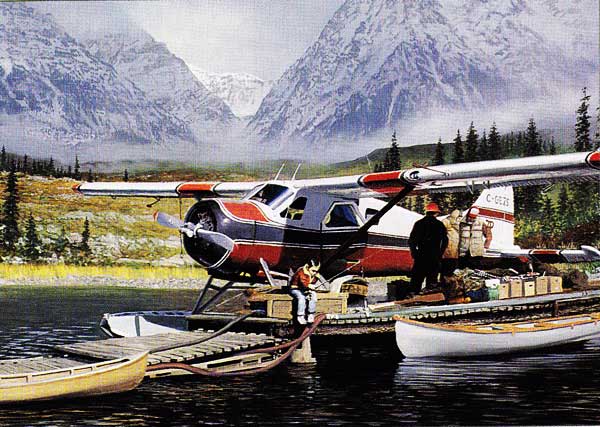 ---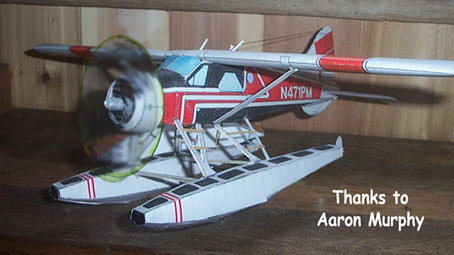 The first of de Havilland Canada's "bush planes," the DHC-2 Beaver was developed in 1947 as a rugged, highly-versatile aerial truck which could take off and land almost anywhere, carry a large load, and be very reliable. It succeeded in all these areas in the civilian sector, so it was almost inevitable that, in 1951, the Beaver would be selected by the US Air Force and Army as a new liaison aircraft. In the nine years that followed, 968 L-20As were delivered to the armed forces, most going to the Army. They served in both the Korean and Vietnam wars, hauling freight and personnel around the battlefields, mapping enemy troop positions, leading search/rescue missions, and relaying radio traffic, among other missions.
---
What people say...
I'm about as pleased as a fella can get...Lovin' the bird...Sweeeet job, f'shore...Now, if someone will PLEASE make available for download and extra two days for the week...And they said retirement would give a person
time...Time? What's this thing, "time," of which I hear? Z (6/06)
---
Hi, Chip! Another brilliant model from the FG crew! She's a great looking airplane, I had no idea you guys were working on this one, so it was a very pleasant surprise. BTW, I had no problem downloading the regular model files from the link, but did have a glitch trying the zip file link as well...but, as you said, it's there for us to enjoy, so no worries! Looking forward to seeing what you guys come up with next! Cheers!Jim Krauzlis (7/06)
---
Grumman canoes are aluminum, not wood as the Beaver extras suggest.
Post WWII, the company was looking for a new product to take advantage of the tooling for stretch forming aluminum.The Grumman canoe was the result. You'll see em in red or yellow- but most often in natural aluminum. Cam (7-06)
---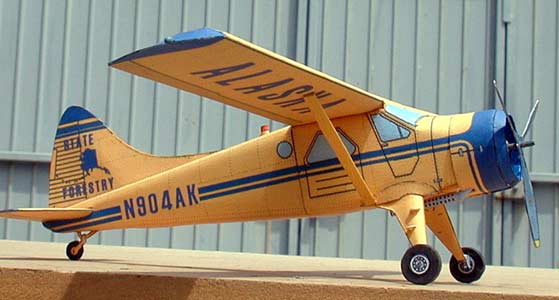 I've been flying flight sims for a while and recently i added Aerosoft's DHC-2
De Havilland Beaver in many configurations to MS Flight Sim 2004 .The Alaska Forestry colors inspired me to reproduce them on your model. Not too difficult........used Painter Classic and many Beaver photos. Jim Gausman did a very nice job on the Beaver model and i enjoyed both the designing and the construction. Fiddlersgreen is great-quick and no hassle delivery. walt bowker
---
Beautiful representation!!! I'm so glad someone took the initiative to crank out the Beaver! One of my favorite planes of all time. Congrats on a job well done so far! David Roy (7-06)
---
I have been building a beaver this long weekend - just need to build the floats now. It has gone together pretty good. I am wondering if you forgot to paint the cowling on N471PM? or if you just put the wrong file for sheet 1 in the folder? Looks like Aaron's model in the pics also suffers from the white cowling.
One other rivet counting error - the nav light on the starboard wing is red on the top and green on the bottom ;) -Jim G (7/06) ...
ans: True, the original's cowling is a little different..We did that intentionally to make it just a little easier for the modeler and ovoid possible miss-matching of the markings.Who else would've spotted that?? :-) Thanks for the heads up on the lights!! chip
---
Howzit Chip.. Got to congratulate you guys (yourselves and Jim) on a really awesome model, the Beaver, absolutely brilliant!! Goes together real nice, really well done. Printed it in large..what a beautiful sight. Keep up the amazing work.. Niki (7-06)
---
Desiring to make the model water proof and using a throw away brush I applied a few light coats of Miniwax Wood Hardener to Fiddlers Green De Havilland Beaver.The parts sheets were previously coated with Krylon UV clear protective spray.Once the Miniwax hardens the model is not only protected but it obviously is sturdier.
Note: The coating does make some areas transparent. For example the instruction lettering on the fuselage may be seen through the fold over Miniwax treated cabin top.... Bob Penikas (7/06)
---
Here is an interesting tidbit from http://www.paddles.com: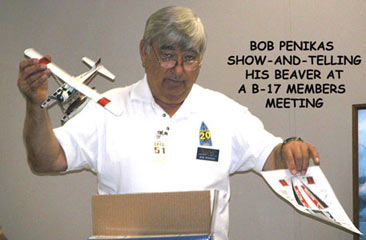 A De Havilland Beaver's payload is about 1,200 pounds. There is no problem with one canoe outside, two passengers, and a lot of gear. Beaver pilots of long ago (1970s) used to carry one canoe on each pontoon (unnested), but that no longer happens. Many pilots will still carry two canoes at the same time, but only if they nest, which requires the seats and thwarts (including the portage yoke) be removed on the larger boat. The smaller canoe is then placed inside the bigger one, and the two are tied on as one boat. A party of four in two canoes, traveling fairly light, can often get into a not too distant river in one trip with a Beaver. These planes can both land on, and take off from, smaller lakes than most other bush planes.And another excerpt from the same website:
Flying a canoe as an outside load (with passengers) is illegal in the USA, including Alaska. I have been told by an Alaskan outfitter that outside loads are legal if the airplane has special brackets as a factory installed option (later retrofits don't cut it). I would guess that few planes do have these. It certainly cannot hurt to ask, and the pilot would know. Some newer, preliminary, info on this subject is appearing at: http://www.kck.org/trip/aircharter/external.html. More might be available at: http://www.faa.gov/. Basically, the info says that, in Alaska only, it is up to the pilot's digression as to whether to carry an outside load, and a passenger or two are allowable if the pilot needs help handling the load.
Bob Penikas 7/06
---
I recently bought your Beaver cardmodel and will soon build it. May I suggest another version, the Beaver used on the Hillary arctic expedition in 1958? The Tucker Snocat does already exist in cardmodel, so both could meet. I'd be glad to build it as well. Yours A. Martin ...
Thanks for your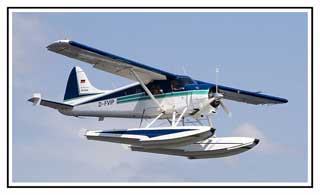 suggestion Arnold, but we're 'snowed' (pun intended), under with work getting the glider series completed and day to day chores. It WOULD go in well with our other polar models tho'. Someday perhaps.. chip
---
I hope my Beaver-version will please you.
The history of the D-FVIP - Beaver is rather sad. It does no longer exist, because it crashed in in the harbor of Hamburg in July 2006 with 6 passengers on board. 4 men died, among them a12 year old boy. The flight was his anniversary present. The engine failed and the pilot tried to get her down on the water in the harbor but he didn't succeed. So he crashed on land nearby a railway station. The plane was on fire immediately. Very tragic story.
Anyway, it is worth to be built as a papermodel, I think. I will attach the jpg-Folder and a photo of the original aircraft.
Dear regards and all the best for you... Gernot
---
When I started this one I thought about sealing the floats so I could put it in water. Failing that, I saw the pictures of one with wheels on the floats, so decided to give that a try just to be different. I also installed a detailed engine. Built the regular one some time ago, sometime after that I did the micro one. I did the large one for the modified stock @ paper modelers...YP...Bob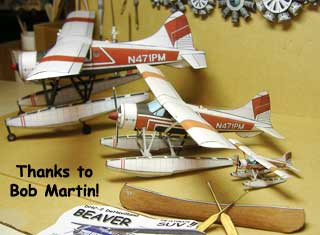 ---
DHC-2 Beaver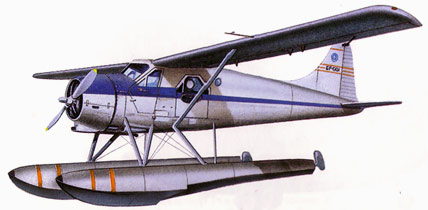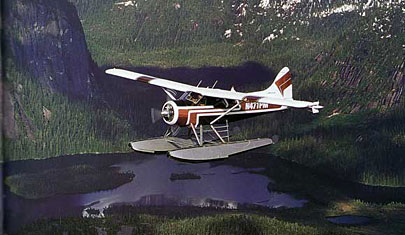 One of the most successful and famous bush planes ever produced. At the end of World War II, de Havilland Aircraft Canada was looking for a design they could use to keep their production lines running. They had previously designed and produced the DHC-1 Chipmunk, a moderately successful trainer. They made the decision to gamble on a modern utility aircraft which could operate from short, rough airstrips as well as on floats or skis.

Development work on the Beaver's design began in 1946. Many experienced air service operators were asked to make design suggestions and they did so - ranging from all metal airframe, battery removal hatch, doors on both sides for docking and several other ease of operation items.
The Ontario Department of Lands and Forests had considerable input into the final design and configuration. The airplane also had to be easy to fit with wheels, floats or skis. One crucial decision made by de Havilland was the choice of the Pratt and Whitney R-985 Wasp Junior as the powerplant; a strong, reliable and easy to maintain engine was a major design consideration for potential operators.



On August 16, 1947, the prototype Beaver flew, with Wing Commander (Ret.) Russ Bannock, D.S.O., D.F.C. and Bar, one of Canada's best-known WWII pilots at the controls for the maiden flight. Bannock was later instrumental in the large sale of the Beaver to the US Army and Air Force. Well over half of all the Beavers built by the de Havilland factory were for export to the US. Bannock would eventually become President of de Havilland Canada. The prototype aircraft had seating for up to 6, but by the time civil certification was received in March of 1948 the seating capacity was a maximum of 8. That prototype was later sold and carried the initials of de Havilland engineer Fred Buller in its registration number: CF-FHB. That airplane is now on display in the Canadian Aviation Museum in Ottawa.


The airplane was successful from the start within the Canadian bush flying community. Besides the usual flying of passengers and cargo, eventual uses for the design included crop dusting and military uses such as aerial ambulance, training and target spotting. It was frequently used as a courier aircraft by US Army and Air Force. During Sir Edmund Hillary's expedition to the South Pole a Beaver of the Royal New Zealand Air Force was used as a support aircraft.
Text thanks to Alan Melrose
De HAVILLAND CANADA DHC-2 BEAVER SEAPLANE:

One of the most commonly seen floatplane's in Alaska and Canada is the De Havilland Beaver. The airplane is one of the great floatplane's, and it was designed with the float pilot in mind. The type has several features that are absolutely ideal for float operations. Some are major design factors like the door layout. As well as having cabin doors, the cockpit has a pilot's door on each side which eliminates the need to deal with passengers while docking the airplane regardless of which side of the airplane ends up dockside.


Some of the airplane's admirable traits are minor conveniences such as the oil filler location. Rather than having to scale the airplane to put oil in it (and consequently risking dropping something or someone in the water), the Beaver's oil tank can be serviced from a neck located inside the cockpit.
These airplanes were also operated by the U.S. Air Force during the Korean and Vietnam Wars
.

De HAVILLAND CANADA DHC-2 BEAVER:

Designed specifically as an eight-place bush airplane by De Havilland Canada, the beaver is still considered a classic workhorse. Powered by the dependable Pratt & Whitney R-985 radial engine of 450 hp, the Beaver is still used in large numbers throughout Canada, Alaska, and in other remote areas of the world.

One of the major reasons they're still in service is that no comparable replacement has ever been marketed. There are many modifications available for the DHC-2, up to and including turbine engine conversions.

The Beaver is such a tremendous floatplane that the majority of airworthy examples are on floats! It's the DHC-2 on wheels that is sometimes hard to find. The center of restoration efforts for the De Havilland Beaver is the Kenmore Air Harbor north of Seattle, Washington. There are usually about 15 examples on hand at any one time.
| | |
| --- | --- |
| | The FG basic DHC-2 De Havilland Beaver model is patterned after the actual Beaver shown on the left. And look!! Floats, as well as a boring landing gear, come with your Beaver model !! |
---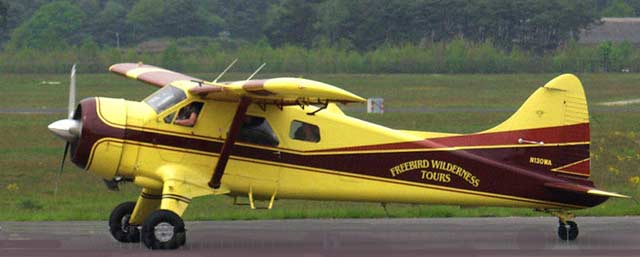 In 1962, the L-20 was re-designated the U-6A, and many remaining examples remained in service well into the 1970s. Civilian Beavers have served in over 50 countries, and many still continue to fly all around the world, with a small number restored and flown as war birds.
When in 1903 Wilbur and Orville Wright succeeded in getting a heavier-than-air vehicle off the ground in North Carolina, they invented a device that seemed custom-made for Alaska. Ten years later, the first airplane to reach Alaska made its way to the territory packed in a wooden crate that traveled by steamship and paddle wheeler from Seattle to Skagway to Whitehorse to Tanana to Fairbanks. During an exhibition flight on the outskirts of town on July 4, 1913, entrepreneur and pilot James Martin circled his biplane over muskeg and boreal forest for nine minutes. The hundreds of Alaskans watching from rooftops and woodpiles saw the state's future banking overhead at 70 miles per hour.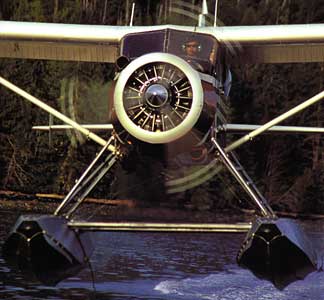 Billy Mitchell, an adventurer who learned the boggy and buggy reality of ground travel in the territory while helping string a telegraph wire from Valdez to Eagle in 1903, promoted the second appearance of aircraft in Alaska in 1920. Four Army de Havilland biplanes flew from New York to Nome and back.
At the time the de Havillands roared over Alaska's quiet forests and mountains, Alaskans in the Bush received their U.S. mail by boat in the summer and dog team after the rivers froze. That began to change in February 1924, when a schoolteacher pilot named Carl Ben Eielson flew 164 pounds of mail from Fairbanks to McGrath and returned intact on the same day.
Eielson, flying in an open-cockpit de Havilland DH-4 biplane, waved with his bearskin mittens as he passed over a dog musher named Fred Milligan, who had carried mail by dog sled for more than 20 years. Milligan was mushing on the cold flats between the Kuskokwim Mountains and the Alaska Range. "I decided then and there that Alaska was no country for dogs," Milligan told Jean Potter, author of The Flying North. The musher later took a job with Pan American Airways.
The skies over Alaska soon hummed with activity. Among the many feats that Joe Crosson squeezed into 15 years of flying in Alaska was his hurdling of Mount McKinley in 1931, when he fixed its approximate elevation of 20,000 feet with his altimeter; Crosson later became the first pilot to land on the mountain, in 1932 ferrying climbers and equipment onto the Muldrow Glacier with a Fairchild 71 on skis. The trip, in support of a mission to set up a cosmic ray observatory on Mount McKinley, also marked the first aircraft support of scientists in Alaska, now a daily practice in summer.
Crosson's friend Noel Wien was the first to fly from Anchorage to Fairbanks, making the trip in 3 hours, 45 minutes in 1924 by following the railroad track north in a de Havilland biplane. By the late 1930s, Fairbanks had 3,000 people and about 50 airplanes, a ratio far above most towns in the Lower 48 states and one of the highest in the world.
Small planes are still the number-one choice of Alaskans who want or need to reach remote villages, coastal towns, or "off airstrip" gravel bars or hilltops. Though Alaska's population has increased tenfold since the first plane appeared, it is still the only state in which residents can't jump in the car and drive to the capital.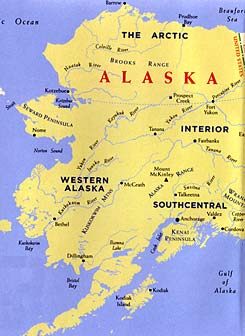 Live in Alaska for more than one year, and you will know at least one pilot. According to statistics from the Federal Aviation Administration, as of January 2001, there were 8,053 registered aircraft in Alaska and 10,016 Alaskans with a pilot's license. When you divide that into the state's 626,932 residents, one out of 63 people here have the ability to fly and a certificate to back it up. More than half of those pilots live in South central Alaska; the rest are scattered to the farthest corners of the state.


Alaskans favor single- and twin-engine planes fit with landing gear that suits the landscape-floats are a favorite for salt-water landings in Southeast and for the millions of lakes throughout the state. While straight skis are a favorite after the snow flies, pilots also use ski/wheel combinations when taking off from gravel or paved airstrips and landing on glaciers high in the mountains. Thirty-inch tundra tires are a favorite of pilots who bounce to a landing on gravel bars, alpine hilltops, and other improvised airstrips.
Amphibious planes, such as the Grumman Goose, give pilots the option to land either belly-down in water or on land with the help of retractable gear. Pilots who land on tundra and gravel bars prefer "tail dragger," aircraft with a pivoting wheel under the tail. "Nose-wheel" planes are often limited to improved airstrips because their propellers are more vulnerable to dipping down into gravel or other obstructions upon landing.
Pilots of Alaska's small planes carry mail, groceries, and passengers to Bush villages and ferry hikers, hunters, and fishermen to some of the prime spots in North America. They often need to carry items that don't fit in the airplane, such as canoes that ride like lampreys on the bellies of planes, or 60-inch moose antlers tied to struts.
Pilots sometimes modify their aircraft to help them do their jobs. Wildlife biologists at the Alaska Department of Fish and Game attach radio-tracking antennas to the wing struts of their agency's Bellanca Scouts to track sheep, moose, and wolves; a glaciologist at the University of Alaska installed a laser-altimetry system in the belly of his Super Cub so he can measure the precise height of glaciers. Other pilots use planes to get a seagull's view for commercial fishermen, spotting fish from the air, and many tourists are getting their most memorable views of Alaska from the seats of small aircraft.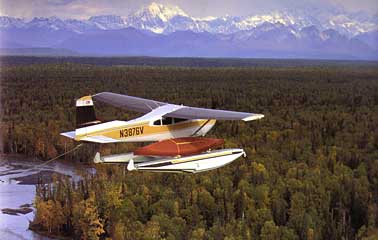 Although this is NOT a Beaver, (it's a Cessna 185 Skywagon), it shows how easy it is to haul a canoe lashed to the pontoon struts.
Pilots face occasional crummy weather all over the state, from the thick fogs where the warm waters of the Japanese current meet the cold Bering Sea to the dense, frigid air over the Interior, where a thermometer at Prospect Creek once dropped to 80 below. Add to the mix the zero hours of direct sunshine north of the Arctic Circle.
Many of Alaska's most experienced pilots fly for a living as air-taxi pilots or carrying mail and passengers on short hops between villages. Pilots in Talkeetna make thousands of flights to Mount McKinley's Kahiltna Glacier, ferrying tons of
gear, food and climbers attempting North America's highest peak or the other impressive mountains that surround it. Southeast pilots flying turbo Super Otters use the planes' power to carry more than one ton of cargo to remote bays popular with hunters, fishermen, climbers, and scientists. Workhorse Piper Cherokees deliver mail and passengers throughout the expanse of Alaska's Interior, which is larger than some Lower 48 states.
In a scenario somewhat unique to Alaska, pilots in the urban centers of Anchorage, Fairbanks, and Juneau often change clothes on Friday afternoons before jumping into their Maules, Citabrias, and Cessna's and heading for quiet country. Many of those planes are older than the men and women who fly them. A typical Piper Super Cub perhaps Alaska's most popular Bush plane -came off the assembly line in the 1950s. Most of Alaska's beloved small planes have had their fabric skin replaced several times and their engines rebuilt almost as often. Because many Bush planes, such as the sleek Hello Courier, have gone out of production, pilots often have trouble finding parts; resourceful mechanics are often the best friends of the Alaska Bush pilot.
The enduring usefulness of Bush planes says a lot about the people who fly them, and it says even more about Alaska, which has remained in effect road less since it became a state in 1959. With much of the state either too rugged or too politically protected for the construction of new roads, Bush planes will buzz the skies over Alaska for many years to come.
---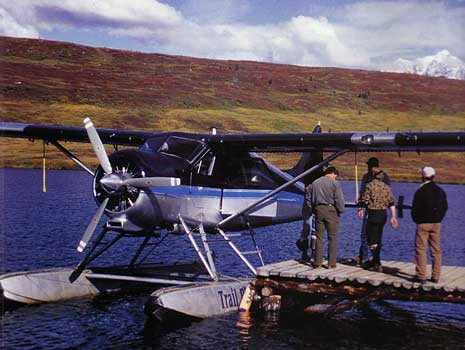 Early purchases of the Beaver were made by various Canadian provincial governments, and by mining companies and charter operators. Russ Bannock demonstrated the Beaver and its capabilities to the US Air Force in Alaska and to the US Army and this resulted in an order for 978 Beavers. They carried the designation of L-20 and later U-6A during their military life.
Most were used by the U.S.Army, but more than 200 U-6As went into USAF inventory and were flown in utility transport and liaison roles. The principal mission of the USAF U-6A was aerial evacuation of litter and ambulatory patients. Other missions included courier service, passenger transport, light cargo hauling, reconnaissance, rescue, and aerial photography. The U-6A saw USAF service in both the Korean and Vietnam Wars.
Many of the military Beavers were sold to private owners at the end of their military service, and most of these are still in operation throughout the world. Beavers are currently registered in some 60 countries, with more than 400 still living in Canada.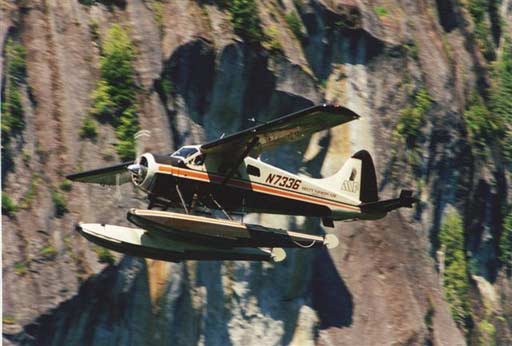 The natural progression of design lead the Beaver to be "stretched" into the radial engine Otter (at one time known as the "King Beaver") and the turbine engine Otter, each with an 11 passenger capacity and the Twin Otter, a turbine engine aircraft with 20 seats.
A total of 1,692 Beavers were built during the production run from 1948 to 1968. Many of the original Beavers are still flying and there are a companies in that regard is Kenmore Air, of Kenmore, Washington. Kenmore Air is a scheduled float plane airline that flies a year 'round schedule of flights between Seattle and many destinations in the Puget Sound region and southern British Columbia. Known as "the Boater's Airline," Kenmore also flies cargo such as repair parts to remote locations to get disabled boats back in operation.
Kenmore has complete capabilities for full restoration of Beavers, for its own use and for contracted customers. Kenmore owns many supplemental type certificates (STC) for modifications to the standard airframe and are so well known that advertisements for Beavers for sale usually list them as "Kenmore Beavers." Beavers that originally sold for $50,000 in 1950 are bringing $300,000 on the market.
In Canada, Viking Air also rebuilds Beavers and now owns the rights to manufacture parts for them. The only major revision to the Beaver design during its production run was the introduction of a turbine engine version in 1963. The Pratt and Whitney PT6A6 turboprop engine gave the airplane a lower empty weight, higher take off weight and improved short take-off and land (STOL) capability. The appearance is quite different also, with a longer, reshaped nose and a higher, angular vertical stabilizer and rudder. There have been sixty factory built turbo Beavers as well as several conversions done by others.

The Beaver was so successful that it was recognized in 1987 as one of the 10 most outstanding engineering feats in Canada in the Twentieth Century. Actor Harrison Ford owns a Beaver and considers it his favorite aircraft of the small fleet he currently owns. The Beaver was featured prominently in his motion picture "Six Days Seven Nights."
---

Beavers were also purchased and used by the military services of several other nations:

Argentina, Australia, Austria, Cambodia, Chile, Colombia, Cuba, Dominican Republic, Finland, Ghana, Haiti, Indonesia, Iran, Kenya, Laos, Netherlands, New Zealand, Oman, Peru, Philippines, South Korea, South Vietnam, Thailand, Turkey, Uganda, United Kingdom, United States (Army, Air Force, Navy), Uruguay, Yugoslavia, Zambia.

I just wanted to show off a bit so I am attaching a few pics of my latest build. I have built so many white beavers that I finally had had enough and I printed one in red and one in mustard. While I was building the mustard beaver, I took my red sharpie and you can see the results. I am still working on a B&W model that I will send for your approval before I get serious about putting any real color to the model.

..Am still unhappy with the profile of the nose on the beaver and I need to get that right before I get all of the details and notes for the model page.

This is about Jim Gausman, the designer..and how his Beaver evolved.
---
The region between the Alaska Range and the Gulf of Alaska is home to more than half of Alaska's population-and more than half of its registered pilots. Anchorage's Lake Hood is the largest floatplane base in the world with 1,000-plus takeoffs on the busiest summer day. Merrill Field, named for pioneer aviator Rossel Merrill, covers 436 acres near downtown Anchorage and buzzes with activity at all hours in summer.
South Central has a milder climate than the Interior but features more rugged flying conditions in and around the Chugach Range and the Talkeetna Mountains. South Central also encompasses Talkeetna, the gateway to Mount McKinley for hundreds of mountain climbers each year. Air taxis out of the small Alaska town ferry hundreds of climbers to the Southeast Fork of Kahiltna Glacier each year, landing on a runway of snow and ice. Cessna 206s equipped with wheel/skis are a favorite of the Denali flyers.


South Central Alaska features a bit of everything for a pilot:

The ocean, countless lakes, rivers large enough to use as a runway with floats, the Harding Icefield and hundreds of other glaciers, and plenty of air traffic.The Southeast panhandle, extending for about 500 miles from Malaspina Glacier to the southern tip of Prince of Wales Island, is Alaska's wettest region, with up to 200 inches of precipitation each year. While sparse in roads, Southeast is lavish in rainforest spruce, hemlock, and cedar, fords, the largest icefields in North America, and thousands of islands.


Floats are a favorite landing gear in Southeast, where rugged coastline and hills limit the availability of airstrips. Pilots in Southeast encounter some of the cloudiest weather in Alaska outside the Aleutians, and floats enable ocean landings in times of trouble or as a routine method of hopping from town to town.
Pilots landing on the region's many glaciers prefer wheel/skis, which enable travel from downtown Juneau to the magnificent ice fields nearby in minutes. The mountains of the Saint Elias, Fairweather, and Coast ranges often discourage flights inland because of the clouds stacked around them. Navigation can also be a challenge for pilots new to the area because of the many fords and islands that resemble one another.
The Interior is an Iowa-size region of boreal forest and muskeg lowlands spreading between the Alaska Range and the Brooks Range. Its distance from the sea makes the Interior Alaska's hottest place in the summer (the all time high of 100 F was measured at Fort Yukon) and also the state's coldest place (the all-time low of 80 below zero occurred at Prospect Creek off the Dalton Highway).

The extreme cold of the region is a unique challenge. Pilots flying at temperatures lower than minus 10 F must preheat their engines before flying. A favorite method of one Super Cub pilot is to fire up a couple of camp stoves, and then cover the flames with stovepipes that extend into the engine compartment. Through trial and error, pilots using this method learn how much heat they can apply without melting wire bundles inside.
---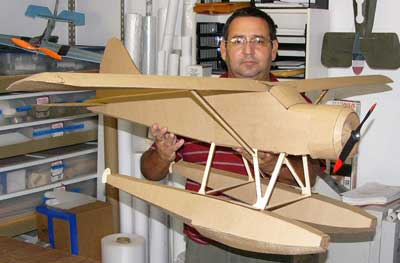 These images were submitted by Jaime Johnston he says "We did an experiment with enlarging one of your designs onto poster board and cardboard. With the addition of a few laser cut and maybe vacuum formed parts I think a lot of your designs could be offered as park fliers. The photo shows one of your Beavers enlarged to a 50" span. I see no reason this would not work as an electric." Thanks so much Jamie it looks great!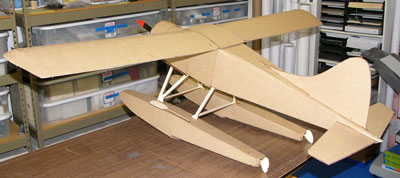 ---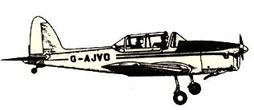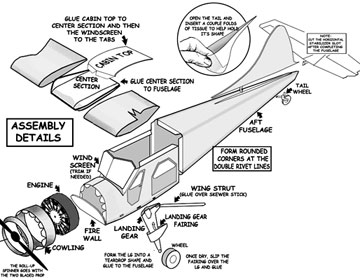 The cockpit of the de Havilland Beaver.
Specifications for the de Havilland DHC-2 Beaver

Crew: one pilot
Capacity: 7 passengers
Length:30 ft 3 in
Wingspan:48 ft 0 in
Height:9 ft 0 in
Wing area: 250 ft sq
Empty: 3,000 lb
Loaded: 5,100 lb
Useful load: 2,100 lb
Powerplant:
1 Pratt & Whitney R-985
Wasp Jr. radial engine, 450 hp
Maximum speed:158 mph
Range:455 miles
Service ceiling: 18,000 ft
Rate of climb: 1,020 ft/min
A: The Beaver needs just one pilot and is able to carry one passenger in the right hand seat. There is room in the rear cabin for six passengers.

B: AAC Beavers had a number of extra antennas fitted, in addition to comprehensive radio equipment.
C: Most military DHC -2s used a Pratt&Whitney R-985 Wasp Junior radial engine driving a Hamilton Standard two blade propeller.
D: Access to the rear cabin is through doors on either side. Seats may be fitted, or the space configured for stretchers or cargo; up to 1,500 pounds may be carried.
E: Fuel capacity is 95 gallons, with provision for two auxiliary wing tanks adding another 43 gallons. Range with maximum fuel is 776 miles: 482 miles with maximum payload.
F: Since these aircraft operated over the battlefield, appropriate camouflage was essential. Two tone green with low visibility lettering and national markings were applied.