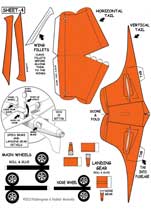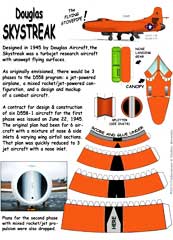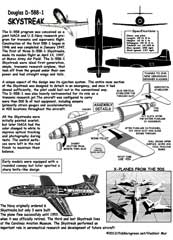 Douglas-Skystreak - $$6.95
The Douglas D-558-1 Skystreak was a turbojet powered airplane and had unswept wings. It's object was to study transonic and supersonic flight capabilities. There were to be three stages to the Douglas D5581 Skystreak venture: a jet propelled aircraft, a combination jet & then rocket powered technology. Also known as the Crimson Test Tube..

The Douglas D-558-1/I Skystreak
The United States Air Force's Douglas Skystreak D-558-1 / D-558-I once was a single-engined jet 'research' aircraft of the '40's. The Douglas Skystreak was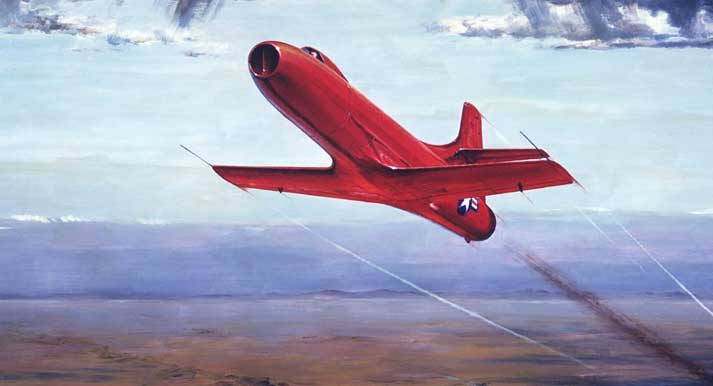 interestingly fashioned in 1945 by the American Douglas Aircraft Company for the United States Navy Bureau. The Douglass D-558-1 Skystreak was a turbojet powered airplane, one of the last to have unswept wings.
As first conceived, there were to be three stages to the Douglas D5581 Skystreak venture.
A jet propelled aircraft, then a combination jet & rocket fueled technology, and lastly, a configuration of a combat plane. An order for the creation of six Douglas D-558-I Skyrocket aircraft for the 1st phase was released on 6-22-45. The initial plan was for 6 planes with a combination of nose & side inlets and diverse wing airfoil configurations. That plan was quite quickly downsized to 3 airplanes of a similar arrangement.
Initiative for the 2nd phase with combined jet and rocket engines was also scrapped. Instead, a new craft, the Douglas D558-2 Skyrocket, was just rocket powered for supersonic flight. The Douglas D-558-1/I Skystreak can be observed at the Naval Aviation Museum in Pensacola, Florida.
What people say...
I have truly enjoyed the things I have received from Fiddler's Green over the past 6+ years. I was a Magic Key subscriber for three years, and evidently my subscription ran out.
When I first found your website, I was the technology teacher for a private school of about 1200 K-8 students. However, what I was really looking for in the beginning were ways to provide my then 4 year old grandson with buildings for both his Tommy Thomas the train set and also his O gauge Thomas set, and I purchased the Buildings CD.
I am retired now after 40 years of teaching. However, I am working toward offering technology integration consulting. I have always seen the potential for using all your models for school projects and dioramas and visual teaching tools.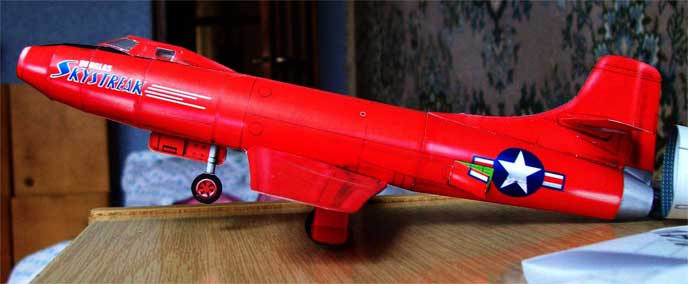 The designer,Vladimir, wanted to offer the Skystreak with the Douglas logo so there's NOW one in the versions folder
I would like to put your website on my annotated list of educational websites that I can give teachers or schools I am consulting with. I was not sure whether I needed to ask for permission or not. It would probably also be one that I would feature in my presentations if I could get your permission to do so. This might benefit you in finding more Magic Key subscribers. The information you provide about the things you offer for download could be extremely valuable research information for teachers and kids alike.
Also have you ever thought of advertising under Model Railroading on the internet or in Model Railroading Magazines? Actually with all the military and airplane models you have, there might be reason to advertise with AARP since we are heading into a time where Baby Boomers will be retiring. Just some thoughts to tickle your thinking! :-) Thank you for the fun you have my grandchildren and me, Ginny
---
Thanks for the programming that drops the free models into my Magic Key account! These models are reason enough to maintain the account even before you add the new models that Chip is bringing out. Thanks so much for your hard work on these tricky programming enhancements and I look forward to continuing my subscription with Fiddler's Green. All the best, Grant
---
Just a piece of interest - I like to take these on cruises with me and when finished I give it to one of the crew that has shown an interest. Thanks again for all your good work. John

A Skystreak attracted a plethora of attention with its orange color scheme wherever it appeared, especially after the world speed record had been broken twice in one week.

The first Skystreak flew in 1947, and broke the world speed record in August of that year. The Skystreak yielded a wealth of new aeronautical knowledge


The original clamshell canopy was changed to a raised cockpit to improve visibility. The Skystreak looked like a bullet with small wings and flew like its name - Skystreak.

From 1950 through 1956, courageous test pilots - especially William B. Bridgeman and Scott Crossfield - made rocket flights that pushed the airplane to the edge of the envelope.

Douglas designed the Skystreak in response to a National Advisory Committee for Aeronautics (NACA) requirement for high speed research aircraft.

Despite the trials of rocket assistance (JATO) with jets such as the Mirage III and

MiG-21

, rocket engines were generally more trouble than they were worth.
A. The "V" -shaped canopy fitted for high-speed flights reduced cockpit size so much that pilots wore soft helmets.

D. Perhaps the most unusual feature of the Skystreak was the escape system in which the nose section fell away from the main airframe, allowing the pilot to escape by bailing out once the nose had slowed down enough to allow it.

G.

The Skystreak was powered by an Allison J35A--11 turbojet with 4,990-lb.-thrust. This engine was also used in prototype Boeing B-47s and

Douglas F4D Skyrays

.

B. The second Skystreak was destroyed after the compressor of the J35 engine disintegrated.

E. The nose undercarriage retracted forward, and the main wheels inward.

The Douglas Skystreak flew a series of high-speed test flights between May 1947 and June 1953, setting a new world record of 639 mph In August 1947, subsequently surpassed five days later to 649 mph

C. The tube-shaped fuselage was of conventional alloy construction. Strain gauges were fitted in various parts of the wings and tail to record the stresses of high-speed flight.

F.

Intended for high subsonic speeds, the Skystreak had a straight wing as did the supersonic

Bell X-1

. The knowledge of airflow at transonic speeds gained from the Skystreak helped develop the swept-wing Skyrocket and later fighter designs.
The airframe was designed to withstand unusually high loads of up to 18 times gravity due to the uncertainties of transonic flight.

The fuselage used magnesium alloys extensively, while the wings were fabricated from more conventional aluminum alloys. The airframe was designed to withstand unusually high loads of up to 18 times gravity due to the uncertainties of transonic flight.

Douglas Skystreak waiting for a flight

All the X-planes, and especially the Douglas Skystreak, were favorite subjects for artist of the 50s

When you buy the Douglas Skystreak, you get a large PDF plan of a stick and balsa model free (better than the one shown above !)
---
| | |
| --- | --- |
| The chase is on.. Speeder hasn't a chance in... | Nailed him with the county Surplus Skystreak (SS) |
| Air traffic spotting Skystreak spots a speeder !! | Another day-Another ten dollars...These photos are in from our playful modeln' pal, Bob Martin |

This is the Douglas Sky ROCKET ( D-558-II) that followed the D-558-1 Skystreak and will be available soon as a cardmodel.