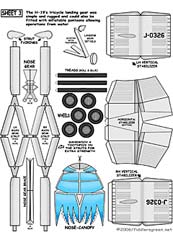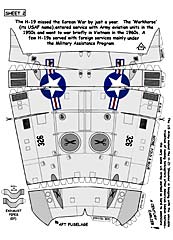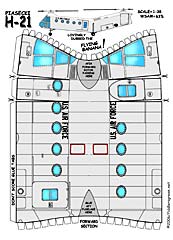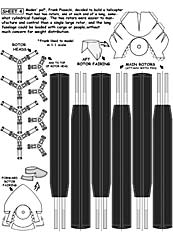 Piasecki-H21 - $$4.95
The Piasecki H-21 Workhorse/Shawnee is an American helicopter, the fourth of a line of tandem rotor helicopters designed and built by Piasecki Helicopter (later Boeing Vertol). Commonly called the "flying banana", it was a multi-mission helicopter, utilizing wheels, skis, or floats.

Piasecki Shawnee H-21 Workhorse-Flying Banana Helicopter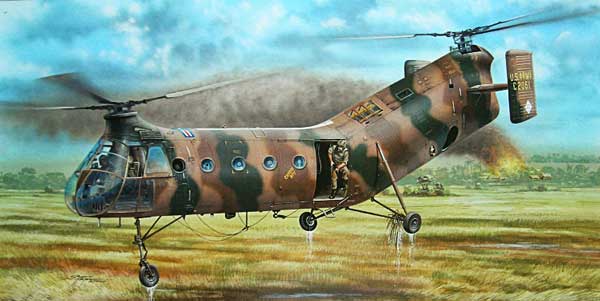 Despite its rather ungainly appearance the H-21 Shawnee was a very capable and well-liked machine, and the type ultimately secured for itself a unique place in post-World War II Army aviation history. It was a Shawnee dubbed 'Amblin' Annie that made the first non-stop helicopter flight from one coast of the United States to the other, being refueled in flight from a U-1A Otter. More significantly, the H-21 was the first American military helicopter type to be deployed in appreciable numbers to South Vietnam: the first four Shawnee units arrived in that country between December 1961 and September 1962.
Inevitably, perhaps, the H-21 also gained the dubious distinction of being the aircraft in which America's first Vietnam casualties were killed; four Army aviators died in July 1962 when their Shawnee was shot down near the Laotian-Vietnamese border. The machine gun-equipped H-21s used in Vietnam were also, of necessity, the first American military helicopters to be fitted with door-mounted defensive weapons as a matter of course.
---
What people say...
The first model "A", H-21 fuselages were built as one piece by Goodyear with the fuselage of the HUP built by Fleetwood. This was during the period when the H-21, B jigs were being built in Morton, PA. The fuselage was built in two sections at the bend joint where bolts were used at the splice joint ! Ever wonder why the H-21 was referred to along with the HRP-X1 as the flying banana ? The design was to allow the helicopter to flare out when "alighting !" helicopters do not land, they alight ! Jim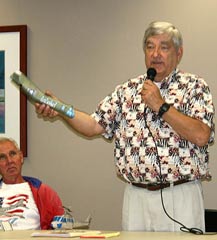 Time: 10/8/06 This afternoon around 2:45pm.
Place: Air flight Executive Terminal, Long Beach Airport, California
Group: B-17 Combat Crew members and Wingmens Organization
Subject: Paper modeling and Fiddlers Green.
Photo taken by Michael Brennan. Photo is a bit blurry due to the distance from hand held camera.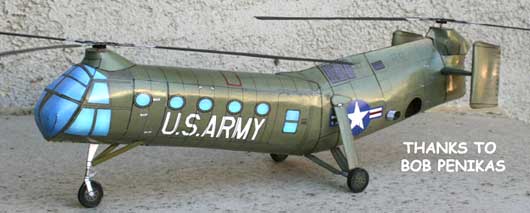 Hi Chip, Here I am showing off your in-process H-21. Members had asked about the FG construction technique from seeing my previous completed models. The FG H-21 fuselage was handed around (it survived) so that everyone could see there was nothing inside. Notice also your Huey on table. That was to let everyone see the beautiful gloss coat a modeler can achieve using common Future Acrylic floor wax sprayed through an airbrush. Gotta go print up more FG Business cards, Bob Penikas
---
I think the H-21 needs a drone. As much as the Sikorsky Skycrane needs a house or water tank to carry.. scissors rock paper...dennis tracy
---
Boy, was I lucky, an Army Piasecki landed in my back yard so I took pictures! I checked the landing gear and they had used solid wooden wheels, probably from a defunct hobby shop....all these troopers were standing around guarding her too! What a model!.....she is a LARGE model! Duck of Mariposa Empire....
---
Of course I picked the Army version! Of course, the propellers turn! And have pitch! A neat change would be to cut out the windows and put clear plastic behind them.......I didn't think about that until I had the fuselage all together. Wouldn't two little electric motors in that jewel make a super addition! And how about a light bulb inside! Wonderful little ship to build! Duck of Sector East (aka Col Jim Duckworth US Army rtd)

---
Carry on Sir Chip! We have millions of models to go
I wish it were JUST a million Duckie..chip
---
Piasecki H-21 Shawnee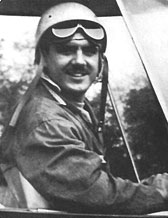 Frank Piasecki
10/24/1919 – 2/11/ 2008

Frank Piasecki was born in Philadelphia in 1919, the son of an immigrant Polish tailor. He earned degrees in aeronautical and mechanical engineering by the age of 20 and in 1940, he gained the support of a few friends and started a small aeronautical company.
He built a single-person, single-rotor helicopter designated the PV-2 and test-flew it by 1943. Piasecki realized that Sikorsky was the favored helicopter manufacturer for the U.S. Army, so he made an appeal to the U.S. Navy with his PV-2. Navy leaders initially showed little interest in helicopters, but soon changed their minds. Piasecki also had an idea for a much larger helicopter capable of fulfilling various naval missions, such as rescuing sailors at sea. On January 1, 1944, he received a Navy contract for a single new heavy-duty transport helicopter.


Piasecki decided to build a helicopter that had two rotors, one at each end of a long, somewhat cylindrical fuselage. The two rotors were easier to manufacture and control than a single large rotor, and the long fuselage could be loaded with cargo or people, without much concern for even weight distribution.
Piasecki also simply did not like the idea of a tail rotor, which had given Igor Sikorsky problems with his VS-300 and which looked like a circular saw mounted right at head-chopping level—and robbed valuable horsepower from the lifting rotor.

---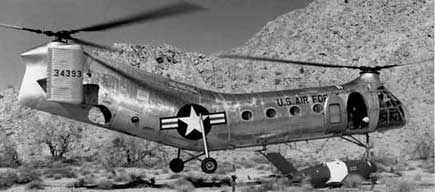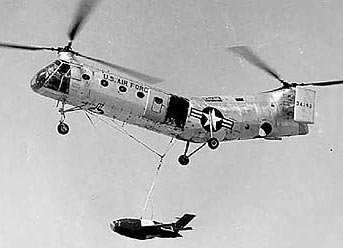 The Piasecki H21 bringing back a drone
The Army became aware of the H-21's potential as a medium utility helicopter soon after the type's maiden flight, and in 1952 awarded Piasecki a contract for the production of the H-21C variant. This aircraft had extensive armor plating and the ability to carry two external fuel tanks, plus increased troop capacity and a 4000-pound capacity belly sling hook. The Army purchased 334 H-21C Shawnees, with deliveries beginning in August 1954.
In addition, the Army 'borrowed' at least sixteen H-21B aircraft from the USAF; the majority of these machines were ultimately brought up to H-21C standard, and all were known as 'Shawnees' despite their origins as USAF 'Work Horses'. The Army also funded Vertol's development of the XH-21D, which was essentially a standard H-21C whose single piston engine had been replaced by two General Electric T58 shaft turbines. Two H-21Cs were so modified and flight tested in 1957 and 1958, but the variant was not adopted for production. In 1962 the H-21B and H-21C were re designated as, respectively, the CH-21B and CH-21C.
---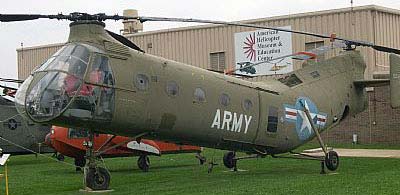 Several additional aircraft were experimentally fitted with a variety of offensive weaponry and used as interim gun ships pending the arrival in Southeast Asia of the first units of armed UH-1 Iroquois in the summer of 1963. The H-21 remained the backbone of the Army's aviation effort in South Vietnam until finally supplanted by the UH-1 in 1964, and most Shawnees were withdrawn from the active inventory within the following year.
The H-21 was the last of the large, piston powered transport helicopters to see military service, being replaced by the turbine engine CH-47 'Chinook.'
---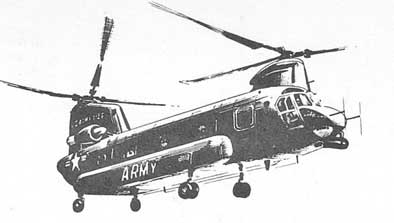 ---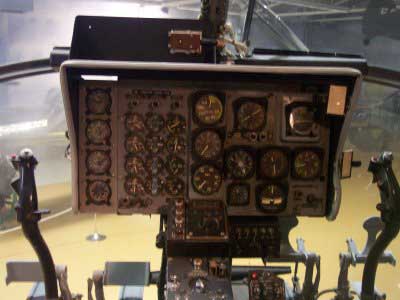 Cockpit of the Piasecki H-21 Shawnee.
Specifications of the Piasecki H-21 Shawnee
Crew: 3–5 (Pilot, co-pilot,
crew chief and one or
two gunners in Vietnam)
Capacity:
20 troops or
12 stretchers
Length: 52 ft 6 in
Rotor diameter: 44 ft
Height: 15 ft 9 in
Disc area: 3,041 ft²
Empty weight: 8,950 lb
Loaded weight: 15,200 lb
Max takeoff weight: 15,200 lb
Powerplant: 1× Wright
R-1820-103 radial engine,
1,425 hp driving 2 rotors

Performance
Maximum speed: 127 mph
Cruise speed: 98 mph
Range: 265 mi
Service ceiling: 9,450 ft
Disc loading: 5 lb/ft²
Power/mass: 0.09 hp/lb

Armament
Varying, but usually 1x or 2x .50
or
7.62 mm M60 machine guns.