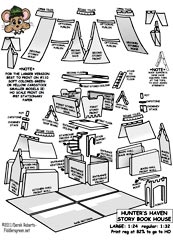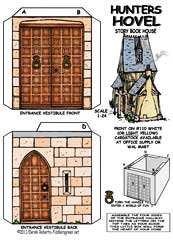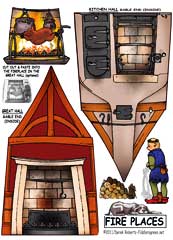 Hunters-Haven - $$20.00
Exciting and fun loving Medieval Hunters Lodge with many modern features.. Our well equipted Medieval hunters even fly in and out in a Medieval DaVinci helicopter (and landing pad) included) !! Sizes from large Dolls hous (1:18) size to model railroad 'HO' scale. Biggest and grandest Story Book House in the collection yet takes just a fun weekend to build. Can't see how we can top this one !!

Hunter's Haven downloadable Medieval Story Book House



For every new Story Book House, FG designer Derek Roberts creates a wonderfully detailed montage for approval and we take great pleasure sharing this with you...and right at the top of the page. Look how incredibly close the finished product is to the complete Story Book Building a month and a half later. Project montages are hand drawn in 2H art pencil and ink THEN,, the original, suitable for framing, is available for $150 plus postage from the UK..(the above montage has been sold) Signed limited edition prints may be available in the future for approx half the price of the original.
---

Other Fiddlersgreen downloadable Story Book Houses:Roberts Roost, ClockMaker's Cozy , Tower Refuge , Fantasy Castle , Border Crossing
---
What Peeps Say:
Holding my breath for "Hunters Haven". I'm sure Danny the guard will keep the piece at the door, but Molly the waitress should by included also. loving this additional trend... scissors rocks paper - den 1/12
---
Really like the look of the story book houses, I think I am going to print them up for my neighbors grandchildren, great for keeping them busy. Glen
---
Here are some building details for the Hunters Haven Story Book Hous
e
| | |
| --- | --- |
| The Fiddlersgreen Downloadable Hunters Haven Story Book House | Assembly photos by Modeln' Pal Bob Martin..with appreciation to Bob and his Grandkids. Time spent was approx two days. |
Looking in through the front door of the Medieval Doll's House. Fully equipped with knight's armour and staircase. (also banned Tiger skin rug)

View looking down into second story of Hunter's Haven, unfurnished. We recommend using a light yellow or green card stock to give your interior walls a nice color.

Ladder in the loft with moose head perched onto the wall. Furniture on order

Window looking into the top floor with a ladder to get there.

The marvelous "Hunter's Haven" pre-roofing.

Optional perlins for removable roof support.

The constructed Story Book House "Hunter's Haven" complete with medieval flying machine designed by none other than Renaissance man Leonardo Da Vinci. (see above behind building

Much care is taken to make the Medieval framework authentic and pleasing to the eye

Hunter's Haven Security

!!




Hey, there's a mouse in that window!

Some early views of Story Book House # 4-The Hunters Haven
Its patterned after a Medieval English Squire's Hunting lodge with lots of fun modern touches...
---
Newsletter Announcing the Hunter's Haven (March, 27 2011)
We're announcing our posh and swanky Medieval Hunter's Haven manor house with the Great Hall where the Lord and Lady of the Manor and invited guests frolicked, a Kichen Hall where a bevy of servents tried their best to keep the food coming, a vestibule between them, and two storeys above ..An Archery set on the front lawn, and of cocurse, a 15th Century Medieval aerial screw helicopter on the Heli Pad at the back of the house. Furniture for everyone.
The Hunters Haven is probably is as big and bodacious (not to mention expensive!) as our Story Book Houses will ever get. More are definitely in the pipeline.
Even though it's as easy as all the others, the HH model is the first FG model ever to include YouTube videos to help you along. Thanks to Bob Martin and his lively troop of grandkids :)
Simply start this new internet adventure at our HOME PAGE.. You might want to log in a little later in the evening or maybe (even!) in a few days to stay clear of the expected spike in traffic.
The larger version scale at 1:24 with 40 sheets and the regular at 1:32 has 20 sheets. To pretty up the interior, if possible, print everything on a light yellow or light green cardstock. Interestingly, this will improve the exterior appearance as well.
If you have Magic Keys (still just $25) the HH is already in your Misc folder. If you would like to buy one its best to get the M.Keys then buy it with the $25 bonus bucks in your account. You'll get all the new models (about 25!) FREE this coming year and even have $5 left over :)). When you think of it, this offer is unbelievable and the secrets out, a lot of Modeln' Pals have signed up for it. It's become FG's main revenue stream making all these additional new fantastic models possible while paying our designers a little closer to what they're worth. Winning!!
Earn extra money by selling Fiddlersgreen kits.
We're offering a Print and Sell license at just $100 for individuals.. Build a display of Story Book Houses, get into craft shows, and sell the kits. Printed kits cost about $5 to $8 max to put together and should bring around 20 bucks. Print just a couple and then more as needed to avoid the expense of inventory.Having a nice display is the secret. It will be a highlight of the show guaranteed ! There's a link to more information on our Home Page.
Lastly, you can now see three short YouTube descriptive videos for this epic model. If you have a problem with the links, they're shown again on our home page for a while.
http://www.youtube.com/watch?v=TN1lCvClVNc
http://www.youtube.com/watch?v=vgX33CCb3lg
http://www.youtube.com/watch?v=rY6ijo7CbkQ
chip
Hunters Haven Downloadable Story Book House