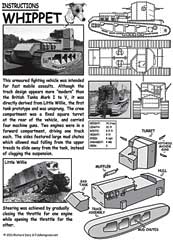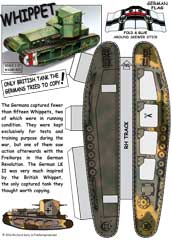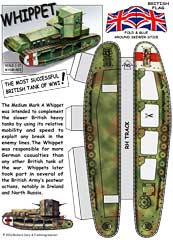 Whippet-Tank - $$7.50
The Whippet "A" was the first medium tank to enter service in WWI. It was the first tank with a separate turret displaying the classic silhouette that we still see in present day tanks. It's successes in 1918 made the tactitians sit up and take notice of the medium tank concept. Comes in British and German(captured) markings. Large and regular sizes plus handy BW. Great informative instructions !!

Whippet Medium WWI British tank
The WWI 'Whippet Sports Tank'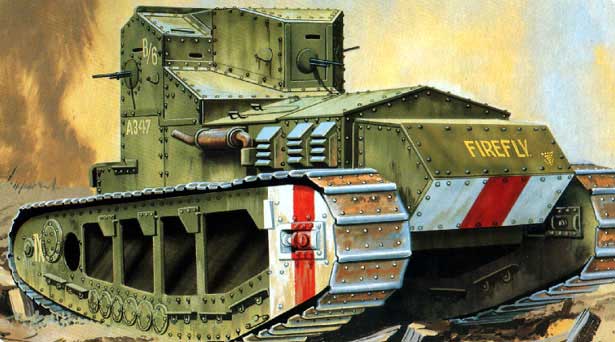 The Medium Mark A Whippet was a trophy British tank of the First World War. It was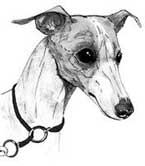 intended to complement the slower British heavy tanks by using its relative mobility and speed in exploiting any break in the enemy lines. It was a brilliant concept and worked so well, the Germans made a point of capturing, re-decorating, and driving them off to battle. The designed their own 'Whippet' but didn't finish it in time to see action.
Model thanks to Designer Richard Dery
!!
---
---

---

SPECIFICATIONS
In service: 1918-1930s

Designer: William Tritton
Manufacturer: Fosters of Lincoln
Produced: 1917-1918
Number built: 200 by March 1919

---

Weight: 14 ton
Length: 20 ft
Width: 8 ft 7 in
Height: 9 ft
Crew: 3
Armor: 14 mm

---

Primary weapon: 4 × 0.303 inch
Hotchkiss machine guns
Engine 2× Tylor Twin 4
cylinder side-valve JB4
engine 2x 45 hp

---

Transmission: 4 forward
speeds and 1 reverse
Suspension:unsprung
Speed: 8.3 mph
Tank Cap: 84.5 US gals
Range: 80 miles

This armored fighting vehicle was designed for speedy mobile assaults. Although the track design appears more "modern" than the British Tanks Mark I to V, the wheelbase is dangerously narrow.

Note the generous clearance that tells us that this little
baby got stuck far less often than earlier tanks

Armament was four 0.303 in Hotchkiss Mk 1 machine guns, covering all directions. As there were only 3 crewmen, the gunner had to move around a lot, often assisted by the commander.

The fuel tank was well protected in the front of the hull. The sides had large chutes forcing mud to slide away from the tank, instead of clogging the suspension.

Arguably the most successful British tank of World War I, the Whippet was responsible for more German defeats than any other British tank in WWI. When the Germans started running captured Whippets, the Brits painted the markings shown above.

The crew compartment was a fixed square turret at the rear of the vehicle, and 2 engines, driving one track each, (of the type used in those London double-decker buses), were in a forward compartment,

A Whippet museum display with interesting white markings that probably were for better identification during battle. The WWII invasion stripes spring to mind

Of course, Richard's beta builds like this are always in black and white to save on ink. Compare this to the actual Whippet that WAS on display at the Aberdeen Proving Grounds tank museum - now removed(left)

The WWI Whippet downloadable cardmodel kit contains the British version (right) in TWO scales (but easily reduced to any scale at your printer). There's a BW to make your own special version and ..Also a Captured German version (above) in large size only

Here are my two Whippets. One is a puppy from England, and the other is an adult from Germany. They have never fought, but they seem to be hostile towards each other. Great model, absolutely no problems with the build. The shape of the model tank is excellent, plus it definitely draws "oohs" and "ahs" and makes a great conversation piece.