Lockheed Altair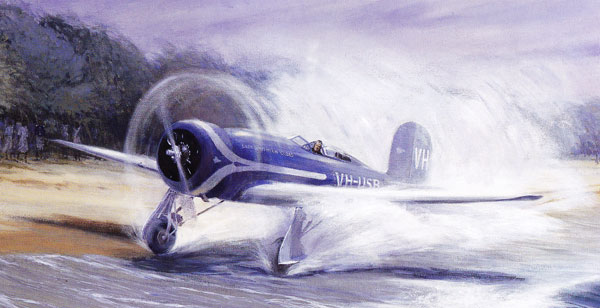 It was common practice in the days of few aerodromes for visiting aircraft to land on a local racecourse. Takeoff from the same place was usually out off the question because the extra weight of a full load of fuel would necessitate a longer run than was available.
This was the reason why, in Fiji at the beginning of the second stage of their Pacific crossing, Charles Kingsford Smith and P. G. Taylor took their lightly laden Lady Southern Cross to a long beach at Naselai. There they filled the tanks. Unfortunately, due to delays, their hard beach runway became much narrowed by the incoming tide. Also, the wind was gusting strongly across the beach, making for a tricky crosswind takeoff.
Just before she became airborne, the Lady Southern Cross slewed into the surf as a huge gust hit the large fin. Only Smithy's superb airmanship got her out of the surf, averting what could have been a major disaster and a premature end to their pioneering flight.
---
Lockheed Altair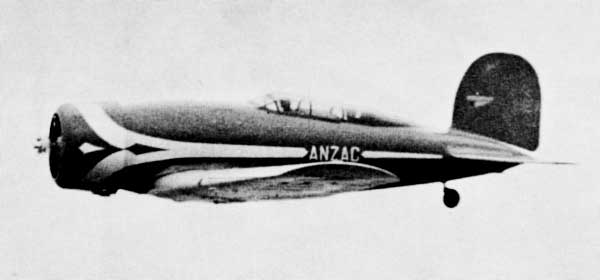 The Lockheed Altair was a single-engined sport aircraft of the 1930s. It was a development of the Lockheed Sirius with a retractable undercarriage, and was the first Lockheed aircraft and one of the first aircraft designs with a fully retractable undercarriage.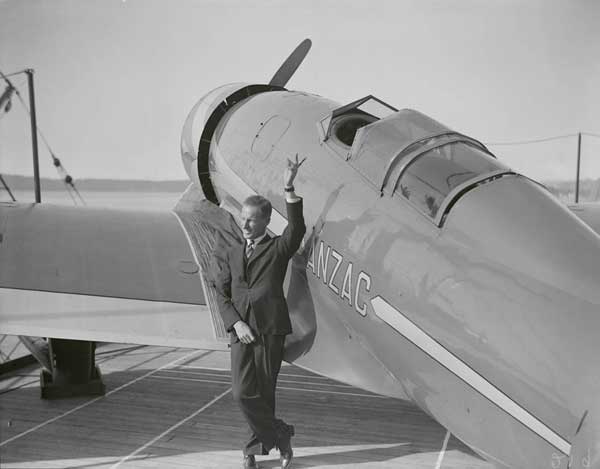 This picture was taken the day they renamed 'Smithy' Kingsford's plane to Lady Southern Cross.
The Lockheed Altair was originally commissioned by Charles Lindbergh (as the Sirius) for his arctic flights he wanted two versions one with a retractable undercarriage and one with a solid undercarriage. As it turns out he went with floats (as he would be flying over mostly water) and canceled his order for the retractable undercarriage. But Lockheed decided to go ahead with production of the retractable undercarriage design, and it was then called the Altair.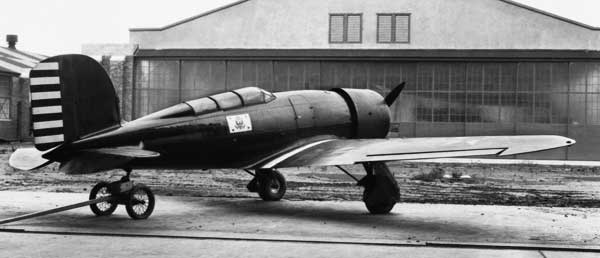 ---
Building The Lockheeds
The Manufacturers
The Lockheed company went through a number of corporate changes in its half century of growth from producer of a single home-built airplane to today's industrial giant.
They are:
1912-13: Alco Hydro-Aeroplane Company of San Francisco, formed to finance the building of the Loughead brothers' first creation, the Model G. Principal investor was Max Mamlock, head of the Alco Cab Company.

1916-21: Loughead Aircraft Manufacturing Company of Santa Barbara, Calif. Burton R. Rodman, president; Allan H. Loughead, vice-president; Malcolm Loughead, secretary-treasurer ; Anthony stadlman, factory superintendent ; John K. Northrop, engineer. This company built the F-1 Flying Boat, two Curtiss HS2L's for the U.S. Navy, and the S-1 Sport Biplane. It was liquidated in 7921.

1926-29: Lockheed Aircraft Company of Los Angeles (a Nevada corporation formed 12/13/26). Fred E. Keeler, president; Allan H. Loughead, vice-president and general manager; Ben S. Hunter, executive vice-president; W. Kenneth Jay, secretary-treasurer; John K. Northrop, chief engineer; Anthony Stadlman, factory superintendent. Built prototype Vega and four others in small factory in Hollywood, then moved 3/28 to Burbank, Calif. Brought out the Air Express (1928) and Explorer (1929). Jay and Northrop left company in 6/28, succeeded by Whitley C. Collins and Gerard F. Vultee. Approximately 77 airplanes completed or under construction by this management up to 7/29. Complete change of officers at that time except for chief engineer Vultee.

1929-3l: Lockheed Aircraft Corporation, Burbank, Calif., a Division of Detroit Aircraft Corporation, Detroit (commonly called "Detroit-Lockheed"). Edward S. Evans, president; Carl B. Fritsche, vice-president; James Work, general manager. After negotiations beginning in April, the Detroit combine, both a holding and manufacturing concern, acquired 87 percent of the assets of Lockheed in July 1929. Detroit (DAC) set up Lockheed Aircraft Corp. (LAC) as a division. Carl B. Squier was appointed general manager, and sent to Burbank succeeding the former officers. Ap- proximately 89 airplanes built under this management, including 11 with Duralumin fuselages assembled in Detroit. Brought out the Sirius (1929). Chief engineer Vultee succeeded by Richard A. Von Hake early 7930. Brought out the Altair (1930) and the Orion (1931). From the Detroit shops came the XP-900 (Army yP-24) (1931). Both DAC and its LAC Division went into receivership 10/31. Detroit Aircraft Corp.'s assets were subsequently liquidated.

1931-32: Title Insurance & Trust Company of Los Angeles, Receivers for Lockheed Aircraft Corporation, Bur- bank. Carl B. Squier continued as general manager during receivership, which lasted from 10/2l /31 to 6/16/32. Small skeleton crew built four airplanes during this period. The company's assets were purchased 6/32 for $40,000 through the efforts of investment broker Robert E. Gross. Capital for the purchase was supplied by Walter T. Varney, Mr. and Mrs. Cyril Chappellet, Jacqueline S. Walker, and Thomas Fortune Ryan III.

Since 1932: Lockheed Aircraft Corporation of Burbank, Calif. (a California corporation formed 6/21/32). Lloyd C. Stearman, president and general manager; Carl B. Squier, vice-president and sales manager; Robert E. Gross, treasurer; Cyril Chappellet, secretary; Richard A. Von Hake, chief engineer; Hall L. Hibbard, assistant chief engineer. The new company concentrated on repair jobs and conversions of existing Lockheed aircraft, while planning and building a new transport, the Electra. Walter T. Varney soon sold out his interest to engage in new airline ventures, and Thomas F. Ryan took similar action later. In 1933 Hall Hibbard became vice-president and chief engineer; Courtlandt S. Gross joined the firm as assistant treasurer; and from Michigan came Clarence L. Johnson as a flight test engineer. The new Electra was test-flown on 2/23/34 and after its introduction all efforts were placed on production of all-metal, twin-engined aircraft. Twenty-three of the "old" single-engine Lockheeds were built between 1932 and 1937 by the new management, completing the series. Lloyd Stearman resigned as president 12/34, to be succeeded by Robert E. Gross, who was to head the company for over a quarter of a century.
The Electra series of the 1930's established a world-wide reputation for Lockheed as a manufacturer of airliners. An order from abroad in 1938 brought about warplane configuration of the then-current type, the Lodestar. As "Hudsons," 3,000 bombers went winging from Burbank to Britain to face the Nazi onslaughts during WWII. With entry of the United States into the war some 16,000 more military aircraft poured from Lockheed plants, among them the P-38's, the highly maneuverable Lightning fighters that served on all fronts.
From the Gross-directed Lockheed Aircraft Corp. next came the P-80 Shooting Star, the first jet aircraft to be made operational with the Air Force, and forerunner of an improving series of over 8,000 which served through the Korean War with distinction. For the Navy, the company has produced over 1,000 patrol bombers and antisubmarine warfare planes, ranging from the P-2 Neptune to the new P-3A which bears a proud old Lockheed name: Orion.
In the postwar commercial field, luxurious four-engined Lockheed Constellations set new standards and schedules on the world's airlines, to be followed by the prop-jet Electra transport, and the Jetstar for executive flying.
Today Lockheed has diversified its interests and grown in a number of directions. The company's C-l30 Hercules family of troop-cargo transports can carry unbelievable loads to far places. Lockheed's 1500-mph F-104 Starfighter is today's bulwark of Western Defense, and its components are produced in seven nations. Equally famed are the U-2 high altitude and reconnaissance aircraft. Lockheed divisions build the Polaris fleet ballistic missile for the Navy, the Agena space vehicle, rocket escape systems for Mercury and Apollo, and rocket motors for the Army's Mauler. Other branches are engaged in ship-building and heavy construction, development of the Aerogyro rigid rotary-wing aircraft, and the carrying out of important scientific research programs in space travel, communications and oceanography.
Robert E. Gross died 1961, but the managerial structure of 1964 Lockheed Aircraft Corp. still includes Courtlandt Gross, Carl Squier, Cyril Chappellet, Hall Hibbard, and Clarence Johnson. They and other older employees can recall when Lockheed was a small, struggling company building wooden airplanes.
The Engineers
Many men contributed to the design and construction of the early Lockheed airplanes. Among them were: Allan Haines Loughead (Lockheed). Born Niles, Calif. 1/20/1889. A self-taught mechanic and engineer. With brother Malcolm designed a 3-place tractor seaplane, built it, and flew it from San Francisco harbor 6/15/13. The brothers established the Loughead Aircraft Manufacturing Co. (q.v.) and built the F-1 Flying Boat, 2 Curtiss seaplanes, and the S-1 Sport Biplane. With Malcolm, John K. Northrop and Anthony Stadlman, Allan devised the Lockheed process for making monocoque fuselages. With Northrop and others founded the Lockheed Aircraft Co. (q.2.). Contributed much to design and construction of the original Vega, and as general manager supervised company affairs 1927-29. Withdrew from the company in 7 /29 on purchase by Detroit Aircraft Corp. interests.
As president of Loughead Brothers Aircraft Corp., Ltd., of Glendale, Calif. (1930-34), Allan designed the 5-place Olympic (or Alcor) Duo-Four, a high-wing monoplane with twin Menasco C4 125-hp engines, mounted side by side on the nose. In 1934 he finally changed his name to Lockheed. A new company, Alcor Aircraft Corp. of San Francisco (1937-39), saw Lockheed building the Alcor C-6-1 Jr. Transport, a low-wing 8-place job with engines mounted similarly to those of the Duo-Four. Only one of each of these experimental airplanes were built. During WW II he was associated with firms in Grand Rapids, Mich., which manufactured aircraft parts, and later engaged in Southern California real estate. In 1964, semi-retired, he lived in Tucson, Ariz.
John Knudsen Northrop. Born, Newark, N.J., 11/10/95. Familiarly called "Jack." Son of a contractor in Santa Barbara, Calif.; worked as garage mechanic and architectural draftsman; engineering training largely self taught. Worked with Loughead brothers and designed wings of their F-1 Flying Boat (1916-17). With Allan and Malcolm Loughead and Anthony Stadlman devised the Lockheed process of forming monocoque fuselages, and developed the
S-1 Sport Biplane.
With Douglas Aircraft (1923-26), and then with Lock- heed Aircraft Co. (q.v.) as chief engineer. Designed and built the first Lockheed Vegas, the Air Express, and began work on low-wing model, originally planned as a seaplane. Resigned from Lockheed 6/28.
With ex-Lockheed treasurer W. Kenneth Jay formed Avion Corp. of Glendale, Calif., later the Northrop Air- craft Corp. division of United Aircraft & Transport Corp., and still later the Northrop Corp., a subsidiary of Douglas Aircraft Co., Inglewood, Calif. (1929-37). Chief engineer for these companies, during which time he developed a series of low-wing, all-metal transport aircraft, the Northrop Alpha-Delta series which somewhat resembled, and were in airline competition with, the Lockheed Orion. Cofounder (1939), president and director of engineering of present-day Northrop Aircraft, Inc. Retired (1952) to engage in consulting work from his home in Santa Barbara, Calif.
Anthony Stadlman. Born Kourim, Czechoslovakia, 1/12/ 86. Educated in Prague; an early designer, builder and pilot of aircraft. Associated with small early aircraft firms in Illinois and Michigan (1911-18), experiments with sea- planes in Wisconsin. Became plant superintendent for Loughead Aircraft Manufacturing Co. (q.0.).With Allan and Malcolm Loughead and John K. Northrop devised the Lockheed process of forming monocoque fuselages. Superintendent of construction for Lockheed Aircraft Co. (q.4.). Later an aeronautical engineer and consultant in San Fran- cisco.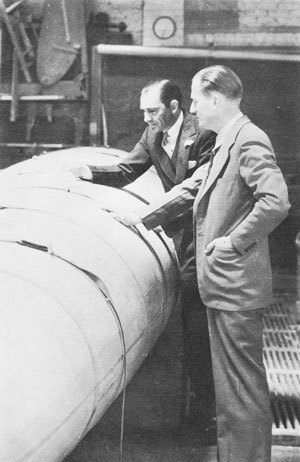 Carl B. Squier (1eft, rear) and Richard A. Von Hake.
Gerard F. Vultee. Born in California a. 1900. Nicknamed and usually called "Jerry," his name often appears as "Gerald." Attended California Institute of Technology (1921-23), where he studied some of the first courses offered in aeronautical engineering. Worked for Douglas Aircraft (1926) and came to Lockheed in 1928 as assistant to John K. Northrop. First job there was to check Northrop's stress analysis of the Vega and Air Express. Became chief engineer of Lockheed on Northrop's departure 6/28. Directed the application of the low-drag NACA engine cowling in its first commercial use; on the original (rebuilt) Air Express (1928-29). Developed low-wing design begun by Northrop to produce the Explorer and the Sirius, the latter along specifications laid out for requirements of Col. Charles A. Lindbergh.
Left Lockheed early 1930 to supervise drafting and engineering courses at Curtiss-Wright Technical Institute in Los Angeles, and briefly served as chief engineer for Emsco Aircraft Corp. of Downey, Calif. Vultee's design for a 10-passenger single-engine transport accepted and built by Airplane Development Corp. of Glendale, Calif. (1932), with which Vultee became associated. Firm later called the Vultee Aircraft Division of Aviation Manufacturing Corp., building attack bombers and trainers. Vultee, who finally learned to fly, was killed with his wife Sylvia in a private plane accident near Sedona, Ariz., 1/29/38. Company continued as Vultee Aircraft Corp., and is now recognizable as the "V" in the Convair Division of General Dynamics Corp.
Richard A. Von Hake. Came to Lockheed Aircraft in 1929 as a draftsman and assistant to Jerry Vultee. A rare combination of pilot, engineer and business manager, Von Hake worked on the Explorer and Sirius with Vultee and became chief engineer of the company early in 1930 when Vultee resigned. He was kept at work during Depression-ridden "Detroit Aircraft days" at Lockheed, and worked on the development of fully retractable landing gear in converting the Sirius to the Altair. Also responsible for the Orion, plus many repair and modification jobs.
During a lay-off period while the newly reorganized company got going, in 1933 Von Hake bought the components, and assembled a metal Vega on his own, using a small crew, Rehired by the new Lockheed management (q.v.), he was factory superintendent 1933-c. 40.
The work of both Vultee and Von Hake was supplemented by project engineers James Gerschler and Richard W. Palmer.

Jimmy Gerschler, who came to Lockheed as a draftsman in 1928, was closely associated with all the early developments in Burbank. He analyzed and approved many standard Lockheed models, and contributed special modifications such as the design of the droppable landing gear for Wiley Post's Winnie Mae.
Dick Palmer was a Vultee associate who worked out the mechanics of the Lockheed fully retractable landing gear, and later that which operated hydraulically. After leaving the company he designed a record-breaking racer for Howard Hughes, and trainers and warplanes as chief engineer of Vultee Aircraft Corp.
Working independently in Detroit was Robert J. Woods, who engineered the Detroit-Lockheed XP-900 fighter for Army evaluation. Woods was later a project engineer for Consolidated Aircraft, and became chief engineer of Bell Aircraft Corp., Buffalo, N. Y.
With Lockheed's new owners in 1932 came Lloyd C. Stearman, already a famous name in aviation. As president and general manager of the reorganized company he planned a design for a single-engine, 10-passenger, all-metal trans- port, but it was shelved in favor of the twin-engined Electra. Stearman's capable assistant, Hall L. Hibbard, succeeded Von Hake as chief engineer of Lockheed in 1933.
Also connected with the engineering and many modifications of the final Vegas and Orions to come off the production line were George H. Prudden, famed for his design work on early all-metal aircraft, and Clarence L. (Kelly) Johnson.
Johnson first flew with Wiley Post and Kingsford-Smith in 1933 as a young flight-test engineer. In 1964 he was Lockheed's vice-president for advanced development projects.

The Process
Lockheed's wooden monocoque fuselage construction was of particular importance as a practical demonstration that a stressed-skin structure allows the same interior height and breadth of fuselage at a 35 percent saving of the cross- sectional area, while reducing drag and saving much weight and material. The ideal streamlined shape of the wooden Lockheed set a fashion for this general-purpose type of plane, and both inspired and influenced a world-wide development in the design of later, larger, all-metal transports. The monocoque (French for "single shell") fuselage as first devised consisted of a perfectly uniform tube of plywood: stiff, strong, fish-shaped in contour' with transverse diaphragms or bulkheads spaced at intervals to hold the ply- wood skin rigidly in place. Building up three plys of such a structure on a form with each thin piece individually glued and tacked in place was an expensive and laborious process, and the result was often warped and unstuck in spots before completion. Only a very few early aircraft were constructed in this manner.
The Lockheed process was devised in 1918 for building the fuselage of the little S-1 Sport Biplane at Santa Barbara, Calif. It was the joint development of ideas and practical application put forward by Malcolm Loughead, Allan Loughead, John K. Northrop and Anthony Stadlman. The four men received exclusive patent rights for its use.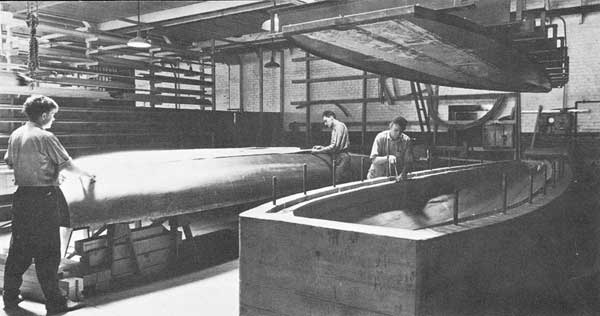 Single-shell fuselage in the making: note cover for monocoque mold and (left.) half-shell drying.
The inventors first made a wooden pattern in the dimensions of one half a fuselage; suspended it with the curved surface downward in a long box, and filled the spaces between with a good grade of reinforced concrete. The resulting mold resembled a long bathtub of tapering depth. Over the concrete mold was hung a wooden cover to the underside of which was attached a long inflatable rubber bag matched to the depression in the mold.
Only the best sliced, vertical-grain spruce veneer was used in making Lockheed fuselages, the three thicknesses of the completed skin totaling between 5/32" and 3/16" in all. The inner and outer layers, about 1/24" thick, ran longitudinally from nose to tail, while the center ply was l/16" spruce with the grain at right angles to the other two layers. The gore-shaped longitudinal strips tapered from approximately 1" wide at the ends to 6" at the center. They were first stacked in bundles of 30 and cut to the required shape. Next they were mocked up on a fuselage framework with a few tacks, and jointed with strips of paper tape in their proper relation; then they were stacked like folding screens until time for use.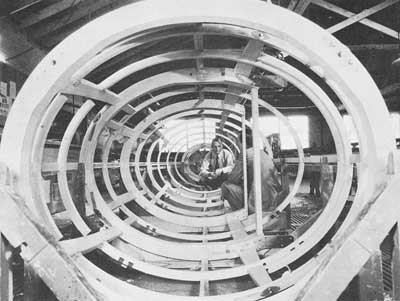 Fuselage framework being readied for application of finished half-shells.
The middle layer of short plywood strips running in the other direction was also laid up over the wooden form, with its stub ends attached all the way around to a 2 x 3 band of laminated spruce called the "transfer ring." When a fuselage was to be made, everybody in the shop was called in and armed with a brush and a pot of casein glue. The outer layer of plywood stripping was placed in the mold, and the inner surface liberally sloshed with glue. At the same time the middle layer was coated on the outside, and picked up as a unit by means of the transfer, ring to be placed inside the first. The second layer was in turn coated, and then the last layer placed inside the other two. Next, the cover was lowered and bolted down by means of "I" beams and bolts set in the concrete, and air pressure applied to the inflatable rubber bag. Expanded, it neatly filled the space between the cover and the plywood shells.
With ample manpower, this procedure took only about 20 minutes from the first vigorous application of glue until the whole shell was under pressure at 75 to 20 pounds per square inch, or 150 tons over the whole half-fuselage. The shell remained under this uniform pressure in the concrete mold for 24 hours (later reduced to 8), and was then placed on a drying rack for removal of any excess moisture. All the wooden Lockheeds were manufactured using 10-to-30-ton concrete molds of this type, and the process was employed successively at the plants in Santa Barbara, Hollywood and Burbank.
The skeleton framework to which the fuselage half-shells were joined consisted of elliptical, laminated spruce rings, ranging from 3" square at the bulkheads where wing and landing gear would be attached, to only 3/4" square, back near the tail. The Lockheed labor force would again be called in for the tacking session-using barbed, cement-coated brass nails-to assemble the fuselages.
Cutting out windows from the finished fuselage was a simple procedure, and the piece removed for the door opening was made into the door itself. The outer surface of the shell structure was carefully sealed, sanded completely smooth, and treated with two coats of sand surfacer before being painted with final coats of shiny lacquer.
Two dozen of the earliest Lockheeds were finished with only the bare wood surface for a base. Then it was decided to apply a fabric covering over all, and heavy sheets of unbleached muslin were stretched out and evenly bonded to the wooden fuselage's oval surface. These were lacquered to an even higher gloss, and provided a stronger and smoother exterior.
Several complete half-shells were always kept in stock at the factory, even long after production of wooden airplanes had come to an end. They could be used for both major and minor repairs to a damaged fuselage. For a small hole, the repairman simply removed the plywood section between bulkheads, and carefully spliced in a new section.
The original Burbank factory was fronted by an office in an old ranch house, with room for the engineers' drafting tables in its former kitchen. The plant itself covered only 23,000 feet of floor space, with mill and glue rooms, an assembly section, a metal fittings department, machineshop, sheet metal department and small lumber sheds. Wings were first installed on the field behind the factory. Later, two hangars were erected to serve for final assembly, painting, and storage.
The thick, but graceful, cantilever wings were constructed with long spars and covered with sheets of thin spruce plywood veneer. Their reinforced ribs used a modified stiffening truss based loosely on the Pratt patent design. It usually took ten of the factory's ace "wood butchers" a week to assemble a wing from precut stock parts.
The metal fittings department fashioned items like Lock- heed landing gears and tail skids, and the welded steel tubing for the motor mounts which extended forward from the last bulkhead at the nose of the airplanes.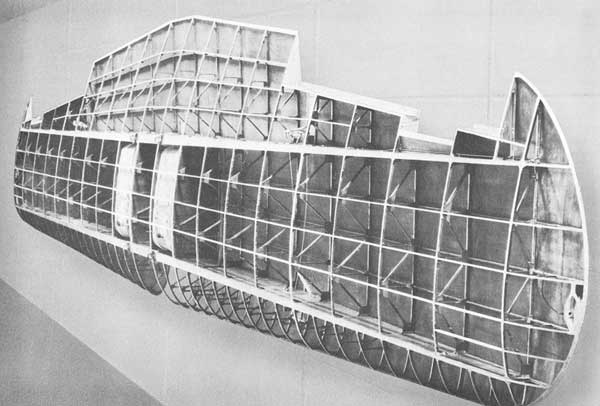 Wing framework, ready for skinning.
---

Specifications
Length: 28 ft 4 in
Wingspan: 42 ft 9 in
Height: 9 ft 6 in
Wing area: 293.2 ft²
Empty weight: 3,235 lb
Loaded weight: 4,895 lb
Powerplant: 1× Pratt & Whitney SR-1340E Wasp 9-cylinder air cooled radial engine, 500 hp

Performance
Maximum speed: 207 mph at 7,000 ft
Cruise speed: 175 mph Range: 580 mi
Service ceiling: 23,800 ft
Wing loading: 52.5 lb/ft²
Power/mass: 0.10 hp/lb
Climb to 7,000 ft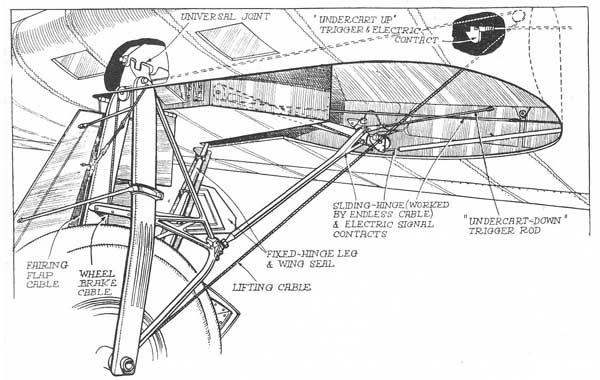 This is a cutaway of the Altair's retractable undercarriage.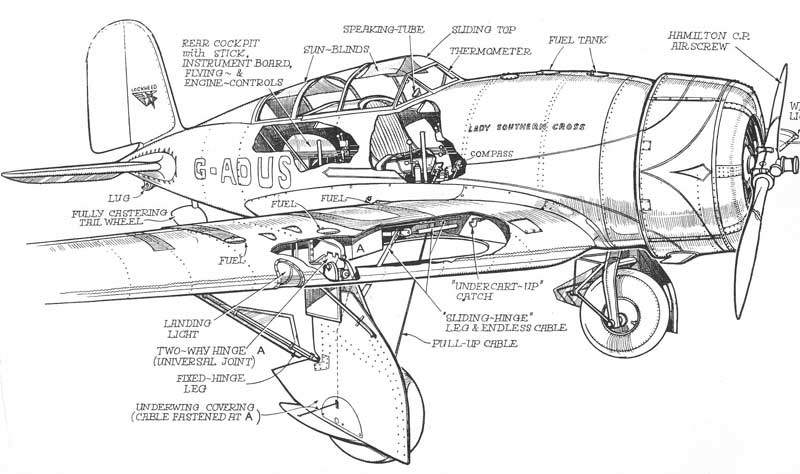 This is a cutaway drawing of Lady Southern Cross Charles Kingsford Smith's Lockheed Altair.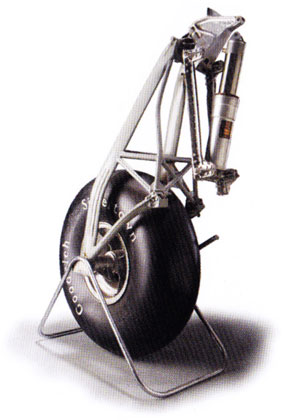 Sir Charles Kingsford Smith disappeared off the coast of Burma in October of 1933. The mystery was not solved until 1937, when this wheel was recovered from the Andaman sea off Burma.