Lockheed Orion

Lockheed Orion
PASSENGER MAIL- EXPRESS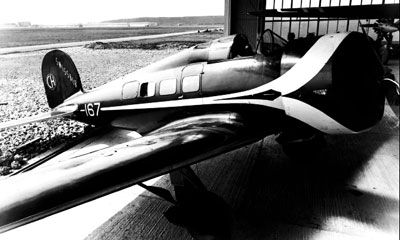 Used as company executive planes on a large scale. Employed as private VIP transports as well as in general and charter aviation, Orions were used to haul gold shipments out of the bandit infested mountains of central Mexico and were also seen as R.A.F. bombers in the 1937 film, the Sun Never Sets, with Basil Rathbone, Douglas Fairbanks Jr. and that arch villain, Lionel Atwill.

Less glamorous, but more important, was their performance in day-to-day service throughout the United States and Mexico, working with surveying parties, and mining enterprises, flying through all types of weather to reach remote oil fields and isolated villages. Viewed from the perspective of nearly 40 years, the Orion, was a revolutionary in the field of private charter flying, as the Ford Trimotor was to commercial flying. Billed by Lockheed as "cleanest and fastest" aircraft of its day, Orion was introduced in 1930. Its retracting landing gear was the same as that on the Altair and two major series were constructed.

The first were three-to-five passenger models with a shorter nose. The remainder were seven place types (pilot and six passengers) with a 6 1/2 inch nose extension. Interior furnishing and seating was the same as in the old Vega and all but one Orion was built of plywood, with its skin covered by fine linen for a better, smoother finish. On the metal model, old fashioned button head rivets were used.

The first Orions flew in regular service between Los Angeles and San Francisco in 1930, making the trip in one 'hour and 26 minutes. Ten years later, regularly scheduled DC-3s were taking a half hour longer to complete the same run. In addition to being fast (the last model, the 9F-1 of 1934 had a top speed of 235 mph., and all models cruised at 200 mph.) the Orions were very maneuverable. A Pratt & Whitney Wasp of 420 hp. powered the early five seaters, while a more powerful Wright Cyclone of 650 hp. was installed in the 9F.

With a span of 42 ft. 9 inches and a length of only 27 ft. 6 inches, the small monoplane (empty weight just over one ton) was capable of hauling 21,500 lb. of payload, and on one regularly scheduled passenger flight, Varney Speed Lines flew in one hour and five minutes, averaging an astounding 254 mph., a speed unprecedented for its time.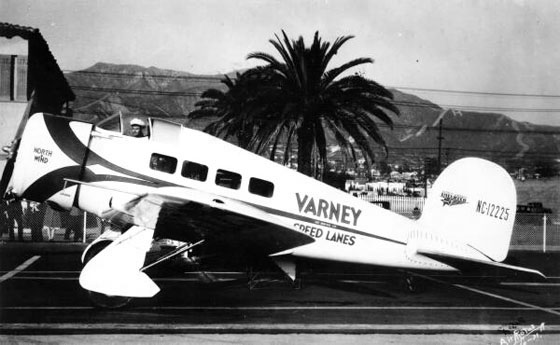 The Orion first entered domestic ai line service in 1931 when the now defunct Bowen Airlines of Fort Worth, Texas procured the first two units to come off the production line at Burbank. The first planes averaged 175 mph. speeds in regular service, the fastest scheduled airline operation in the world, and continued in service for four years. All performed well for Bowen but when unable to obtain government subsidy through mail contracts, the line faltered and the Orions were sold off.


Varney Air Service (also called Varney Speed Lines and Varney Speed Lanes at various times) based. at Alameda, California acquired six Orions later in 1931. Beautifully decorated in white paint with red trim they were named North, South, East, West, Spring and Summer Wind respectively. Owner Walter Varney initially used his six Orions in west coast operations where his press agency attracted many movie celebrities as passengers. Expanding his operations in 1934, Varney established a Mexican airline, Lineas Aereas Occidentales, S.A., to operate between Los Angeles and the south of the border cities. The Orions were transferred to this service and remained there until 1935.

Northwest Airways (now Northwest Airlines) acquired three new Orions from Lockheed in 1933. These were the last ships to be purchased from the manufacturer for airline usage. They were powered by 420 hp. Pratt & Whitney Wasp engines swinging three bladed propellers and had the first wing flaps ever installed on a Lockheed airplane. The planes were painted all white with black trim. Northwest used the Orions very successfully on their Minneapolis to Seattle route, but its fleet was disposed of in 1935 when the CAA prohibited the use of single-engined passenger equipment on major networks.


American Airways, now American Airlines, took delivery of six Orions in 1933 and used them on certain routes for mail and express transportation, advertising speeds of 200 mph. The Orions were placed in service on October 27, 1933 and remained until 1935 when they were replaced by Douglas DC-2s. They were the first type with fully retractable landing gear to be operated by American.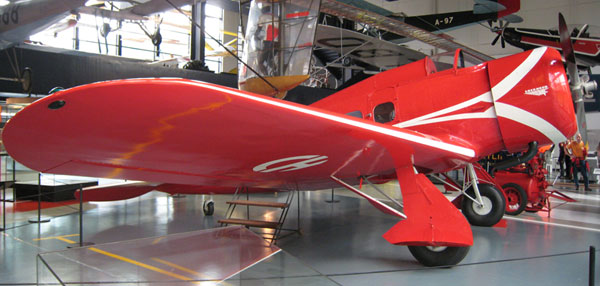 The Orion also found a foreign airline client in Swiss Air Transport Company, (Swissair). In 1931, when Swissair was founded, the average speed of aircraft used in Europe was 115 mph. "Following the thought" Swissair stated in its annual report to the shareholders for 1931, "that speed will become the decisive factor in justifying the existence of air traffic, Swissair has, with the concurrence of the Swiss Federal Air Office, resolved to initially serve in 1932 one route with very fast American aircraft. We decided in favor of the new American Lockheed-Orion which for some time now has proved itself out in the U.S. and which develops a maximum speed of 225 mph. and a cruising speed of 200 mph."

The first two Orions arrived in Zurich by rail from Amsterdam, on April 7, 1932, disassembled and crated. After some proving and training flights, Swissair inaugurated, on May 2, 1932, its Express Service Zurich-Munich-Vienna.

When Swissair informed Germany's Lufthansa of this new service with the remark that total flying time on the leg Zurich-Munich would be 50 minutes, Lufthansa replied that it should probably read one hour and 50 minutes; but the Germans were in error. Average flight time between Zuirch and Munich turned out to be 60 minutes. Zurich was now only 140 minutes from Vienna!

The purchase of the Orions contributed materially to making Swissair known throughout Europe and to inspiring confidence in the new company. Ironically, the Lockheed Orion was, in fact, faster than the French Dewoitine interceptor aircraft of the Swiss Air Force, and its pilots were well aware of it, as they outran French fighters up on training flights along the Geneva-Paris route.


Swissair was also the first European airline to operate U.S. passenger planes -and its success was unheard of. From May through October the Orion showed a seat load factor of 82%, the overall load coefficient came to 72.8%, regularity 95.4%, and punctuality 86.3%. The Orion carried 1804 paying passengers, 24,000 lb. of mail, 6,000 lb. of Cargo, and even when a service surcharge of 10 Swiss Francs was levied, the loads did not diminish. Its success was so pronounced, that one of the Swiss federal councilors took a special trip to Paris where the Lockheed was duly admired in aviation circles. It was a plane that had upped the average airline flight speed by approximately 50 mph., giving Swissair great publicity. It also helped immeasurably in opening the European market to the products of the American aircraft Industry
One lone Orion was entered in the 1935 Bendix Trophy Race, again to he flown from Los Angeles to Cleveland. Named Sheridan it was owned by Oklahoma oilman and Wiley Post benefactor, F. C. Hall, and flown by Roy 0. Hunt. Only two weeks earlier, a composite Altair-Orion had crashed in Alaska killing Post and his passenger, humorist Will Rogers. Hunt's Orion was not to suffer the same fate, however, as it traversed the continent to Cleveland in 11 hours 41 minutes at an average speed of 174.7 mph, good enough for fourth place. The following year, Laura Ingalls (about whom we will say more) flew her jet black Auto-cla-fe to second place in the 1936 Bendix in a race dominated by women.

Jimmy Doolittle bought an Orion, in January of 1932 and flew it for several years for the Shell Oil Company. Then dapper, debonair, movie stunt pilot Paul Mantz, looking for a fast ship for the right price to fly in the 1938 Bendix, heard that Doodlittle had made a forced landing with the Orion and had set it aside in favor of a Seversky P-35 executive demonstrator. Mantz bought the Orion from Shell for $800 and arranged for the students at Parks Air College in St. Louis, Missouri to rebuild it. He entered the red and white Cyclone ' powered ship, now licensed as NR12222 with race number 23, in the 1938 Bendix and achieved a third place finish at 206.5 mph, good for $3,000 prize money. He entered the Bendix again in 1939 with the same ship. Taking off from the Union Air Terminal in Burbank, California and with one refueling stop at Goodland, Kansas, he flew to Cleveland in 8 hours and 41 minutes with a very respectable 234.8 mph average speed, again good enough for the $3,000 third place money. A new tighter fitting engine cowl with rocker box bumps had been installed before the 1939 race and evidently helped the aircraft's performance. Nevertheless, it was a fabulous performance for an aircraft over seven years old which had only recently been salvaged from the junk pile. This pre-war experience furnished Mantz with invaluable know-how in cross continent flying which he put to good use in winning the post-war Bendix Trophy Race for an unprecedented three consecutive years, 1946, 1947, 1948, each time in a P-51C razor backed Mustang.
---
Wiley Post & Will Rogers Their Last Flight
In 1932 Post met the famous humorist (and fellow Oklahoman) Will Rogers and the two became close friends. Rogers often flew with Post as a passenger and he contributed an introduction to the book Post had done with Gatty about their flight. In 1935, looking for new material for his newspaper column, Rogers asked Post if they could fly to Alaska.
The Lockheed-Orion Model 9E Special, formerly owned by TWA, that was modified by Wiley Post for his trip to Alaska. Among other modifications, Post replaced the engine with a 550 horsepower type, installed a three-bladed variable pitch propeller, swapped out the wing with one that was six feet longer from a Lockheed-Explorer Model 7 Special, that had fixed landing gear. It is interesting to note that the modified Orion was more like an Altair than an Orion. Lockheed built these aircraft with interchangeable parts and several were actually hybrids.
Post went to Lockheed and asked the engineers to add pontoons to the Orion-Explorer aircraft, but they refused, telling him that pontoons would upset the aerodynamic of the plane. Post (believing -Rogers' weight would compensate) had pontoons placed on the plane himself and flew Rogers up to Alaska. On August 15, 1935 the fears of the Lockheed engineers were realized and the plane stalled while taking off from a lake near Point Barrow. Post and Rogers died in the crash sending the nation into mourning for two of its most popular cultural heroes.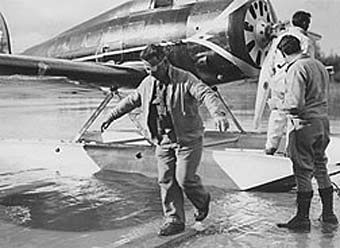 Maybe he should have been taking a field sobriety test because of his thinking of modifying an aircraft with modifications that Lockheed engineers had refused to make.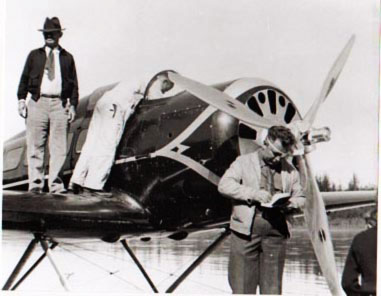 Last photo taken of
Wiley Post
and Will Rogers, only hours before their fatal crash.
Wiley Post and Will Rogers Crashed Lockheed Orion.

Some remains of the Post & Rogers crash, on display in
Seattle, WA
---

Specifications
Length: 28 ft 4 in
Wingspan: 42 ft 9.25 in
Height: 9 ft 8 in
Wing area: 294.1 ft²
Empty weight: 3,640 lb
Max takeoff weight: 5,200 lb
Powerplant: 1× Pratt & Whitney Wasp S1D1, 550 hp

Performance
Maximum speed: 220 mph at sea level
Cruise speed: 205 mph
Range: 750 mi
Service ceiling: 22,000 ft