Northrop XP-56 Black Bullet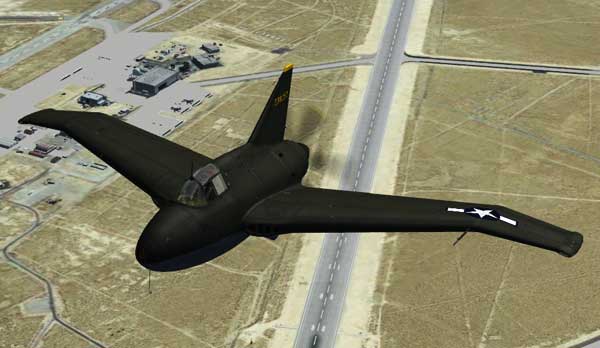 For reasons that remain obscure, the Northrop XP-56 (first prototype natural metal, second olive drab) was nicknamed the 'Black Bullet'. It certainly resembled a bullet but lacked the projectile speed or direction. The first prototype had no vertical fin, and relied on its underfin more to protect the propeller than to provide stability. This arrangement, of course, was inadequate. Nose heaviness was corrected but became tail heaviness. During a fast taxi run the aircraft blew a tire, somersaulted and threw test pilot John Myers out. He was saved by his polo helmet and the second prototype was fitted with an upper fin. With a 2000hp engine, one thing the XP-56 was not was underpowered, but it proved slower than expected. The intended X-1800 water-cooled engine had been cancelled and the substituted air-cooled radial was not the most suitable for a pusher layout. Fuel consumption was excessive and while waiting to conduct wind-tunnel tests, the project was cancelled.
The XP-56 proved little except that it was possible to weld magnesium for use in an aircraft structure. The aircraft was designed to carry two 20mm (0.79in) cannon and four 12.7mm (0.50in) machine guns in the nose, but neither prototype had this armament fitted. The second XP-56 survived the mass scrapping of aircraft at the end of World War II and is now in the possession of the Smithsonian Institution, being stored at the facility in Sutland, Maryland.
---
Northrop XP-56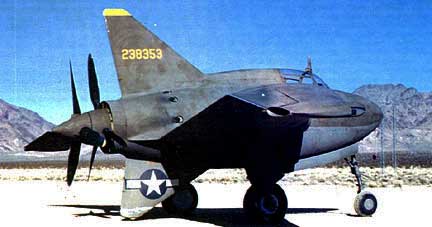 From as far back as 1929, John K. Northrop had been closely involved with the conception of all-wing aircraft and in 1939, when the USAAC invited aircraft companies to tender for an unofficial design competition (R-40C) for an unusual fighter interceptor, he seized his chance, While still experimenting, at his own company's expense, with a flying-wing aircraft, the N1M, and designing a multi-engine bomber based on this design, he submitted a proposal for a small tailless fighter on April 5, 1940. His plane was to have a three-bladed coaxial contra-rotating pusher propeller and on September 26, 1940, Northrop was awarded a contract for a prototype which was designated XP-56; simultaneously contracts were also placed for prototypes with Vultee for that company's Swoose Goose and with Curtiss for the XP-55 Ascender.
All three projects had pusher propellers since current thinking maintained that this solution reduced drag and led to better visibility for the pilot, apart from leaving the nose free for mounting weaponry. All three aircraft were to be powered by a new liquid-cooled Pratt & Whitney X-1800 engine but when this project was canceled Northrop's engineers found they had no choice but to adopt the less suitable Pratt & Whitney R-2800-29 air-cooled radial engine which, although more powerful (2,000hp instead of 1,800hp), led to an increase in weight since the fuselage had to be widened to accommodate it.
In spite of this, production got under way and on February 13, 1942, the USAAF ordered a second XP-56 which was given the name of Black Bullet. The fuselage was stubby and rounded, with two 20mm cannons in the nose and four .50in machine guns (which were not mounted on the prototypes). The unpressurized enclosed cockpit was positioned well forwards and the plane had a very large dorsal and ventral fin; the landing gear retracted into the wings and nose. The cantilever mid-wing had elevons which functioned both as ailerons and wing flaps on the trailing edge wing tip, complemented by air intakes as part of the control system; air ducts for cooling the radial engine were located on the wing leading-edge.
The XP-56 was ready in April, 1943, but there were still problems with the brakes to solve, the dorsal fin had to be enlarged and a number of other modifications which combined to delay the first flight until September 6, 1943, from Muroc Dry Lake base with John Myers at the controls. These tests were not particularly encouraging but they continued until a tire burst led to the prototype somersaulting, when it was almost completely wrecked.
A large number of changes were introduced for the second XP-56 which resulted in the center of gravity being relocated further forwards and the dorsal vertical fin further enlarged. On March 23,1944, Harry Crosby took the plane up for a flight lasting only a few minutes at Northrop Field, but there was some trepidation during this and later flights: the aircraft's center of gravity was still too far aft and consequently the plane handled badly, apart from being slow because it was underpowered.
In May, 1944, it was decided that the aircraft should undergo tests in NACA's wind tunnel: the verdict was that this was not an airworthy design and the project was abandoned, a decision influenced in part by the arrival of the jet engine which opened up new horizons. The XP-56 project was not wasted, however, as Northrop had learned a great deal which would be of use when developing the XB-35 bomber which had its maiden flight in June, 1946.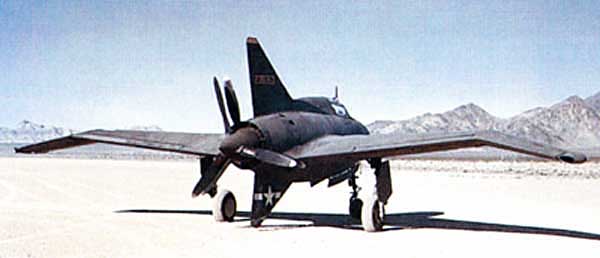 ---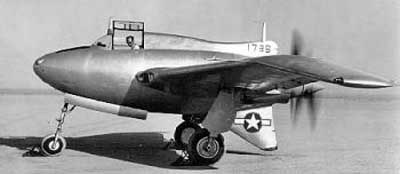 The Northrop XP-56, informally called 'Black Bullet', was the third of the pusher fighters conceived in 1940 (together with the Vultee XP-54 and Curtiss XP-55). First flown on 6 September 6, 1943 in secrecy at Muroc Dry Lake, California, with John Myers as pilot, the XP-56 was the only one of thc three designs to employ contra- rotating propellers. It was also the first true flying wing tested by thc US Army, and the first of many flying wing designs to come from Northrop's facility at Hawthorne, California.
The US Army ordered two XP-56 airframes and, after initially considering other powerplants, had them built with the 2,000-hp Pratt & Whitney R-2800-9 air-cooled radial. The aircraft flew well despite its revolutionary configuration, but proved unable to maneuver effectively in a dogfight situation. The unpressurized cockpit was positioned immediately ahead of the engine and posed interesting problems to any pilot thinking of bailing out with two three-bladed Curtiss Electric contra-rotating airscrews behind him.
After the all-silver first XP-56 was wrecked in a mishap which injured Myers, thc camouflaged second ship flew on March 23, 1941 at Hawthorne with Harry Crosby at the controls. This machine had a greatly enlarged dorsal vertical stabilizer (not actually a rudder since steering was done from blown-air jets at the wingtips) to improve yaw tendencies. The machine proved underpowered because it was nose-heavy, difficult to handle during the take-off roll.
---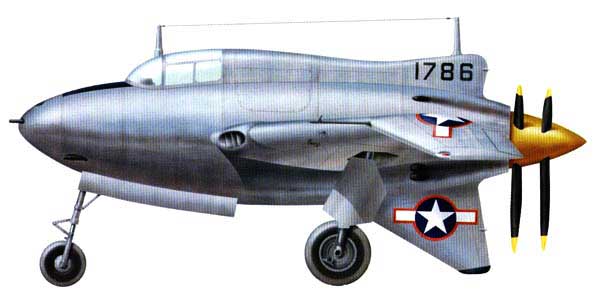 ---
The name: "Black Bullet." Northrop's XP-56 wasn't exactly a flying wing. It did have a bit of a fuselage, though most of the aft vertical stabilizer pointed downward. Meant as a cutting-edge fighter, the Black Bullet was driven by a 2,000 horsepower Pratt & Whitney R-2800 Double Wasp, typical of the times. The engine did drive two counter-rotating three-blade props in the aircraft's rear and the airplane incorporated the very first all welded all-magnesium airframe. But pilots found it hard to handle. On one of the first taxi tests a tire blew and flipped the aircraft. Northrop built a second prototype XP-56 in 1944 with a bigger stabilizer and an improved wingtip design with a yaw control system. Testing revealed no significant performance improvement and the aircraft never entered production.
---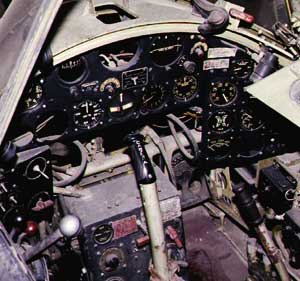 Cockpit of the Northorp XP-56 Black Bullet.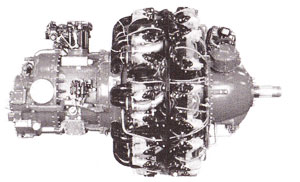 The Pratt&Whitney R-2800 Engine of the Northrop XP-56 Black Bullet.
Specifications for the Northrop XP-56 "Black Bullet"
Length: 27 ft 6 in
Wingspan: 42 ft 6 in
Height: 11 ft
Wing area: 306 ft²
Empty weight: 8,700 lb
Loaded weight: 11,350 lb
Max takeoff weight: 12,145 lb
Powerplant: 1× Pratt & Whitney
R-2800-29 radial, 2,000 hp

Performance
Maximum speed: 465 mph
at 25,000 ft
Range: 660 miles
Service ceiling: 33,000 ft
Rate of climb: 3,125 ft/min
at 15,000 ft
Wing loading: 37 lb/ft²
Power/mass: 0.18 hp/lb

Armament
2 × 20 mm (.79 in) cannons
4 × .50 in (12.7 mm) machine guns
A: Though not fitted, planned armament was for two 20-mm and four 12.7-mm guns in the nose, this would have allowed for an extremely concentrated and accurate field of fire to be achieved during combat.
B: Visibility to the rear was extremely restricted for the pilot. The main worry for test-pilots was their chances of escape after an in-flight mishap. Many were concerned about being struck by the tail if they had to bail out.
C: Because of stability problems with the early versions of the XP-56 design, the fin height was increased in an effort to eliminate these problems, but handling was still hazardous.
D: A conventional tricycle undercarriage was fitted to the aircraft, a feature of which was an exceptionally tall nose strut. The nose wheel was steerable.
E: The XP-56 also used a pioneering method in its construction. It was the first aircraft to be built entirely from thick magnesium alloy sections welded together in the Heliarc process.
F: The highly swept wings featured down turned tips incorporating spoilers, which were normally recessed in the upper surfaces.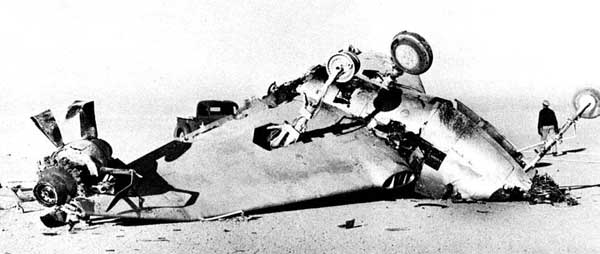 Wreckage of the first XP-56. Note the missing left main tire.