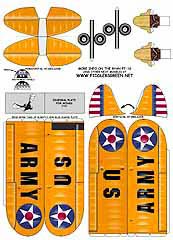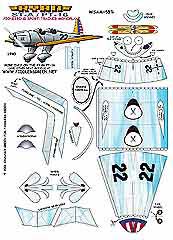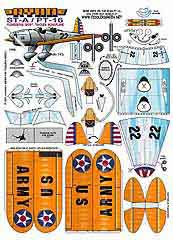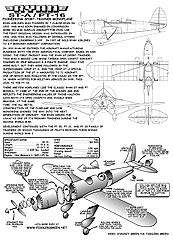 Ryan ST-A or PT-16 WWII Trainer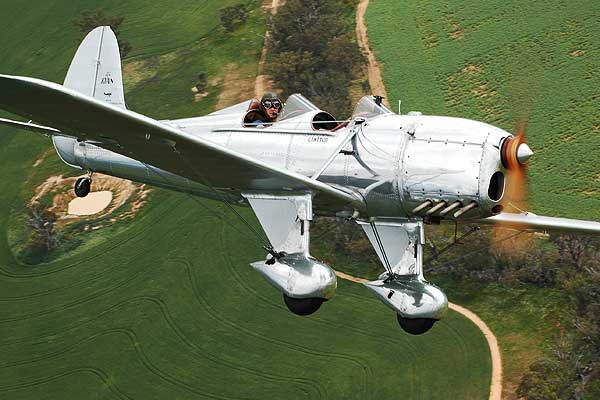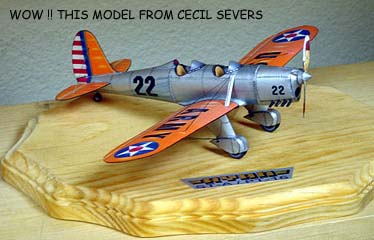 Chauncy has chosen this little treasure as his next design. This is the early Ryan ST-A model. The PT-20A was in reality the Ryan PT-20 re-engine with the Kinner R-440 radial. Ryan ST versions were used widely as trainers by the American forces. The STM was a fighter derivative of the ST series, intended low-cost export machine, and was indeed sold to several Latin American air arms.
When in 1927, just before construction of the Ryan NYP, Claude Ryan sold his assets in Ryan Air Lines to Frank Mahoney, he continued to operate his flying school, the Ryan School of Aeronautics which he had founded in 1922.
With signs of economic recovery in the USA in 1933, he decided the moment had come to re-enter the aircraft manufacturing business, the Ryan ST (Sport-Trainer) being the first product of the new Ryan Aeronautical Company, established at San Diego, California...
---
What People Say...
Funny thing... a photo came across Usenet a few weeks ago and just fell in love with this old beauty. It's a Ryan ST-A (civie) or PT-20 (military trainer). Ready in a week or two. CG (10/5)
---
Oh man! I could give all y'alla big wet kiss on the lips for this one! Just love that aircraft!Its been a staple in the RC world for years. I remember standing in the hobby shop as a kid just standing and staring and dreaming....T. (10/6)
---
Four Stars for the Pt-16. In 1949 I owned a ST3-KR (5 cyl putt-putt). I was the second civilian owner. (Every 20 yr. old pilot needs his own PT-22) ha ha I survived the -22 ok, by flying by it's rules. Am interested on how you will do the gear on the PT-22. In the real world it made for soft landings and tracking straight on roll-out. Keep up your fine work, --GSD-- (11/12/01)
---
Ryan STA/STM/PT-16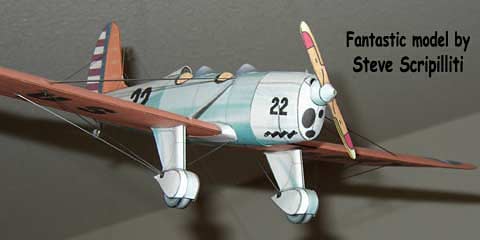 To any aviation enthusiast the name of Ryan must be for ever linked with the Spirit of St. Louis (Ryan NYP) flown solo by Charles Lindbergh on his 1927 non-stop flight over the Atlantic ocean from New York to Paris. The little enclosed cockpit touter which was to become one of the immortals of aviation had been designed by Donald Hall and built by Claude Tubal Ryan who many years later was to develop the first mixed propulsion unit (piston engine and jet) carrier-based fighter. The FR-1, as this later plane was designated was also Ryan's only foray into the world of fighter production and it proved a fruitful and successful one.
Claude T. Ryan was born in Parson, Kansas on January 3, 1898; he had wanted to enlist for service in World War I but by the time he was 18 and old enough to join, the Air Service, it was 1919, and the war was at an end. He trained as a fighter pilot and had attained the rank of Lieutenant when he left the Army in 1922, well and truly bitten by the aeronautical bug. Failing to find work in aviation, he set up a very small airline with a few war surplus Standard J-1 aircraft which he had converted to accommodate four passengers each. By 1925, the company had expanded so much that it was running regular services from San Diego to Los Angeles, under the impressive name of Ryan Airlines and had started to design and construct its own aircraft.
The Spirit of St. Louis was built after Claude T. Ryan had sold his interest in the company, while continuing to run it, and was his fifth project, a derivative of his earlier Bluebird (his first enclosed cockpit monoplane) and of the Ryan Brougham, both of which were very well known in their day. Ryan's great enthusiasm in life, however, was teaching the young how to fly: after his close involvement with the Flying Schools during the years 1928-1931, when he founded the Ryan Aeronautical Company, his one wish was to produce a basic trainer which was safe, easy to fly and reliable, in short the ideal plane for beginners.
Drawing on his considerable experience, he built the ST in 1933, his first metal fuselage monoplane which led to the PT-20, PT-21, PT-22 and PT-25 for the U. S.Army and the equally well-known NR-1 for the U. S.Navy, 1, 440 of which were produced during World War H. The FR-1 Fireball was something of an anomaly, undertaken by Ryan with his usual enthusiasm, determination and single mindedness, a new departure cut short by the coming of peace. Gradually Ryan withdrew from series aircraft production and became more and more involved with the development of guided missiles and systems for automatic landing in zero visibility and also built several research planes and experimental VTOL aircraft such as the X-13 Vertijet of 1957, and its successor, the XV15A Vertiplane.
In 1969, the company (with a total of 5,000 employees, including engineers, administrative staff and factory workers) was taken over by Teledyne Inc., with a change of name to Teledyne Ryan Aeronautical and Claude T. Ryan was asked to carry on as chief executive. Ryan certainly seems to have been cast in the mold of many American captains of industry, steering his company through both favorable and disastrous economic conditions in the rough and tumble of the fiercely competitive world of aviation; while not one of America's greatest aeronautical sagas, the company's story lives on in the memory of the unforgettable Spirit of St. Louis and the Fireball.
---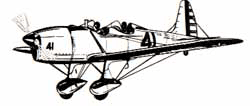 ---
---

Specifications for the Ryan ST-A/PT-16
Crew: one, pilot
Capacity: 1 passenger
Length: 21 ft 5 in
Wingspan: 30 ft
Height: 9 ft 2 in
Wing area: 124 ft²
Empty weight: 1,081 lb
Loaded weight: 1,600 lb
Powerplant: 1× Menasco
C4, 125 hp

Performance
Maximum speed: 126 mph
Range: 366 miles
Service ceiling: 17,200 ft
Rate of climb: 800 ft/min
Wing loading: 13 lb/ft²
Power/mass: 0.08 hp/lb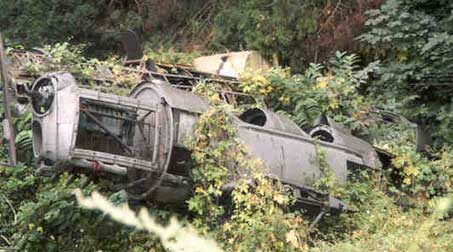 Remains of a Ryan STM/STA/PT-16.