Windmill-Nantucket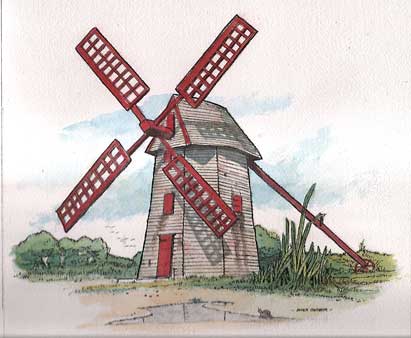 Nantucket's Old Mill resides at 50 Prospect Street. It was built in 1746 by Nathan Wilbur. Wilbur was a Nantucket sailor who had spent time in Holland, where he learned his craft. The Old Mill of Nantucket Island is the oldest functioning mill in the United States.
It is the last of the four smock mills (nicknamed after the 'smock' coat the mill workers once donned) that once stood on Nantucket Island. There was a fifth Nantucket mill on the site of the present New North Cemetery.
Smock mills have a stationary tower containing gears and a top that rotates to face the arms into the wind. The Old Mill was sold for $20 in 1828 to Jared Gardner as firewood but instead of destroying it, Gardner, a carpenter, restored the mill to it's present excellent condition and then used it to grind corn grown locally.
The Old Mill of Nantucket was sold once again in 1866 to John Francis Sylvia, a Portuguese miller, who operated it for several years until 1892. Five years later Miss Caroline French purchased the mill at auction for $850 and then donated it to the Nantucket Historical Society. The Association repaired the Old Mill and reopened it in 1898 for summer visitors.
What people say...

| | |
| --- | --- |
| Nantucket's one and only remaining windmill towers 50' high. It's blades are 30' long by 6' wide. The Old Mill's octagonal body is pieced together with dove-tailed wood,, some of which was salvaged from wrecked whaling ships. | Proudly holding up the mill is NHS Guide, Tom Miner. |
| Nantucket Windmill was erected in 1745-46 by a local sailor and carpenter, named Nathan Wilbur. The windmill's octagon form is shaped with 8 foot long sides which has helped Nantucket's Old Mill survive the centuries. | This is an antique model of The Old Mill in Nantucket....charming as all getout,, but not as pretty as the Fiddlersgreen version. |
| With wind so strong in Nantucket, usually only two of the Old Mill's blades are fitted with canvas. Its open from Memorial Day weekend through Columbus Day weekend from 10:00 a.m. to 5:00 p.m. Monday through Saturday. | The Old Mill of Nantucket is still used to grind corn meal in the summer much to the delight of the many visitors. Its one of the many valuable properties owned by the Nantucket Historical Society. |
| Three types of windmill: post mill (a) tower mill (b) & smock mill (c). | The inner workings of a typical windmill similar to the Old Mill in Nantucket. |
| A small working model of a Dutch windmill, not unlike the Old Mill at Nantucket. | Windmill diagram showing the working parts of a Dutch windmill. |
| The Old Mill enjoying another beautiful Nantucket sunset. | Very old photograph of the Old Mill at Nantucket |

Check out our other mills !!

English Water Mill
Smock Windmill
Wind Turbine
Water Mill
Grist Mill