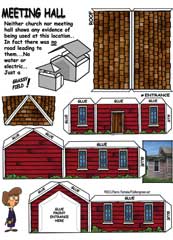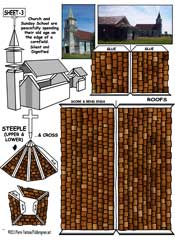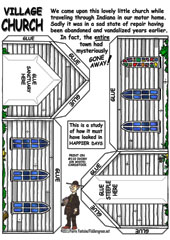 Village-Church - $$6.95
A card model of a quant little Village Church that is living out it's last days in the middle of an Iowaian wheat field. It has seen better days. The buildings are just sitting on the ground. Even the village has disappeared !! As long as there's an internet, this Fiddlersgreen model is a loving permanent reminder of what it was.

Abandoned Village Church and Meeting Hall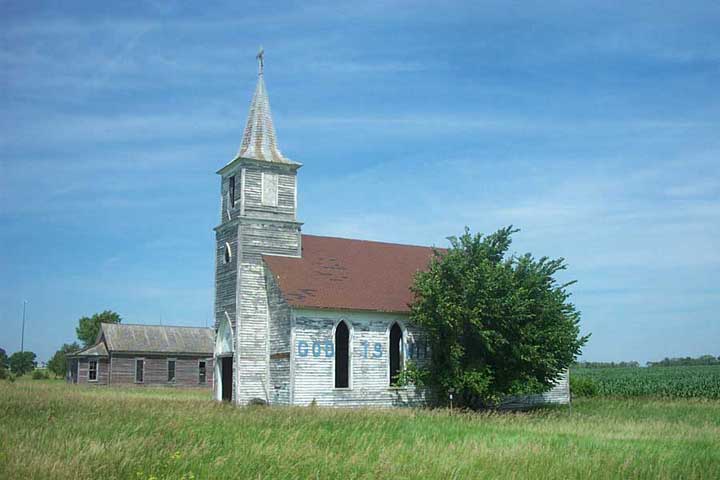 In 2007, we were traveling west on hyway 40 (sorry can't remember exactly where) and noticed this old abandoned church and meeting hall on the edge of a cornfield. Almost gone from neglect, it's message still rings loud and clear through our modest modeling effort! Its memory will live as long as there is an internet.
---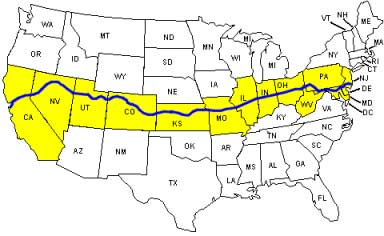 About Hyway 40
The mid-1950's were a period described by many as the Golden Age of Automobiling. By that time, Route 40 served America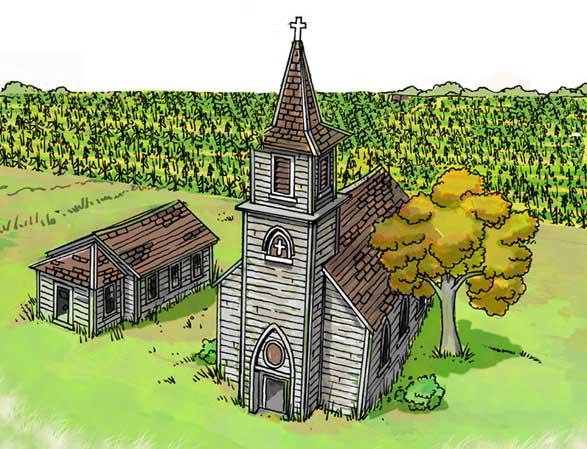 well, carrying more automobile traffic than any other transcontinental highway. Back then, if you needed to go from coast to coast, there simply wasn't a better choice.
During its heyday, the highway ran 3,157 miles from Atlantic City to San Francisco, traversing the midsection of the United States. When the Interstate Highway system came along, many western sections of Route 40 were decommissioned. Today, Route 40's official western terminus is at Silver Creek Junction, Utah, about 50 miles east of Salt Lake City.

Even though about 800 miles of this once grand old highway no longer appear on today's roadmaps, its spirit lives on. People are joining together to recognize Route 40 and in many places, the highway has achieved historic status. Clubs of highway enthusiasts exist around the country. Many sections of the highway are nationally recognized scenic byways. In other places it is not uncommon to find the road designated at Historic Route 40.
---
It looks like, quite possibly this church and hall were dragged out of the way of Hyway 40 back in the 50s and the town around it bulldozed..
If you know what really happened, please let us know and we'll post it (info@fiddlersgreen.net)

Village Church and Meeting Hall

Not a very nice picture od the church interior. The property is probably owned by the farm nearby that seemed to be once an RV park and campground along the old hyway.

Looking at the photo to the left, you can see that the LH side is not even close to level. We think that the Church and Hall had been dragged away from its earlier site to make room for the new hyway 40 back in the 50s and little or no foundation was prepared. The asphalt shingle roof seemed to still be in pretty good shape.

All the windows had been removed from the church. The FG model has one stained glass unit


The adjacent hall was dying quickly because of it's wood-shingled roof.


(right)..Perhaps the most puzzling mystery are the words along the east side saying: "God is with you". Our guess is it was carefully, (almost professionally!) done by a enthusiastic religious person. Perhaps as an epitaph much like this model :) It had good exposure from the hyway but as you can see, A tree had grown up toward the rear of the wall like several other over at the hall

(above) Photos of the hall and church

The church hall probably had less maintenance than the church and its starting to show.. Probably, around 2015 or so, it'll be gone.

We used the red board over in the lower right to determine the original color. There were no entrance walkways or other clues that showed these two buildings were ever used at this site.

That's a giant corn field behind both buildings and the crumbling farm houses seemed to be back towards the left. IF you know the story behind these buildings, please email: info@fiddlersgreen.net

Pierre does a thorough (and reasonable!) job of modeling with every commission.. Contact FG for his email address if you would like to offer him a commission

These are views of the Village Church and where it lives in the Fiddlersgreen New England Village layout. Photos of Bob Martin's personal HO scale layout.


(left) Notes to Pierre, the designer, from Chip about halfway through the design. Designers for Fiddlersgreen are all open for input like this.

---

Its nice to build a little church and Sunday School Hall but the best fun of all is to build a little (New England) Village around it. Here you see it (in N scale), happy amongst the West Quoddy Lighthouse in Maine, Mark Twain's Study, the Straitsmouth Light keeper's House, also in Maine, and the Merchant's House


See them all HERE (New England Village) and HERE (Lighthouse Collection)
Note: In August 2010, the New England layout will be 35% larger to accommodate this church and several additional new buildings !!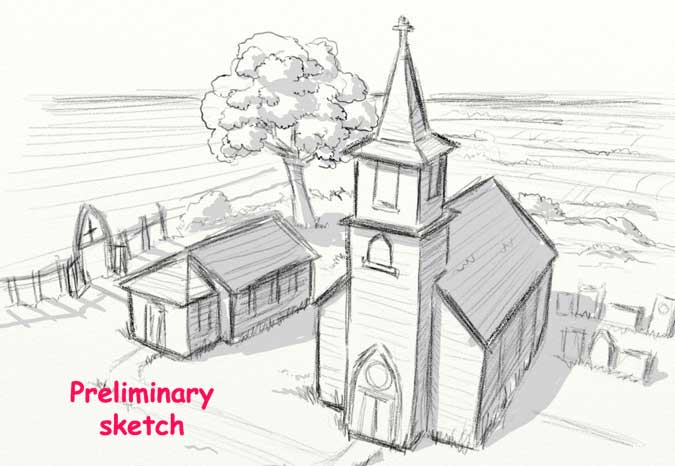 Other Fiddlersgreen Churches
Blue Church (English)
Ghost Town Church, Canada
Gothic Church, England
Irish Round Tower, Ireland
Methodist Church, England
Mission Church, England
Meeting House, USA